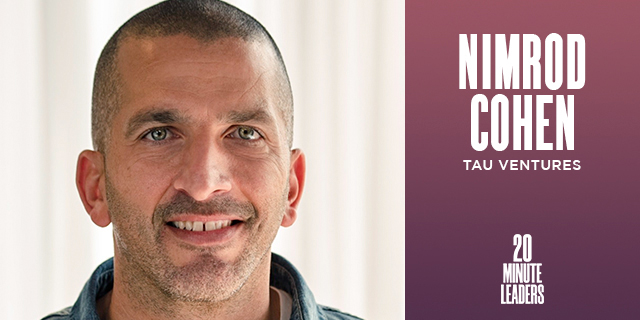 20-Minute Leaders
"I really believe that most of the things that happen to us in life happen by coincidence"
Despite achieving success in sports and entrepreneurship, TAU Ventures' Nimrod Cohen joins Michael Matias to discuss what he thinks it all comes down to: coincidence
Nimrod Cohen has achieved success in sports as well as entrepreneurship and investing, but he believes most of what has happened in his life has been coincidence. He was pursuing his career in professional basketball when he helped found his first startup without really knowing he was doing so. Selling that company opened his eyes to entrepreneurship as a lifestyle. An invitation to speak at a conference led to his current position as managing partner at TAU Ventures, which works with Tel Aviv University to create a vibrant ecosystem for entrepreneurs and also invests in early stage companies. He advises that having a strong team is more important for a new company than having a fantastic product, as the product will change as the venture grows. He also believes that it is very important to have fun and not take yourself too seriously.
Click Here For More 20MinuteLeaders
Nimrod, you were a professional basketball player, then you're chairman of Hapoel Ramat Gan. Tell me how you started with basketball and then the transition into serial entrepreneur and one of the top early stage investors in Israel.
I started to play basketball when I was six. I focused my entire childhood on basketball. I was sure I was going to make it to the NBA. I took a championship with one of the leading high schools in Israel, so things were going that way. But I realized that I'm not going to make it to the NBA, so maybe it's a good idea to think about alternatives. I thought, "Let's continue to play professional basketball, but let's combine it with some other stuff." I studied law and business at IDC, and during my internship, I started my first startup, but it was like I wasn't aware that I was starting a startup. I had a friend who was an expert on the stock exchange, so we created a website, without a business plan, without thinking how we are going to make money. It was kind of successful in 2005, 2006. We sold it after 18 months, so I thought, "That's nice. You invest a small amount of money; you sell it for much more. I'm on to something." But it wasn't like a huge exit, like now you can relax and retire.
For four years, I was not sure what I was doing. I was involved with several startups; I practiced yoga four times a week. I can tell you that was the worst period of my life when I look back. I was lucky enough that one of the startups went pretty good, and we sold it as well. I really believe that most of the things that happen to us in life happen by coincidence. My brother met an experienced investor here in Israel, and he told him, "We bought an incubator; we're looking for someone to manage it." My brother asked me, "Do you think it's something that might make sense for you?" I said, "I have no idea, but let's meet him." After two days, we decided to work together, so all of a sudden I became an investor. I had no idea what it meant. I was there for five years at Plus Ventures. Everything that I know, I learned from my partners there. We invested in about 40 companies that time. Actually YOTPO was our first investment. Now it's a really big company.
Then Tel Aviv University invited me to speak at a conference in Miami called Connecting Two Ecosystems. I went there, and after the conference, the guys from Tel Aviv University told me that Tel Aviv University really wanted to do the next step in terms of innovation and entrepreneurship, and they're not sure what to do. I realized in the US there's a huge trend where the leading universities establish investment vehicles for two main reasons. First, so many great things are going on around those universities. You have an advantage of recognizing great stuff before others. Also, you have a huge university behind you; you can offer your entrepreneurs much more than money, also everything around the university from the great brand connection, open doors, knowledge, workforce, offices. The toughest part was to create an entity that works well around the university. They are usually a very bureaucracy type of environment. At the end of the day, if you want to invest in early stage startups, you can't have bureaucracy, you can't have long processes. I was happy the university gave me everything we needed.
We created this entity, TAU Ventures, which is fully independent. We raise money from investors from all over the world. The idea with TAU Ventures is to invest in early stage companies and be really open and wide in terms of field of interest. We've been around for more than two years, and we've invested in 17 companies so far. We're happy to support entrepreneurs. Part of our agenda is to create an ecosystem, not just being a VC that gives money and expects a return, but to create an ecosystem around us that includes the entrepreneurs, academy, and industry. We see there's a little gap these days: many great funds write checks of $2-5 million, but if you are a little bit earlier than that, you need someone to lead or follow with $500,000, and we try to fill up this gap here in Israel.
What is your process as you talk to these early stage entrepreneurs? What is the mentality you have as you figure out if this is a person you want to trust?
That's an easy and tough question because I can give you a 10 minute speech on all the checklists that you need to have, but I can be honest and tell you that this is just something you feel after a minute in a room. It's very much like any other relationship you have in your life. After a minute or two that you talk to someone, you feel if this is someone you want to spend some time with.
I've made many mistakes in the past, like when we saw a great product in a very interesting field. The team said, "Maybe in a later stage, we replace the CEO, but it's such a cool product that we have to invest." It's not gonna work, never. On the other hand, I can tell you that there are examples where the product is only OK, and that's totally OK because I believe the product is overrated, at least in the stages that we invest. I invested in about 60 companies in my career, none of which is doing exactly what they told me. It's unrealistic to expect that they're going to do exactly what they expected before they started development, before they met their market.
First it's something that you just feel, but obviously there are some checklists you need to have, like the team needs to cover the core aspects of the startup. If it requires knowledge in a specific field of technology, you want it to be part of the founders. You want to make sure that there are not too many founders; you want to make sure each of them brings something else to the table. It's better if they know each other for awhile and have not just met. It's better that they have some mileage, they went through ups and downs together.
I have to ask about Hapoel Ramat Gan. You're still involved in basketball. How do you combine your two passions?
Maybe that's the startup I'm most proud of, actually, when we just reestablished Hapoel Ramat Gan a couple of years ago. I'm friends with the owners, so I came back and played. Then I became chairman of the team for a couple of years, and I felt that was so much fun, but it was so hard. About a year ago, I decided I had enough, so I said, "I did my part; let's give it to others," so I stepped aside a bit. I'm trying to help as much as I can, but it's not part of my daily routine.
The fans owe you a great debt for working to resurrect the team. It's truly inspiring to me.
When everyone thinks it's impossible to do that, it's much more fun to do it.
What are three words you would use to describe yourself?
Red: that's the color of Hapoel Ramat Gan. People: I really love people. Fun: not taking yourself too seriously, trying to have fun no matter what we do.
Michael Matias, Forbes 30 Under 30, is the author of Age is Only an Int: Lessons I Learned as a Young Entrepreneur. He studies Artificial Intelligence at Stanford University, while working as a software engineer at Hippo Insurance and as a Senior Associate at J-Ventures. Matias previously served as an officer in the 8200 unit. 20MinuteLeaders is a tech entrepreneurship interview series featuring one-on-one interviews with fascinating founders, innovators and thought leaders sharing their journeys and experiences.
Contributing editors: Michael Matias, Amanda Katz