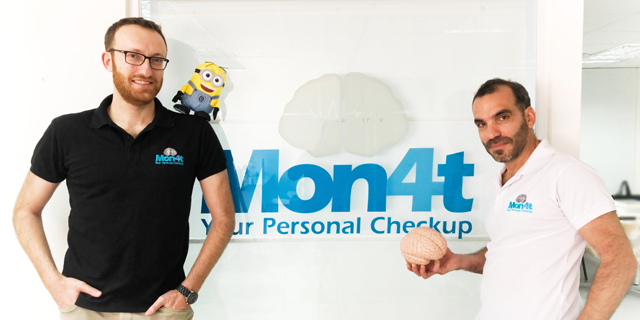 Interview
Israeli startup Mon4t paving the way for mental health digital revolution
Mon4t's artificial intelligence-based smartphone app helps physicians better monitor and diagnose patients' psychiatric symptoms in real-time
Yafit Ovadia
|
16:00 02.05.2021
Even prior to the coronavirus (Covid-19) pandemic, continually monitoring patients' mental health symptoms was difficult. Many relied on in-person visits, long waiting lists, an outdated psychiatric manual, and oftentimes a diagnosis and treatment that was ineffective or too late. One medical device startup understands the need to switch to telehealth, and developed an app which helps physicians better monitor and diagnose patients suffering from psychiatric disorders, as well as Parkinson's disease in real-time, paving the way for a digital revolution in mental health. Mon4t, an Israeli medical device startup based in the northern town of Binyamina, is led by CEO Dr. Ziv Yekutieli, a brain scientist and high tech entrepreneur, and CTO Dima Gershman, an information systems engineer who works on data analysis. The company's name is derived from the French word for "fortress" - with the team hoping it can provide those suffering from mental health issues some relief. The platform, coined Mon4t, is shorthand for monitoring a patient's condition and tests four platforms: motor, cognitive, psychiatric, and medical history in real-time on any smartphone.
It's more than brain biology
The app's Brain Profiler uses the data collected through the app, and provides physicians with a summary of a patient's brain condition that may be causing those symptoms. "Mental disorders are a biological problem, they're a matter of brain biology, such as which molecules in the brain are causing certain conditions or things to malfunction. Our artificial-intelligence-based-app suggests likely predictions for problems within the overall neural network. The more data we collect, the smarter the system gets and the more its accuracy increases."
Yekutieli noted that he hopes use of the AI-based device can lead to changes in psychiatric treatment, which could possibly include a combination of medications as well as external methods of stimulating the brain with electric currents, such as transcranial magnetic stimulation (TMS) that may encourage electrical activity of the neurons in the brain.