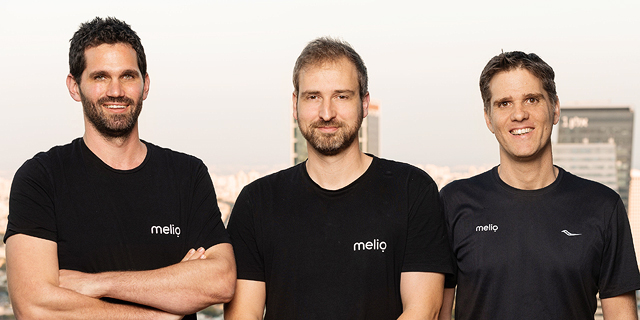 Melio's journey: The mission to keep small business in business
Melio is now the fastest growing B2B payments platform in the U.S., with its user base growing by over 2,000% last year
In collaboration with LeumiTech USA
|
10:02, 04.05.21
When three young Israeli entrepreneurs sought to enter the world of B2B payments in the U.S. they decided to first learn about the industry on the ground by creating a bookkeeping service.Three years later Melio is the fastest growing B2B payments company in the U.S. and the company is worth more than $1.3 billion. Matan Bar and Ziv Paz were childhood friends working in very different industries when they decided to go into business together, and they were joined by Ilan Atias, who was introduced to Matan through a mutual friend.
They sought the help of Dafna Bareket - today Melio's VP of customer service - in finding small businesses that would allow her to pay their invoices for them. By going door to door Dafna found the first businesses who agreed and the information gathered provided the basis for Melio's payments platform.
"At Melio we are a people-first company," Matan says. "For our users and customers, that means really listening to the small businesses to understand their challenges before we begin building." The trio launched Melio in 2018 with Matan serving as CEO, Ziv as COO and Ilan as CTO. The company has since raised $256 million from VCs such as Aleph, Accel, Coatue and Bessemer as well as from American Express and Salesforce. Melio is now the fastest growing B2B payments platform in the U.S. Last year its user base grew by over 2,000% and it's on pace to process tens of billions of dollars of transactions in 2021. The mission is to keep small business in business and its platform is free, simple, and secure, allowing small businesses and their suppliers to transfer and receive payments quickly and easily. America's 31 million small businesses have been underserved by the tech and financial sector. Lacking an alternative, over 40% of B2B transactions in the U.S. were still being made with paper checks as of 2019.
"I think one of the things that makes Melio unique is that we bring a very consumer-oriented approach to a space that doesn't live up to consumer product standards," Matan says.
One of Melio's challenges has been to expand its workforce in tandem with the huge growth in its user base in the midst of a global pandemic. The company grew to 270 employees by March 2021 from 35 in January 2020 and expects to reach 500 by the end of 2021, split between headquarters in New York and its R&D center in Tel Aviv.
Melio has also placed an emphasis on gender diversity with roughly half of its workforce - and leadership team - composed of women. "The hardest thing is finding great people," says Matan. "We're probably one of the most gender diverse companies in Israel, so for us that's a real edge and helps with recruiting."