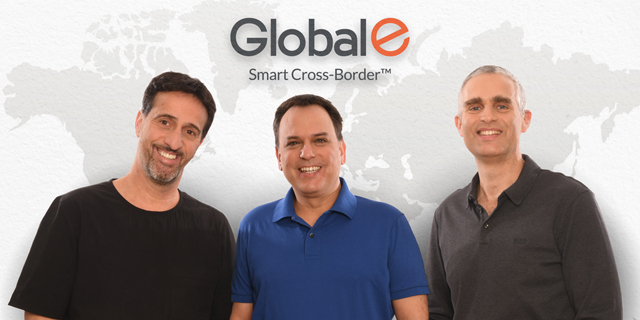 Global-e targeting $3.5 billion valuation in Nasdaq IPO
The fintech company is aiming to raise $431 million in its offering after revealing that it is on pace for annual revenue of $200 million
Sophie Shulman
|
10:46 04.05.2021
Israeli fintech company Global-e is aiming to raise $431 million in its Nasdaq initial public offering at a valuation of $3.5 billion, the company has revealed in its amended Form F-1 filed with the U.S. Securities and Exchange Commission (SEC) on Monday. According to the filing, Global-e plans to sell 15 million shares at a price of between $23 and $25 per share. The company is targeting an ambitious valuation as it reflects a 17.5 multiplier on its revenue. Global-e provides a technological solution for a variety of international e-commerce sites, and allows them to offer their customers price conversions based on their local currency while calculating taxes, marketing messages in the customer's own language, as well as offering them shipping and returns services. Goldman Sachs, Morgan Stanley, and Jefferies are acting as joint book-running managers for the IPO.
The company has raised a little over $100 million since it was founded, with its most recent funding round coming in May 2020 when it raised $60 million at a $500 million valuation, led by international investment fund Vitruvian, which is the company's largest shareholder with a 20% stake.
DHL is the company's second-largest shareholder with 16.8% that will be diluted to 14.8% following the offering. Other large shareholders include Red Dot Capital Partners, Apax Partners, and Canadian e-commerce giant Shopify, which holds a 6% stake. Global-e was founded in 2013 by three former Bank Hapoalim employees, Amir Schlachet, Shahar Tamari, and Nir Debbi. The three started the company in light of their shared hobby of online shopping and after recognizing that customers from other countries who make purchases online suffer from problems that are often frustrating because the interface is not suited to global consumers' needs. The three founders each hold a 5% stake in the company that is expected to be worth almost $200 million following the IPO. The company's headquarters are located in Petah Tikva and it employs 290 people.
The company's R&D centers are active in Israel, the U.S., and Ukraine, while it also has offices in New York, London, Los Angeles, and Paris, where the big brand names are located, including Forever 21, and Marks & Spencer who are among its customers.