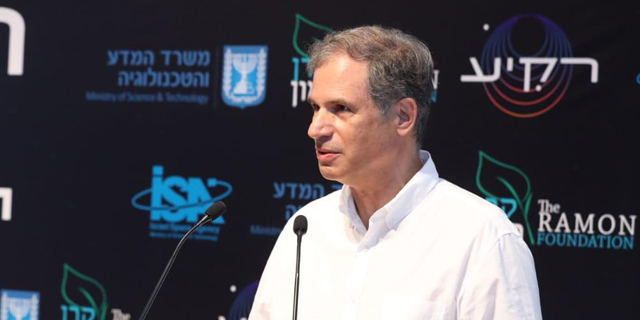 Which Israeli technologies will soon be going to space?
Space Hummus, onboard drones, flexible solar panels, and cameras to photograph "lightning elves" are just some of the Israeli technologies that will accompany the next Israeli astronaut to space in 2022
Yafit Ovadia
|
15:04 05.05.2021
During an official opening event on behalf of the Israel Space Agency, the Ramon Foundation, and the Ministry of Science and Technology, which took place on Wednesday, second Israeli astronaut Eytan Stibbe revealed which Israeli technologies' proposals made the cut and will accompany him on his February 2022 mission to the International Space Station. Several leading public and industry figures were in attendance including Inbal Kreiss, head of the Technological Committee which chose the experiments, Chairman of the Ramon Foundation, Ran Livne, and Director-General of the ISA Avi Blasberger, and Director General of the Ministry of Science and Technology Shai-Lee Spigelman, among others. "I'm excited to be here, but I think that it's particularly exciting for the scientists whose experiments will take the spotlight," Stibbe told CTech's Yafit Ovadia. "Israeli technologies will appear on the highest stage in the world that orbits the Earth, where everyone can constantly see them, and I believe that alone is a remarkable achievement."
the vestibular-eye reflex.
24. Monitoring vital signs in space using a clock While NASA monitors the vital signs of astronauts at all times, currently there isn't a version of comprehensive mobile monitoring, which includes all 15 essential monitoring cues on a medical clock. Israeli medical device company CardiacSense's clock contains sensors and parameters that provide measurements such as temperature, respiration rate, blood pressure, oxygen saturation, and continuous heart rate without requiring invasive analysis. The purpose of the experiment is to use the mobile device for health monitoring for astronauts on missions. IAMI partnered on the project. 25. Antiviral T cells - activating immune system to fight viruses Microgravity conditions weaken the human immune system, and the stimulus signals against pathogens. Tel Hashomer's study will use pre-stimulated T cells to stimulate the activity of the immune system to help regulate the immune system in space. 26. CRISPR - a genetic diagnosis system for infections in space CRISPR is a genetic editing method that enables sensitive genetic detection without bulky laboratory equipment or highly skilled personnel. Its reliable molecular detection of DNA sequences can help researchers identify pathogens that may cause astronauts to fall ill, and is being led by TAU, along with the Israel Agricultural Research Organization, and California-based Mammoth Bioscience Inc. 27. Human astrocytes - prolonging life in space The experiment, led by TAU, will examine the effect of accelerating the aging of human astrocyte cells in space. These brain cells surround neurons and play a vital role in brain activity and metabolism as humans age. According to current research, space causes astronauts to age faster, due to the harsh and grueling conditions. Scientists hope to study these cells, and examine methods for prolonging longevity. 28. Space travel - improving T cells The experiment examines T cells in space to demonstrate the feasibility of using protein research in biological systems which weaken the human immune system in space. Cell cultures will examine the physiological responses seen when the body is exposed to such extreme conditions, and help preserve and restore astronauts' immune functions leading to longer missions. The study is being led by Tel Hashomer, Jefferson, and Israeli biotech startup Oncohost, which develops personalized strategies to maximize the success of cancer therapies. 29. Studying Creutzfeldt-Jakob Disease Creutzfeldt-Jakob disease (CJD) is an incurable degenerative brain disease that leads to death within months with rapid deterioration and dementia, and is caused by incorrect folding of a protein. Scientists hope to better study the disease in microgravity, with the CJD Foundation partnering on this project. 30. Improving astronauts' bone and muscle function
Astronauts face bone and muscle degeneration in long-distance space missions. Israeli startup Amorphical develops and manufactures amorphous calcium carbonate that can help increase bone mass and improve muscle function. The experiment will be tested on SpacePharma's mobile miniaturized lab platform.
31. Chemotherapy in space Researchers at the Oncology Department from the Schneider Center for Pediatrics will study leukemia cells under microgravity conditions in the presence of chemotherapy, to investigate the proliferation and response of cells, and further study child chemotherapy, while monitoring changes in RNA.
Researchers will use a multispectral imaging system to examine the pathological, anatomical, and physiological changes on the optic nerve and retina due to space travel. The device, RetinoSpect45 led by Tel Hashomer, Spring Vision Clinic, and Mayo Clinic will examine those changes.
34. Neurofeedback - improving brain health Myndlift Ltd., an Israeli Arab startup, uses EEG sensors to measure brain activity and determine a patient's mental state, while presenting training games and videos that are influenced by real-time brain activity. It will perform neurofeedback in remote communication with its sensor platform to improve astronauts' brain health. 35. Neuro-wellness in space The need to monitor astronauts' brain activity is ongoing and pertinent. Israeli medical device startup's patented EEG platform consists of a high-density 500-electrode array with a hassle-free plug and play setup, which combines AI and machine-learning algorithms as well as a virtual-reality environment to study brains. The device attaches automatically to a person's head, and was developed along with researchers at Ben-Gurion University of the Negev. 36. Reflective eye test The onset of neuro-ocular syndrome (SANS) has been linked to obesity and a decrease in near-term vision. The experiment, led by researchers at Bar-Ilan University and IAMI aims to investigate the effects of microgravity on visual function. A digital reflective eye examination using a widget will allow a quick and reliable assessment of eye fitness before, during, and after a task. 37. Innovative eyewear for astronauts with beard-vision Shamir Optical Industry Ltd, which produces high-performance lenses, has come up with an innovative way to treat "beard vision," where aging eyes are unable to focus at close distances. Shamir's OverHead PALs lens provides optical enhancement at the bottom of the lens, and allows clearer vision at closer range. Renewable Energies 38. Li-ion batteries Silicone is widely used in batteries due to its low cost, and the electrochemical potential it holds. This experiment will demonstrate the assimilation of silicone inside a battery to understand how it functions, and look for solutions for systems with high-energy density. It is being sponsored by the Israel Electric Company and Israeli renewable energy company, StoreDot, which is developing next-generation batteries for electric vehicles. 39. Flexible solar panels Israeli publicly-traded company Apollo Power (formerly SolarPaint), has created flexible solar panels which can be used in space conditions outside of the space station. The patented solar film technology involves the configuration of bottom electrodes, an exclusive active "solar paint" material, and a plastic membrane. The lightweight flexible panel will be placed outside the station, and data will be collected on electricity generation in terms of efficiency and stability, making transporting, launching, and deploying solar panels far easier. Apollo Power was listed on the Tel Aviv Stock Exchange in 2017 at a NIS 9.4 million ($2.9 million) valuation. 40. Cosmo Cell - generating electricity in space using cosmic radiation The purpose of the experiment is to stimulate electrons in a conductive medium by using cosmic radiation to generate heat and an electrical current. A ceramic panel with conductive ink consisting of copper particles will be installed outside the station to allow exposure to cosmic radiation. The proposal is a collaboration between IEC and Israeli ink-and-printing company PV Nano Cell, which creates mass-produced inkjet based, printed electronics. Agtech and footech 41. Cultivated Meat
Israeli foodtech startup Aleph Farms is a leader in the cultured lab-processed meat industry where it uses cow cells to produce meat in a lab, and has previously launched an experiment to space in 2019. Its experiment will test the potential of pluripotent stem cell differentiation of cattle and the formation of muscle tissue embedded in hydrogel, where astronauts will examine the rate of cell division in microgravity, and attempt to grow cow cells for cultured meat in space. Aleph Farms has partnered with SpacePharma, Indian Space Applications Centre, European space agencies, and scientific high tech startup accelerators.