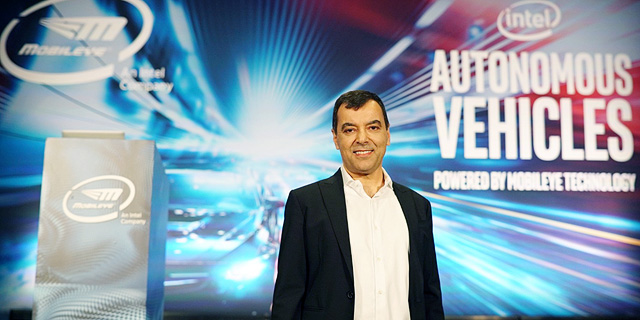 Shashua's Digital Bank eyeing $100 million funding round
The investment is set to provide the bank with the additional funds it requires ahead of its launch next year and be conducted according to a valuation of several hundreds of millions of dollars
Irit Avisar
|
13:34 19.05.2021
Israel's first Digital Bank, controlled by veteran entrepreneur Amnon Shashua, is aiming to raise $100 million from foreign investors at a valuation of several hundreds of millions of dollars. Shashua has to date invested $65 million in the digital bank and will remain the controlling shareholder with a stake of more than 50% following the funding round, which is being underwritten by The Rothschild & Co bank.
Around half of the sum being raised is meant for different costs of founding the bank, including R&D and marketing ahead of its expected launch at the beginning of next year. The other $50 million is expected to be used to meet capital adequacy requirements set by the Bank of Israel.
The digital bank is the first new bank to be established in Israel in 43 years. Three years ago Check Point co-founder Marius Nacht first launched the digital bank project, but resigned from the initiative in May of last year, leaving Shashua as the controlling shareholder. Shashua at the time pledged to inject $60 million in equity into the bank.
The Digital Bank already has a banking license to operate in Israel, and today employs 150 people. The bank has also signed an agreement to issue credit cards with Isracard and has registered as a trading partner on the Tel Aviv Stock Exchange in preparation for its planned operations in the venture capital market. The pilot program includes hundreds of participants, and will be expanded by an additional thousand people during the third quarter. At this stage, the pilot includes basic bankings services and in the future it plans to launch securities operations. The Digital Bank believes it brings additional value to the market as its technologies are based on artificial intelligence, and rests on Shashua's background - namely in the automotive industry, with Mobileye, and in the medical device sector with Orcam, which provides solutions for those with vision impairment. According to analysis conducted by the digital bank, the average household in Israel pays NIS 150 a month (approximately $46) in bank commissions. The digital bank will not be offering its services for free, but it will offer a set price that will include all basic services without charging extra commissions.
The digital bank noted in its pitch to investors that there is plenty of upside in investing in it for several reasons, notebly, a high potential for revenue, a low-expense model and the fact that the Israeli economy is growing.
Even traditional banks nowadays are far more digital than they were five years ago and the Covid-19 crisis only accelerated their digital transformation. Recent years have seen the launch of other digital banks, such as the UK's Atom and Monzo and Germany's N26, none of which rattled the sectors they operate in.
A digital bank's main advantage is in its relatively leaner expenditure model since it operates no physical branches and employs fewer people. That said, technological infrastructure also demands significant expenditure, and digital bank employees come from the tech sector, where salaries tend to be very high. So far digital banks have not been able to make shockwaves in terms of pricing and Israel's first Digital Bank doesn't claim to be cheaper across the board either.