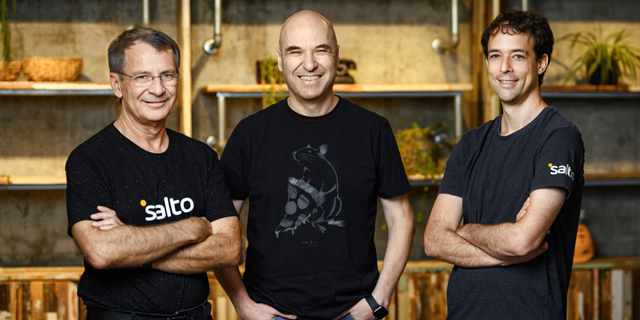 Salto raises $42 million just six months after previous round
The Israeli startup, which aims to streamline day-to-day efforts of configuring applications, has raised $70 million in less than seven months
Meir Orbach
|
17:52 19.05.2021
SaaS platform configuration startup Salto.io, founded by serial entrepreneurs Rami Tamir, Benny Schnaider, and Gil Hoffer, has announced the completion of a $42 million funding round. The latest round comes less than seven months after its series A, taking its total funding since last October to $70 million. The round was led by Accel and Salesforce Ventures, the investment arm of Salesforce, with participation from existing investors Lightspeed Ventures and Bessemer Venture Partners.
Salto, which aims to streamline day-to-day efforts of configuring applications by extracting the information and translating it to a standardized, structured textual representation, is expected to use the funding to significantly increase the number of business applications its platform supports and increase its recruiting efforts of new employees to do so.
Salto's platform makes different configuration elements searchable and allows to meticulously plan the implementation of significant changes, while tracking them and synchronizing them across all the platforms the company is using. The effect of the changes in configuration in a number of business platforms can be easily examined and changes can be tracked and even rolled back, if necessary.
Salesforce, NetSuite, and HubSpot are three examples of such platforms being used by companies, whose success is dependent on the ability to keep these platforms updated and synchronized with the company's changing demands. This becomes more challenging as companies grow, with out-of-date processes wasting vast resources and being prone to errors.
Rami Tamir, Benny Schnaider, and Gil Hoffer founded Salto after their success with Pentacom (which was acquired by Cisco), Qumranet (which was bought by Red Hat), and Ravello Systems (which was purchased by Oracle).
"Over recent years we have seen big organizations adopting hundreds of business programs. Salto is the missing link as it applies principles ranging from software engineering to organizational data systems," said Tamir.