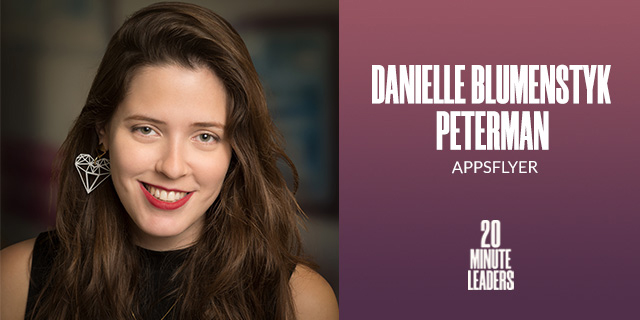 20-Minute Leaders
"If you find the right partner, a PR agency can take you to the stars, truly."
AppsFlyer's head of corporate communication Danielle Blumenstyk Peterman talks to Michael Matias about the importance of PR and how to tell your company's story on a global scale
Good public relations and corporate communications will focus on quality over quantity, Danielle Blumenstyk Peterman shares. It's easy to measure how many publications mention your brand, but it's harder to focus on the really high-value ones that will engage your potential customers the most. In her current position as head of corporate communications at AppsFlyer, Peterman is involved in a new way of measuring the success of their focus on quality. She says many people have negative misconceptions about the work of PR, but the right agency can really help push a company to create a better story. That compelling story is necessary to engage the press and public, as Peterman warns that connections to journalists or publications is not enough to get the coverage companies need. When the story is interesting, she says the collaboration will benefit the publication and the company.
Click Here For More 20MinuteLeaders
I often talk to a lot of really techy people about their tech, and I'm excited to discuss a different part of the ecosystem. How do you see your journey in the communications space?
I studied communications and international relations at university, but when I first graduated with my bachelor's degree, I really thought that I would be working in peace education. I was working for a nonprofit called Peace Now, and I got acquainted with the world of PR and communications. I fell in love, and then I started growing into that. When I got into the master's program at IDC, I was the assistant to the spokesperson. That kind of led the way into the position at the University of the People, which is an incredible not-for-profit university. Slowly but surely, I also learned in Israel, everything comes back to tech. That's how I came to know and work at Blonde 2.0. It was the best school I ever had, better than any of the degrees that I have, which I say are great ornaments, but they don't really serve much function, and that's how I got started at AppsFlyer.
Why are PR agencies part of the ecosystem? How should tech founders think about PR agencies?
Agencies get a bad rap because a lot of people have a conception that they're trying to screw you over, trying to take your money and not do good work. I think that's a huge misconception because if you find the right partner, a PR agency can take you to the stars, truly. It's all about setting the right goals that are feasible. It is super important to talk to the people in the ecosystem, especially in Israel. You can very easily find out if people in your industry and scale have been able to get good results with that partner. If you have a good PR agency that's like hand-in-hand with you in the trenches, thinking about good ideas, pushing you to do better, pushing you to tell your story better, you could really get results that are incredible and that would be very hard for you to get on your own, which is true for any size company. A lot of people think, "I'm too small to start doing PR." But sometimes you need that partner to get there. You can't just one day start doing PR; you have to work on it from the beginning.
It's not just about an agency that has connections in the various publications, but it's also somebody who understands your story, the journalism ecosystem, and how to translate your story into their language, right?
Connections aren't enough. Even if you have the best connections in the world, that's not going to make someone write a story about a company without an engaging story. You have to tell the story in a way that's engaging and relevant for the publication you want to be in and tailor it to the writer. A writer has goals and needs as well. You have to make sure that whatever you're trying to pitch to them is aligned with what they're trying to achieve as well. As long as it's a collaboration, both sides can benefit.
Now you're head of corporate communications for AppsFlyer. What does that mean?
We have a very interesting structure at AppsFlyer. When I first started, we were doing all communications globally in Israel, which was very interesting but also very difficult. At the end of the day, if you want to be a truly global company, localization is key, and having those people that understand the local markets better, who can go the extra mile to understand the customers, to tailor everything to the right reporters, to make those good connections, they are important. Basically, we shifted from a communications organization that was two people in Israel to now six people globally, going on seven. What does corporate communications do? Anything that's global, anything that has to do with our global messaging, global announcements about new products, new content, making sure our messaging is aligned across markets, making sure that we give the regions a lot of material to work with so they can serve the needs of their region. Some people think about localization and think about language. It's a lot more than language: it's language, it's culture, it's taking everything to the next level. We thought we were doing well. Now that we've had our regional communications managers, we know we're doing a lot better.
How do you measure that?
It's not easy. That's something that communications professionals are struggling with globally, both in tech and outside. But in tech, we're so used to measuring everything. We're actually trying something new this year, which is still in the experiment phase, but we created our brand score, which has a bunch of different metrics, including website visits, social media engagement, and press coverage. We created an Excel sheet that has all kinds of BI and analysts helping us do voodoo magic that turns it into actual numbers. Once we better define measurement, we know what we want to focus on. We know where we're focusing our efforts. It's a little early for me to say if it's a hundred percent working, but it is very interesting, and it definitely helped focus us, which is something that's exciting for me.
You could have a lot of different publications publish you, you can do a lot on social media, but it sounds like there are these few high-value events that happen and that's where our focus should be, right?
Exactly. That's one of the things that we've really been trying to focus on. At the end of the day, it's the same thing as everywhere, quality over quantity. It's hard in marketing to focus on quality over quantity when everybody wants to see metrics, everybody wants to see growth. But when you educate, both internally and externally, about quality over quantity and to measure the quality, it helps focus me, my team, and leadership.
What really excites you about communications and your place in the ecosystem?
This is a really fascinating time in the marketing measurement and technology ecosystem because there are a lot of changes. It's a very exciting challenge to get to educate the market, to get to tell a story that's interesting because it's different. It's very hard and it's very intense, and especially, in a time of constant changes, it's something that can be a little overwhelming, but it's so fun. We are the people that have to explain to the market what's happening.
Three short questions. Favorite subject in school?
English.
One of your role models?
My mother. She is a very, very strong career woman. She works for a small company called Microsoft.
Three words you would use to describe yourself?
Strong, ambitious, and weird. I think everyone worth talking to is a little weird. People that are normal are a little boring. I'm weird in a way that keeps me interesting.
If you went back to your time as an intern, is this the career that you would expect or are you surprised by it?
I would probably be surprised by it. When I was interning, I still thought that the way I would change the world was very specific, and I think what I learned is that there are a lot of ways to change the world, and as long as we're making a positive impact and you put passion into what you do—it sounds cheesy but it's true: having a positive impact on people is how you change the world.
Contributing editors: Michael Matias, Amanda Katz