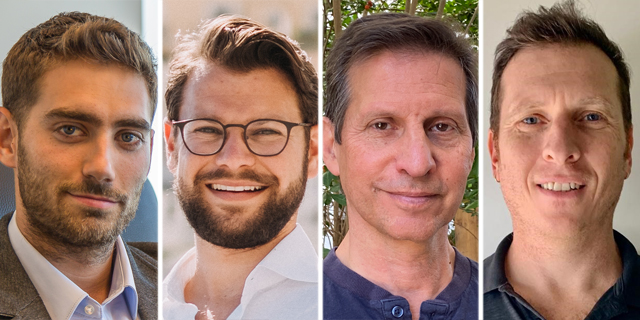 6 Israeli startups helping you put your personal finance in order
With almost a quarter of Israeli households facing a continuous struggle against being in an overdraft, local entrepreneurs have developed a variety of solutions to manage your personal finances
Andrew Jacobson
|
10:32 01.06.2021
Nearly 25% of Israeli households live in perpetual overdraft,
according
to a 2019 Central Bureau of Statistics report. 42% of households were in overdraft for at least one month during the year. While some draw an equivalence between overdraft rates in Israel to credit card debt in other countries, one thing is clear: many Israelis struggle with personal finances. Thankfully, Israeli entrepreneurs are developing a variety of solutions to manage one's personal finances, many specially tailored to Israelis, an anomaly in an ecosystem that generally targets customers abroad.
FamilyBiz
Oran Goldstein is founder and CEO of
FamilyBiz
, an app that provides users a full 360 degree view of their financial life and net worth, complete with a person's bank accounts, insurance, pension, and more.
"The first step towards the achievement of financial health is awareness of what you have," said Goldstein. The company launched iOS and Android apps last year for budgeting and bucketing expenses into various categories, enabling users to make sense of their spending habits and understand what financial services they own.
"We are mostly targeting young families, just like me. I have four bank accounts, six credit cards, two loans, one mortgage and seven insurance packages," said Goldstein, "and it's starting to become really complex."
After enabling awareness, the platform offers insights and recommendations to users to improve their financial situation. "For example, if you're carrying a high interest credit card loan, we can often offer you a better rate from your pension company. Since they have collateral, they're often willing to give you a better deal." The app also enables in-app comparison between different providers of loans, insurance, pensions and more. "Most unique about the app is our autopilot insights," he said. "We connect the dots with our technology and offer insights accordingly." Goldstein plans to avoid advertising as a potential revenue stream. He is considering "freemium" models for the application in addition to in-app purchases of 3rd party financial services, where FamilyBiz could take a flat fee from each pension, insurance or other product provider.
Keese
Daniel Rubin, founder and CEO of
Keese
, is developing a similar platform but exclusively focused on international citizens. Like FamilyBiz, Keese enables users to view a comprehensive picture of their financial life. The app provides integration of international accounts, translates charges into users' local languages and converts foreign currencies to the local equivalent. Rubin is currently testing the app with beta users and is releasing the app now to Keese's waitlist as part of an invite-only rollout, to be followed by a full release. Rubin also plans to add additional features to Keese such as international transferring provided by a 3rd party, accounting services and financial management. Rubin also plans to enable FBAR filing by the October deadline, enabling American citizens in Israel to seamlessly report their income overseas. One of the app's most beloved features is the customized re-bucketing of charges into different categories. For example, if the app erroneously classifies an expense for coffee at Aroma as "restaurant" and the user prefers to bucket the expense in "coffee shop," the user can manually reclassify the purchase. From the rebucketing, the AI platform learns the user's unique preferences and evolves accordingly. After targeting multinationals in Israel, Keese plans to expand to American citizens in the UK and Canada, and then people with international needs in the US, groups chosen due to ease of language and the familiarity to Rubin of those countries' tax systems. With more than 1.2 million expats in Israel and 270 million worldwide, Rubin sees the multinational market as one underserved and largely ignored by traditional financial institutions. He created Keese to fill the gap.
CashU
Another issue is receiving tax returns from the Israeli government. According to
government data
, more than NIS 8 billion is owed to Israeli citizens and not claimed each year. Ofir Ben Haim is the founder and CEO of
CashU
, an online site that enables Israelis to quickly and easily determine if they are owed a tax return, in what amount, and receive the funds directly to their account. Ben Haim estimates that due the frequent changes in work status caused by COVID, about one in three Israeli citizens is entitled to a return this year. Most common reasons a person is entitled to a return are changes in work status, family status, release from the army, and finishing an academic degree. Unique to CashU compared to competitors is the ease of use and accuracy of information provided. After answering a few questions about personal status, CashU's algorithm informs users the exact amount they are owed by the government. If an applicant prefers, he or she can continue the tax return process on the app for a flat fee of NIS 200, a unique fee structure compared to competitors such as FinApp, TaxOn and Fibo, which all base their fee at least partially on a percentage of the total applicant's tax return. An accountant for more than 33 years, Ben Haim developed CashU to solve the pain points usually involved in this long and tedious process. WIth an average tax return of NIS 5,500 for an applicant who is owed, CashU enables Israelis to reclaim the tax dollars owed to them.
Savings Jar
Another exciting personal finance solution is
Savings Jar
, founded by Tzvi Raviv in 2020. The company provides a platform that helps people pay off debt and develop healthier financial habits. "My wife worked for Weight Watchers in the states," Raviv said. Seeing how effective the program was to reduce weight, Raviv decided to apply the philosophy to personal finance with three core principles: Camaraderie, putting people together with similar challenges and goals; Role Models, having a personal coach; and Gamification, earning rewards to make the process engaging and fun. The platform enables users to share their financial progress and improvements with others in similar situations. The company entered the Sigma Labs accelerator in Oct. 2020 and raised a pre-seed round to complete the platform's initial version. Saving Jar's vision is to become a marketplace to connect people with financial coaches.
Accounting Made Easy
An accountant, Mark Samowitz is the founder of
Accounting Made Easy
, a training company focused on improving the financial literacy of non-finance staff in companies. The company has taught their visual and gamified course of 7.5 hours to more than 30,000 employees at companies such as McDonald's, BMW, Deloitte and WeWork. "We allow participants to build financial statements from scratch like a puzzle, customized with the business's own data," said Mark. "It's very visual and lets people see where each line item is located and how they interact with each other." Samowitz used to offer the course in-person only, but during the pandemic added an online offering, enabling the company to now teach in more than 10 countries across the world. "Employees in marketing, sales, HR and other departments take the course in order to understand the financial data they use, make better decisions, and articulate finance issues confidently," said Samowtiz.
Accounting Made Easy and Samowitz recently joined Jerusalem's MassChallenge accelerator to help scale the company and learn from others in the ecosystem. After making Aliyah from South Africa, Samowitz is excited and grateful to grow his business in Israel.
WakeUp Pension
Kenneth Mischel is the founder of
WakeUp Pension
, a startup that is disrupting the workplace retirement savings market with an algorithm that provides customized portfolio optimization. "I don't think the problem is financial education. I don't think people lack the ability to do math in their heads," said Mischel. "What happens is that people don't have access to anything. And we think there are three basic issues in the workplace retirement space that have caused this problem. First is a lack of technology. Second is a trust gap, and that is because intermediaries in the market unfortunately have business models that cause misalignment of interests. Pension companies work for the pension companies and not for their clients, and that creates a misalignment of interests and a trust gap. Third is a paradox of choice. Give people too many choices and they choose nothing." WakeUp Pension seeks to distill the complexity and provide the technical and data-driven tools to enable people to make educated decisions about their pensions. After establishing an account and answering some questions, the company's algorithms automatically optimize a person's portfolio and then paint users an interactive report where they can see their profile in a very personalized way. Mischel's goal with WakeUp Pension is to provide advice to the masses in the most cost effective way possible. Right now, the company charges NIS 115 for workplace retirement advice and implementation, compared to traditional advisors that can cost hundreds or thousands of shekels. WakeUp Pension soft launched in October 2020 and has since advised about NIS 150 million in assets under management, according to Mischel. "I think we're going to make a lot of noise," he said. "Now we wish to help Israelis, and then we plan to move on to many quarters of the world. There are 3.2 billion workplace-retiring investors with $50 trillion in assets under management and they are by far the most underserved group of investors in the world."
Final thoughts
Innovation is booming in the personal finance space in Israel, filling gaps left unfilled by traditional banks and incumbent institutions. By empowering people with high-quality tools and advice, these five entrepreneurs are enabling everyday citizens to improve their financial standing, develop positive financial habits and increase quality of life. With all these exciting developments, it is only a matter of time before Israel becomes a global leader in personal-focused fintech.
Andrew Jacobson is a CTech guest writer. He is an associate on KPMG's M&A team in Tel Aviv. He made Aliyah from Boston in Sep. 2020 after graduating from Brandeis University.