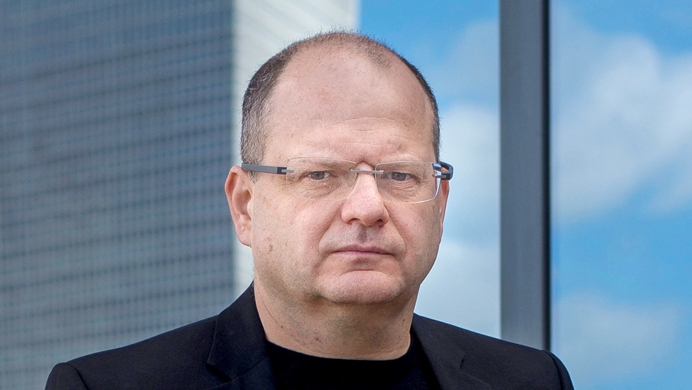 Check Point is ready to fight for its place, reveals numbers behind cloud operation
The Israeli cybersecurity pioneer wants to prove to everyone that even though it might have arrived late to the cloud game, no one should count Gil Shwed's company out. "We will make more acquisitions and continue to be aggressive with the cloud"
Sophie Shulman
|
13:41 07.06.2021
Check Point has become a sort of the old dame of the cybersecurity market over recent years. She was there first, some would say she even invented it. However, the young and sexy competitors did not only catch up, they quickly surpassed her. Check Point is now falling behind in technology, in growth, and as a result also in value, and in particular in the buzz these competitors are creating around massive fundraising rounds. But even more so, if Check Point once held a place of honor among its peers, these days entrepreneurs, many of whom worked at some point for Gil Shwed's company, are not afraid to take shots at it.
Perhaps Zscaler, an American cloud-based information security company, best represents Check Point's missed opportunity with the cloud. The young company went public three years ago at $16 per share. Its value is now ten times higher. When the Nasdaq peaked at the beginning of 2021, the stock soared to $200 and reflected a value of $30 billion for the company. Another company that emphasizes Check Point's lack of ability to adapt is Palo Alto. Like Check Point, it was also not born into the cloud, but it recognized earlier the shift in the market and went on an aggressive acquisition spree. As a result, the Palo Alto stock has doubled in price in the past three years. Check Point stock, on the other hand, has plateaued.
"Zscaler does not come close to our capabilities," Gonen declares, "even our regular firewall is cloud-protected, and we also have a cloud designed to protect our customers. We created a single layer for all the products and became Microsoft's prime cloud partner. That means that in most cases, Azure, Microsoft's cloud service, will have Check Point's security," he continues. And with that being said, a week ago, Zscaler reported a 60% percent spike in first-quarter revenue to $176 million, raising its forecast for the current quarter to $186 million.
Beyond the joint sales mechanism with Microsoft, Check Point sells its cloud security solutions to existing customers who are willing to take them for a trial period, as well as caters to new customers. According to Yarkoni and Gonen, they have large customers in the cloud division, from those who pay over $100,000 to those who made mega-transactions worth more than $3 million. This is in contrast to the younger competitors, who usually carry out smaller deals. "Despite what startups like to say today, that the need for a firewall has become redundant with the transition to the cloud, it is not true. We still need it, but it needs to be in a different configuration. Our cloud technology replicates the firewall, making it cloud-native." But if the situation in the cloud sector is so good, how do investors miss the point and value Check Point as a profitable company, but as one that does not grow? "There is an inflation in the value levels of cyber companies, but at the end, the value of all the smaller cyber companies, and especially the private ones, is derived from the expectation that Check Point will buy them," Yarkoni states. "It is possible that if we had split the cloud division out, it would have received a very high valuation, after all, today, companies that raise at a value of half a billion dollars have sales of $10 million," he continues. "Ultimately, when you give such companies generous valuations, you assume that one or more of them will become a platform company, similar to Check Point or Palo Alto, and not remain a niche company. But very few companies come out of the niche trap, which is good for us because it pushes us to innovate, and we will make more acquisitions and continue to be aggressive with the cloud. The cloud reinvents the world, organizations need to rebuild all of their systems within two or three years, so we too have a lot more to do." However, to this day, Check Point under Shwed was in no hurry to make acquisitions, certainly not large ones, and contented itself with acquiring startups in the early stages. Its biggest deal was to buy Dome 9 for $175 million, and the market wants to see Check Point make a bold move, a notable one for a company that has never distributed dividends and continuously repurchases its shares with its $3 billion worth of cash in its coffers. Is Shwed capable of such a move? "It's more a matter of appetite than of ability," says Gonen. "Prices are up 30% and we understand we will have to pay more. But until today we had success with four of the four cloud acquisitions we made, and I hope that in two years it will be eight for eight. I know we lacked audacity. Check Point was never bold, even as it invented one of the great fields in cyber. But what is happening in 2021 is very different from what was accepted in 1993, today audacity has meaning."