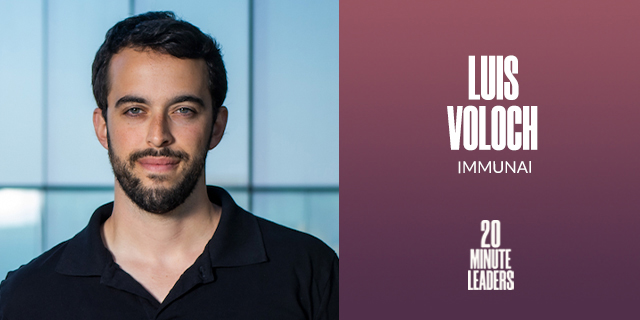 20-Minute Leaders
"The intersection of machine learning and biology is the future, and we want to be one of the first companies really helping push that forward."
Luis Voloch joins Michael Matias to discuss how Immunai is reprograming our immune systems and improving the biology of our bodies
It is not often when an entrepreneur with an idea to improve our lives can literally improve the biology of our bodies, but that is exactly what Luis Voloch and his co-founder Noam Solomon at Immunai are doing. Combining machine learning and biology, they are working to não and reprogram our immune systems by applying knowledge about certain cancers, for example, to other forms of cancer. The company currently works with various pharmaceutical companies to help them develop, improve, and combine their drugs, but Voloch has goals of helping people understand their immune systems better beyond cancer as well, and onto fighting autoimmune and age-related diseases as well. To reach their goals, they have hired the best and the brightest they can find in fields such as software, computational biology, and immunology. Other crucial characteristics for Immunai's hires are that they are very curious about the other disciplines and want to learn and work together.
Click Here For More 20MinuteLeaders
How did you grow up as an engineer, as an entrepreneur? What framed your mind-set as you went through your journey? I grew up in Brazil originally, in Rio de Janeiro, and I lived there until I was 16. I think a lot of what I did in my childhood was a mix of basketball with math. It turned out that my height projections were wrong, which made me give up basketball, not math. I moved to the US, and I went to MIT for my first degree and second degree as well as starting my Ph.D. I've always been very interested in math, science, and computer science, as well as how it relates to the world. I think those are sort of my core passions. What is it about the subject and about the work that you're doing within the mathematical context that just really excites you? I think what I always liked about math is that it forced me to be thorough. There's just no way around it. Really the only way is to deeply understand things and think about things extremely critically and in a structured way. That's the only way that things move forward. And I think that's one of the things that really attracted me to math. Entrepreneurship is different in the sense that you do need to make bold decisions that are not necessarily fully cooked, but I am just trying to be as thorough as possible. How did you and Noam Solomon meet, and what were you aiming for? One of the things that I bonded very quickly with Noam over was math, and unlike me, who dropped out of a math career, he actually succeeded in it for a while, and he's an amazing mathematician. Another part we shared very much is we're both thorough, but at the same time we also want to have a major impact in the world. Very early on, we started to understand that we wanted to have the broadest possible impact. We wanted something that we have the competitive advantage on and also something that really helped improve lives.
Michael Matias, Forbes 30 Under 30, is the author of Age is Only an Int: Lessons I Learned as a Young Entrepreneur. He studies Artificial Intelligence at Stanford University, while working as a software engineer at Hippo Insurance and as a Senior Associate at J-Ventures. Matias previously served as an officer in the 8200 unit. 20MinuteLeaders is a tech entrepreneurship interview series featuring one-on-one interviews with fascinating founders, innovators and thought leaders sharing their journeys and experiences.
Contributing editors: Michael Matias, Amanda Katz