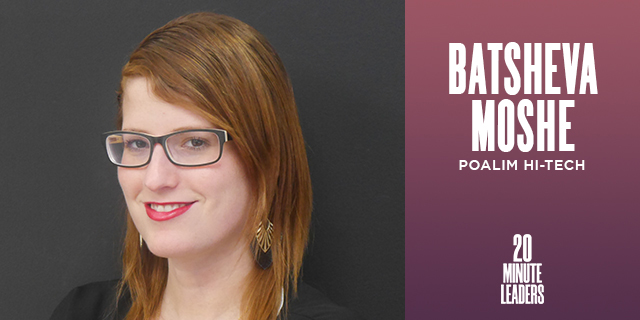 20-Minute Leaders
"High-tech is pushing forward our nation and our economy, creating many opportunities, and improving our society."
Batsheva Moshe, Manager at Poalim Hi-Tech, talks to Michael Matias about high-tech, Zionism, and making the world a better place
Making a difference in the world, especially in Israel, is something that Batsheva Moshe was taught from a young age. She has continued to live it out in her adult years, from choosing to move to a challenging neighborhood in the periphery as a newlywed to growing a small entrepreneurship organization into a multinational group. After creating the growth at Unistream, she realized she would have to develop her own skills and expertise in a completely new field to continue making an impact. Moshe made the leap into the business world by joining Bank Hapoalim, but she continued to search for ways to improve the world. She joined five boards of NGOs, works with the bank's foundation, and today is the manager of Poalim Hi-Tech, which provides banking and financing to startups and growth companies. Moshe believes being involved in the high-tech industry is a way to promote Israel, as the industry pushes forward Israel's economy and builds its future business leaders.
Click Here For More 20MinuteLeaders
How did you get to where you are today?
I was born and raised into a very Zionist family. My father made aliyah from the US and was involved in many pioneering projects. It was really a part of my education, thinking about Israel and trying to create an impact. When I was a teenager, I was a part of the youth movement, and when I finished high school, I joined the national service. I was a head of the branch of Bnei Akiva. I met kids that didn't have the best starting point and faced many challenges. This journey gave me a lot of insights of what kind of person I want to be and how I shouldn't take anything for granted in life. I decided to dedicate a lot of my time to try to make this place better.
When my husband and I decided to get married, we heard about this initiative called Young Communities, families that are moving to the periphery to build their homes there to create an impact from the inside. We heard about Akko, which was at that time considered to be a challenging place – socio-economically. After the second Lebanon war, the morale of the community was really down. We found an apartment in a pretty challenging neighborhood. Everything I knew before, even in my national service, didn't even come close to the situation there. A few years later, I heard about an organization called Unistream. When I first came into their entrepreneurship center, I saw impressive teenagers talking about their startups, businesses, fundraising processes, and about an upcoming investment committee. I was like, "Wow, there's a whole different world in this place." The methodology said that we will start working with teenagers early, before the Army, before university, at the age you can still change the path of your future, and soon enough in order to change the way you finish high school. We will try to give you everything you need – the inspiration, the network, the knowledge, the funding, and the experience – in order to do entrepreneurship and change your economic path. I fell in love with the organization. I was the head of the center for one year. Then I became a part of the management. I had a lot of fun, but I thought we could do more.
Three years later, I had a meeting with the chairman and founder of Unistream, Rony Zarom. At the end, out of nowhere he asked me: "Can you be the next leader of Unistream?" I was 29, I hadn't really managed something meaningful in the past, and I said, "Of course I can." He pretty much said, "Ok, you're the new CEO of Unistream." I felt I received the opportunity of my life, and I decided that nothing will stand in my way, and I will do everything in my power to take Unistream to the next level. I started changing the organization and growing it in multiple levels, not only the number of locations and participants. I understood that we needed to take it to the next level. We started creating all kinds of alumni and training programs to become a part of the high-tech industry, and programs for the communities and parents, and even entrepreneurship programs for senior citizens. In one or two years, it became a multinational organization working in about 100 locations in Israel, working in the United States, with more than four times the budget. Everyone in the high-tech ecosystem was part of Unistream. We had the entrepreneur of the year competition, and 3,000 people – leaders of the high-tech and business industry – have come to this event.
About a year before I left Unistream, I concluded I needed to move to the next thing when I'm still full of energy and enthusiasm about my work there and not when I'm starting to be tired. I thought that if I want to create even more impact, I need experience in the business world. I was starting to meet with CEOs of large high-tech companies about management positions. One day I had a pretty unexpected meeting with Oded Eran (of blessed memory), who was the former chairman of Bank Hapoalim. He told me to get out of my comfort zone and that if I really want to learn about business and see this world in the largest scale possible in Israel, I should come work at Bank Hapoalim. He offered me an amazing opportunity to work with him. Almost two years ago, I started working as a strategic consultant for the chairman of Bank Hapoalim. It was an incredible opportunity for me to work closely with one of the leading people in the Israeli business arena. Oded was an incredible person, a role model for me. I learned so much from working beside him about leadership, strategy, business, finance, and kindness. It was a dramatic change in my life. From day one, I was trying to find a way to continue doing social impact in parallel to my business journey.
As a part of that, I joined the foundation of Bank of Hapoalim – Poalim Bakehila, as a board member. Poalim Bakehila is the anchor of the social responsibility and philanthropy of the bank. We try not to be only the "money givers." but to be actually partners of the NGOs we support and be involved with the organizations, empowering them, guiding them, using our other resources to help them grow, scale, and widen their impact. In addition, we initiate many projects of our own and join forces with great NGOs.
Unfortunately, Oded passed away about a year after. It was an honor to work with him for even a short, yet truly meaningful, period of time. Wherever we went, he was always thinking about the people, thinking about the "transparent" person that's in the room, asking him how he felt, and how he can help him. It was amazing looking up to him and learning from that.
You transitioned to a different opportunity that is making a huge impact.
There was an amazing opportunity to join Poalim Hi-Tech, the bank's arm for startups and growth companies. In my opinion, high-tech is an amazing industry because there is much more there than just doing business and making money. High-tech is pushing forward our nation and our economy, creating many opportunities, and improving our society. I think it's an amazing platform for people to change their future, and there are so many fields in the high-tech industry that improve the world. I feel this is the right spot. On the one side, doing business, financing, building this brand; on the other side, finding creative ways for us as a leading bank to help startups and the Israeli tech industry grow. In Poalim Hi-Tech, every opportunity that I have, I see as Zionism because eventually this is the leadership of the business industry in Israel. The high-tech industry is growing, and I think we have to be a part of that, we need to nurture that and do everything in our power, as one of the leading financial organizations in Israel, in order to move the engine even faster and to grow this amazing industry. It combines many of my values, and I'm honored to be a part of this important work.
Three words that you would use to describe yourself?
Entrepreneurship, leadership, and giving person. It's much easier to be on the giving side than the asking side. So as long as I can be on the giving side in every aspect of my life, I really try to do everything I can to actually justify it.
Michael Matias, Forbes 30 Under 30, is the author of Age is Only an Int: Lessons I Learned as a Young Entrepreneur. He studies Artificial Intelligence at Stanford University, while working as a software engineer at Hippo Insurance and as a Senior Associate at J-Ventures. Matias previously served as an officer in the 8200 unit. 20MinuteLeaders is a tech entrepreneurship interview series featuring one-on-one interviews with fascinating founders, innovators and thought leaders sharing their journeys and experiences.
Contributing editors: Michael Matias, Amanda Katz