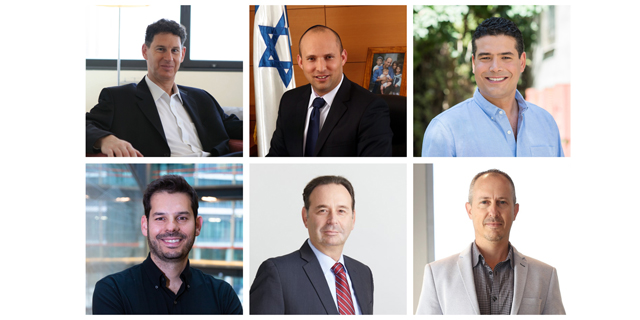 Tech experts share insights on Israel's new government
Will new Prime Minister Naftali Bennett give Israel's tech scene a boost, or will he fail?
James Spiro
|
13:03 21.06.2021
It's not every day that someone in your own ecosystem becomes the leader of your nation. Naftali Bennett, a former techie who made his millions by co-founding and then selling Cyota, has climbed to overthrow Benjamin Netanyahu and is currently settling in as Israel's first new Prime Minister in 12 years. In terms of leadership, his premiership symbolizes a generational shift for the country and its prospects in tech.
Or does it? CTech spoke to five tech experts - Dr. Ziv Preis, Co-Head Cross Border Mergers & Acquisitions, Banking and Finance at Lipa, Meir & Co. Law Firm, Ian Rostowsky, Partner and Co-Head of the Hi-Tech and Venture Capital Department at Amit, Pollak, Matalon & Co. (APM) Law Firm, Yinnon Dolev, CEO at Sompo Digital Lab Tel Aviv, Ido Erlichman, CEO at Kape, and Dr. Moshiel Biton, CEO and Co-Founder at Addionics - to better understand the impact that the Bennett administration may have on Startup Nation.
Dr. Biton: "One of it, as we see it in Addionics, is to support clean energy companies and increase investment in this sector both economically and for the environmental impact."
Now that policy will be passed, what impact will that have on Startup Nation?
"As the demand for qualified human capital is very high, the new government should increase the supply of qualified human capital," explained Dr. Preis. "Prime Minister Naftali Bennett, in his position in 2015 as the Minister of Education, initiated the reform focusing on math and science studies. Yair Lapid, the substitute prime minister, in his position in 2013 as the Minister of Finance, pushed for reform for mandatory core studies (including maths and English) for ultra-orthodox Jews. Continuing such reforms will increase the supply of qualified human capital and may create more opportunities for early-stage startups." "It will set Israel as a center of knowledge and a desired ecosystem for the most growing industry today - Energy!" said, Dr. Biton, also emphasizing the creation of thousands of employment positions. What is the relationship between private tech companies and the government? Erlichman: "We believe that the government and we have several goals in common - local innovation and efficiency in the field of technology. One way to do this is through government programs aimed at increasing the quality and skilled workforce in high-tech. These are the key issues that the government can and should support in companies." Dr. Biton highlights "a few initiatives and organizations that are really doing an amazing job and are supported by the government, like Ecomotion, the 'Chief Scientist', Startup Nation Central and more." Should governments have more input into private companies or less? Why? Rostowsky: "The government should continue to offer funding through numerous programs like those offered by the Israeli Innovation Authority (IIA) and increase budgets for these programs and reduce bureaucracy for participating companies, thus making them more attractive. On the other hand, the government should continue to provide tax and other incentives for investors to invest in Israeli tech companies." "The level of service government branches offer to citizens is notoriously bad," revealed Dolev. "It is partially due to the fact that such branches do not take on digital transformation the way private sector companies do. Government processes take a long time and customer experiences are frustrating... Israeli solutions in digital forms, Robotic Process Automation, Artificial Intelligence, and other disciplines are already solving big problems globally so why not here? If anything, the government should invite private companies to provide more input, reduce costs and increase efficiency." "We believe that the government can and should focus, also, on creating an environment where businesses can flourish, and that usually means letting us (the companies within the tech arena) do what we do best," added Erlichman
"The real challenge (or gaps) for startup companies is related to two issues: fundraising and commercial collaboration," explained Dr. Biton. "I believe that the Israeli government should do more to allow better opportunities - and it's not that complicated, only a matter of budget and attention."
What advice do you give the new government and its Prime Minister? "The new government's policy should encourage investment of capital in early-stage startups and increase the supply of qualified human capital," advised Dr. Preis. "For that purpose, it should elaborate the tax reliefs to angel investors investing in early-stage start-up companies and ease the ability of angel investors to benefit from those tax relief… There are plans providing investment protection to Israeli institutional investors investing in the early-stage, and the new government should continue to encourage and even broaden those investment protections to institutional investors."
"The hi-tech industry already accounts for 25% of tax revenues and this is constantly growing," explained Rostowsky. "The government needs to give priority to hi-tech related matters – mainly education and infrastructure - as one of its top priorities."
Dolev advised Prime Minister Bennett should "do what the high-tech sector does well: Work as one team to achieve success."
"Take this unique opportunity to unite the population around common goals, with the main one being trailblazing access to the lucrative tech sector to wider groups in the population," suggested Erlichman.
"I would just ask them to allocate more resources, as the new Prime Minister knows what startup companies need better than all of us due to the fact he was involved in four exits," concluded Dr. Biton.