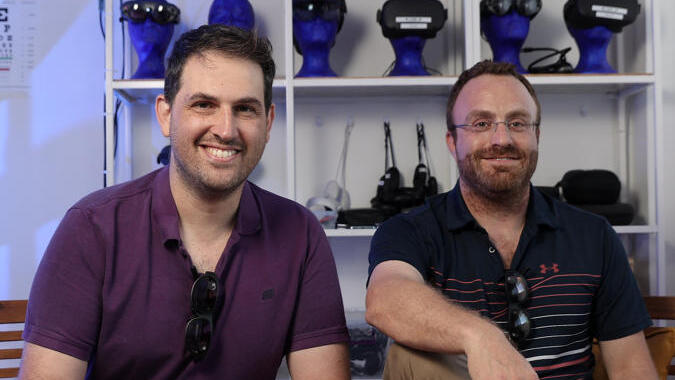 Exclusive
Revolutionary MR startup Multinarity emerges from stealth with record $28 million Seed round
After raising the biggest-ever Seed round for an Israeli startup, the founders of Multinarity believe they can revolutionize the world of mixed reality with their secret product
Hagar Ravet
|
08:56 30.06.2021
Mixed reality (MR) startup Multinarity has emerged out of stealth with the biggest Seed round in the history of Israeli tech, raising $28 million. The company's seed round was raised over two parts and was led by Israeli VC Aleph and U.S. fund Corner Ventures. Multinarity was founded a year ago by Tamir Berliner, former founder of PrimeSense and General Manager of Magic Leap Israel, and Tomer Kahan, a former VP at N-Trig and a senior director at Magic Leap. The startup is aiming to revolutionize the world of mixed reality, but is developing its product under a cloak of secrecy. Multinarity is willing to say that its product is meant for daily, practical and continual use and improves the productivity and creativity of the user.
The company that was meant to make up for the disappointment from Oculus was Magic Leap, whose founder Rony Abovitz led it to funding rounds reaching $2 billion, including investments from Google and Alibaba. Magic Leap focused on the MR sector and those who received access to test its most secret product while it was under development, reported, once more, of a real breakthrough and of an unprecedented experience. But Magic Leap postponed the launch of the product time and again and when the headset finally hit the market in 2018, a combination of a scary price tag of $2,300 combined with questionable functionality resulted in another disappointment.
Magic Leap refused to reveal the sale figures of the product, but there is no doubt that they went from being a great promise to just as great a disappointment. In May 2020, the company fired half of its workforce, before receiving a life-saving injection of another $350 million investment. In September 2020, The Information estimated that the valuation of the company had been slashed from $6.4 billion at its peak to less than $500 million. The company is still alive and kicking, currently under new management, but it doesn't seem like it has found the niche that will take it back to the top. The reasons for the repeated failures of these technologies starts with the high manufacturing costs, which usually result in a high price tag for consumers, and include a significant difficulty to create a wearable and comfortable product and find the right niche for the use of the product.
MR and VR products are currently mainly targeting complex industries on the one hand - and in these cases the products are usually expensive and complicated - and gaming fans on the other hand. Sony, for example, registered relative success for the sector with its headset that was sold as an accessory to its console for $300. But ultimately, one must admit that the reason that no company has managed to crack this formula to date is the gap between vision and reality.
This isn't just expectations by users to receive a product that will take them to a fantasy world and allow them to completely escape reality, but mainly an attempt by developers to meet these expectations. A pointless attempt by definition. If such a product would be possible to create technologically, it would be very expensive and have no real use as there is still no world of content creators to support it. Multinarity believes they have cracked this formula. Their focus is on a software product that interfaces with existing hardware products on the market, and there are many more of those expected to be released in the coming years. After several unsuccessful attempts, it seems that the next few years will highlight a breakthrough from the East. The most popular products on the market are already coming from Japan's Sony and Taiwan's HTC, and they will be soon joined by headsets hailing from China and other countries in the East. Most of these products have far lower price tags than those that have characterized the sector to date. "We are finally building what everyone in this domain has been hoping for - a company and product focused on limitless productivity, that unshackles human-computer interactions from the limitations of space and time," said Tamir Berliner, co-founder and CEO. "We want to create the perfect environment for innovation, collaboration and communication."
"Every platform advancement creates an opportunity for a step function in human productivity, which has been a personal passion of mine for over a decade," said Aleph Equal Partner Eden Shochat. "Mixed reality is naturally transformative, and I can't imagine a better group than Tamir, Tomer and the team they built to create the new productivity stack."
"Being an investor one sees a lot of innovation yet, from time to time you get to see a disruption that is truly revolutionary," said Co-Founder and General Manager of Corner Ventures, Marvin Tien, "I am excited that Multinarity is making that a reality."