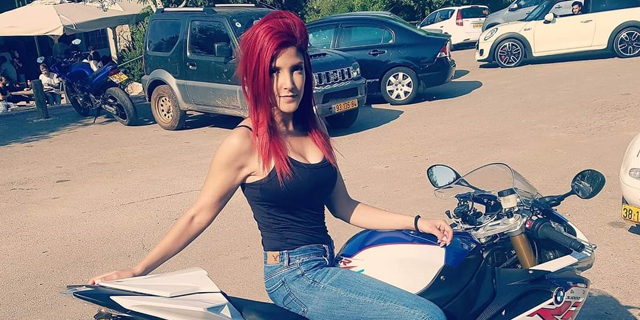 A Day in a Life
Taming the hi-tech beast one motorcycle ride at a time
Tal Beck, Customer Support Expert at Kryon, is happy solving problems from home or the office, but loves more than anything else her motorcycle trips to clients
Sponsored Content
|
12:37 30.06.2021
ID
Name: Tal Beck
Age: 35
Where do you live: Herzliya
Company: Kryon, RPA Innovator
Position: Customer Support Expert
For a Starter
Describe what it means to be a Customer Support Expert: Being a Customer Support Expert means being the focal point between the client and all the different groups in Kryon. It means accompanying the client through the entire process, from installing the Kryon product until his system is stable and working well daily. Kryon's Full-Cycle Automation solution helps the customer by optimizing their business processes and increasing profitability by managing large workloads through automation. As a Customer Support Expert, it is my job to ensure the client is successfully using Kryon's solution and everyone is happy.
Describe your daily routine: In three words: Traffic jams, coffee, and emails. I start my day by walking my dog, after that, I ride my motorcycle to work. Kryon has adopted a hybrid working model, so I work twice a week from home and three times a week from our offices in Tel Aviv. In addition, at least once a week, I visit one of our clients, which can be anywhere in Israel. For me, this weekly client visit is a big perk. It is an opportunity to take a trip on my motorcycle, which is a great way to start the day and enjoy my passion. It doesn't matter if it is Kryon's office or a client's, arriving at the office after a motorcycle ride always puts a smile on my face.
Working with clients: Most of our clients have weekly or biweekly meetings in which we talk about their goals and priorities and understand what they wish to change in the system. We at Kryon put a lot of emphasis on involving the client in the decision-making process. If the client feels that there are missing functionalities or necessary features, we do our best to adapt our solution to meet their specific needs.
Kryon has many international clients, and each client has a different environment and culture. As a Customer Support Expert, you need to adjust yourself in numerous ways, from body language and speech to email writing style and tone. You also need to understand when it is acceptable to use a web-camera and when not. Sometimes clients are still surprised to speak with a small woman with red hair; other clients love it, and we have great chemistry.
My relationship with my colleagues at Kryon: Even though I am usually the only support expert to arrive at the client's office, I am never really by myself. I am backed and supported by a team of at least ten experts. My colleagues are always available for me and give me confidence in every possible aspect, whether by helping in developing a solution or just listening to my needs.
How did you end up as a customer support expert: After my army service, I worked at a clothing store. Our cash register had connection problems and I tried figuring out what was wrong. This was first time I dabbled with technical support and troubleshooting and I found my calling. I didn't even know what it was called and that it could be a job.
At first, I started working as technical support, like those who tell you to unplug the router. Maybe it was due to my passion or attitude, but I found myself moving forward pretty fast and advancing to support engineering. I strengthened my skills with a degree in Computer Science, and from there, the transition was easy and natural.
What do you enjoy the most in your work: I love solving complicated problems no one else has managed yet. Linux and Android are my first loves, but I really enjoy building complex architecture for a client. It is very satisfying to see your baby grow and be used by the end-users, who can range from 20 people to thousands, and see everything working as expected. As customer support experts, people only talk with us when things don't work as they should. So if a client has not reached out to me for a couple of months, I know things are going well. In a way, we are like doctors – you come to us only when you are sick.
I love the action in support. I developed for Android for a while, but it lacked the action you can find in support, so I decided to specialize in support engineering. The team dynamics are different, and people push each other forward. If your teammates are more knowledgeable than you, it is in their best interest to help you because it strengthens the entire team. It becomes a small family.
Preference - working from Home / Office / Hybrid: I don't have a preference, I enjoy working from home or the office. At the office, I can sit with my colleagues, chat, and get updated about what everybody is doing, especially after the last year in which I didn't get to see many people. Yet, working from home is also nice. My spouse also works from home, and we can do things together. Also, at home, I can pet my dog, which is like a chill pill: When I am stressed, I can always reach out and stroke her.
My Daily Routine
I start my day by walking our dog, after which I ride my motorcycle from Herzliya to the office in Tel Aviv, listening to music.
09:00
I arrive at the office and say my hellos. Most of my team arrive at the same time, so we have coffee together on our nice patio and chat about personal stuff, news, etc. After that, we go back into the office and order lunch together.
10-12
These hours are usually dedicated to weekly catch-up meetings on Zoom with various clients.
12:00
My team members and I meet with other members from our department for lunch. After that, the real fun starts.
12:30
This is the most interesting and enjoyable part of my work: talking with customers, unexpected cases, new problems, clients who have bugs after updating their IT systems, etc. We do a lot of troubleshooting in the client's environment that isn't always connected directly to Kryon's product. Working on cases can range from 10 minutes to a couple of hours. Sometimes I stay until 19:00-20:00.
18:00
I always say that if I did my work well, this is usually when my workday ends. But it isn't always up to me. In support, the day never truly ends. Even in the middle of the night, you can be called for an urgent case. If that happens, I wash my face, drink some coffee and get to work. I love the action.
After work, I usually do pilates. Pilates is my way to relax. It is something I have been doing for years. I also teach Rehab Pilates and joke that someday it will be my retirement plan for when I am done working in hi-tech.
After Hours
Pressure and relaxation: Hi-tech is a beast. Many view it the wrong way, looking only at salaries and benefits while ignoring the pressure. My spouse and I met on a motorcycle trip, and it is something we still do together to relax. Sometimes we ride with friends and sometimes by ourselves. Riding a motorcycle keeps us alert and helps us stay in shape because it is heavy machinery and complicated to manage.
Recommended book / series / movie: My spouse and I love listening to TED talks. Series-wise, we always have something new we watch together. When I work from home, we always watch an episode together during my lunch break. Lately, we have been watching Castlevania on Netflix.
Apple or Android: Android, easily. My spouse is an Android app developer, and he made our home a smart home. We can control everything with our phones, from the AC to lights, routers, and the dog camera. Sometimes it feels like we can control the whole world from our two phones. All our work stuff is synchronized to our two phones, so we can sometimes go through an entire day without touching a computer or a light switch.
What music are you listening to: Vocal trance and progressive rock. I know those are opposite worlds, but that's how I like it.