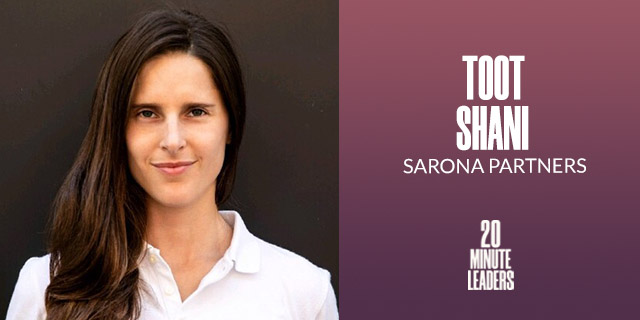 20-Minute Leaders
"I found that what was the most intriguing for me... was the notion of entrepreneurship, not a specific industry."
Toot Shani, co-founder and CEO of Sarona Partners, tells Michael Matias about her goal to change the world of entrepreneurship itself
Many founders set out to change an industry or make a quick exit to start something new, but Toot Shani, co-founder and CEO of Sarona Partners, had a goal to change the world of entrepreneurship itself. She saw the limited options startups had for financing as a problem and wanted to encourage founders to grow big companies rather than exiting as soon as possible. Shani advises entrepreneurs to stop thinking of perfecting one product and moving on and instead to think of how to re-develop or add on to their original product to expand the company. Her first successful company was a production company, which combined her love for dancing and acting with entrepreneurship. Later, she helped organize student hackathons. Her current venture, Sarona Partners, has helped more than 300 startups, and Shani says it is exactly what she has been striving to create since her entrepreneurial journey began.
Click Here For More 20MinuteLeaders
Toot, you have the best name in the world, strawberry in Hebrew. I have to take a breath to get through half of the things you have done. How does one navigate through so many different things?
I would start by telling you my professional journey, why entrepreneurship is so much a connecting line between all of it, and where does it come from.
I fell in love with entrepreneurship when I was about 16. Actually, before, when I realized that I could convince people to do things. Later on, it translated to the simple fact of you generate value and you get money in return. I found it fascinating. The fact that you can actually get money if you bring something to someone that needs that thing.
When I was about 20, I built my first company, a production company. We had a theater school, and we did content development and event production for children. We did that all the way from birthdays to big happenings for municipalities, producing theater shows for kids, developed a few TV shows, and so on. I sold this company. I managed marketing and sales for a big German corporation that has a subsidiary in Israel.
This company that you founded and sold, why start that? Were you especially excited about the industry?
I had a few other entrepreneurial attempts before I built this company. I had a tech startup that I was trying to build up. The trend was to build toolbars for your browser. I wanted to do a toolbar for flat mates to place on top of apartment websites and allow you to find an apartment that has a flat mate that characteristically would fit you and your lifestyle. That was the startup. Actually, that doesn't exist yet even today.
I started to do that, and then I realized that I don't come from a technology background. Even though I am an electronics engineer, it's not the same: building software and building electronics. I decided to do something I know from A to Z that doesn't have a learning curve for me. That's when I started the production company. I came from this world. I was acting and dancing from a very early age.
Now you're a core part of the Israeli ecosystem with Sarona Partners. What happened for you to get there?
Sarona is my dream. If you would ask my vision when I was a young, aspiring entrepreneur, Sarona was that. Essentially today after building Sarona and creating this huge ecosystem, I feel very content because that is essentially what I've been striving for.
The way I got there was I was approached by an European entrepreneurship organization that was organizing hackathons for students. I became their ambassador in Tel Aviv, and I built the hackathon in 2012. Apparently, it was the best they ever saw. They asked me if I could travel the world and help other organizers with their hackathons voluntarily.
I worked during the weeks in the German company, and on the weekends I was traveling the world and supporting the local organizers. That led me to build my second company. With the experience I have there working with entrepreneurs from all over the world and the world bank group, I came back to Israel in 2017 with a vision to build a scale up program.
Elaborate on this dream.
What was most intriguing for me since I was very young in the entrepreneurial world was the notion of entrepreneurship, not a specific industry. There wasn't a specific industry that I would tell you, "This is something I want to change."
But the entrepreneurship world itself was something that gave me enough strength and vision to say, "This is something I want to change: the way the world works between venture capital and startup companies, the limited paths that were available for startups." Up to about seven years ago, you didn't have so many options. The purpose of an Israeli startup founder was to exit his company and not to build a big company.
For me, this is what I'm changing. Sarona has worked with more than 300 startup companies. I wouldn't be able to be in any of their shoes because I would be bored too quickly. I'm not passionate about any specific industry. I'm passionate about the ecosystem of startuping itself and how we can make it easier for entrepreneurs to build companies and to build big companies and to make this change, to bring value to people in the world.
What have you learned on an ecosystem level around this idea of scaling up?
Today, it is already a very strong part of the discussion in Israel, which is different than what used to be here three or four years ago. There are a few things that are leading to the change. One is the change of the VC financing. The VCs have changed from wanting to exit after four or five years. They understand it is better for them to stay in the company, to help the company grow, and to wait for 10 years until they exit. They've built the financial structure that allows them to do that. If you think about what happened before, many times it came from the fund that said, "Let's sell it."
The second is the both vision and bandwidth of the entrepreneur. By bandwidth I mean, often you see second-time founders are the ones that build the big companies. They are not in a rush to sell because they're already okay financially. Now the challenge they want to tackle is to build a big company.
On the confidence side and the vision, to build a big company, you need to change from thinking, "I built this product. Now, I'm selling this product to someone else as an exit. I'm going to do a new thing." You start to think of re-developing the existing product. What more can you build on the product? Then slowly, you become a platform or you become a multi-product company. This is the way to build the big company and to actually scale to sizeable organizations.
So two different things have come into play at the same time. VCs are less pressuring to do the former way of exiting. And you also have serial entrepreneurs who are urging for something bigger. Did I catch that correctly?
Yes. Let's think of it this way. If Google remained just a search engine, would they be what they are today? No. If Amazon stayed a book store, would they be what they are today? Never. Any big company you see that wasn't acquired, it's because they always kept on developing.
At Sarona Partners, you're looking at a bunch of different verticals. What gets you going? What is it about your job that gets you this excited?
The reason why I fell in love with entrepreneurship is because I think building a factory is better than creating one product. Why? Because when you stop being there, it still keeps running. If I'm in a position where I'm helping entrepreneurs, essentially the value and the impact that I can generate through those entrepreneurs is massive, much more than if I would only have one company.
I have three short, fun questions. Favorite subject in middle or high school?
Math.
One of your role models?
That's a tough one. Maybe design wise, only design wise, Steve Jobs. His design work with Apple was phenomenal.
Three words you would use to describe yourself?
Adventurous. Professional. Honest.
Contributing editors: Michael Matias, Megan Ryan