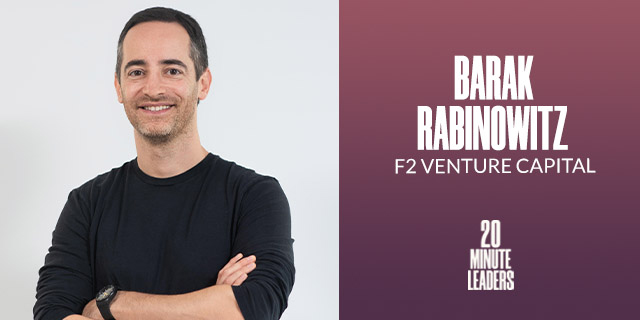 20-Minute Leaders
"Always take the bet. If you see the spark, take the bet. We're in the risk-taking business."
Barak Rabinowitz, managing partner at F2 Venture Capital, talks to Michael Matias about being in the front of a movement
The road to entrepreneurship is not always a linear path, and Barak Rabinowitz is a prime example of that. He grew up in Ohio, attended Georgetown University, and was working in banking before the attacks of 9/11 changed his course. Rabinowitz helped create a financial advice nonprofit for families of victims who received government compensation. Next, he made decisions that some might have thought crazy: moving to Israel during the second intifada and volunteering for the army at age 25. After going to Harvard for an MBA, he founded a few startups before moving to the investing world, where his current venture is F2 Venture Capital. Rabinowitz advises young entrepreneurs to be sure they find the best people to hire. He says many mistakes start when compromises are made on hires. But finding people with the same values and goals is key for creating impact and happiness.
Click Here For More 20MinuteLeaders
Did you know when you grew up in Ohio that you were going to build an amazing VC here in Israel?
No. I just had a vision that I wanted to be in the front of a movement, to have some impact. But I had no idea what, where. I could sit here now and try to draw a logical path, but a lot of times it's just following your heart and seeing where you end up.
What was the point for you when you said, "I like this ecosystem"?
I realized there's a few things in your life you can do to make a step change in your happiness level, like picking the right partner, picking where you live. If I can actually live here and work here in the place that I love, I bet that will make me happier. And it does.
You came here in 2002 after Harvard, right?
No. I was in banking, losing my soul in Wall Street. First of all, 9/11 happened and my bank was impacted. My bank and Goldman Sachs created a nonprofit to help the victims, specifically widows. We created a financial advice program. That was actually my first startup. I couldn't go back to banking after that.
Morgan Stanley was opening an office in Israel. I contacted Yair Seroussi and said, "I've got to come out." It was the second intifada. He said, "If you're crazy enough to come here now, we'll have you." That's what brought me to Israel, that sense of adventure and connection with my roots.
I always had a dream to serve in the army. I realized I should volunteer to serve in a combat unit. I joined when I was 25.
What was that like?
I was so happy. The volunteers are the most motivated soldiers in the army. That's why the army invests in them, I think, to set an example, and I was definitely the case, living my dream.
How did your fellow soldiers accept you?
I was popular. I was the one soldier with some money. On the weekends, everyone would come to my place. I took everyone to Brasserie, a very fancy restaurant, for brunch. It was really fun.
The training is very intense. Then in deployment, you do a lot of standing still. I just did the GMAT preparation and essays in my head to stay awake. I applied to Harvard and was accepted.
Harvard MBA, and you're coming back to Israel. How did F2 happen with Jonny?
My best friend in the army was Belgian. He introduced me to a Belgian girl in London. We started dating (now married with two kids!). We did a startup in London; it was bought. We moved to Israel and did another startup. I invested as an angel in a company in The Junction, which is part of our platform at F2. After my company was acquired, I joined Jonny at Genesis Partners. We took a lot of best practices from there, but we thought we could direct them to a clear gap in the market in Israel at the pre-seed and seed stage. That is the genesis of F2.
What is your thesis around the early-stage companies that you're looking to work with?
There's a general checklist targeting large markets, very intelligent and driven people, authentic entrepreneurs, complementary team and skill sets, and some validation, but it does come down to just that intangible x-factor that you feel.
A lot of it is from experience. I'm guessing the intuition bug is pretty strong now.
Yeah. The theme here is failure is the best teacher. Failure in my own startups, failure in not backing companies that went on to be successful: learning all the time from those experiences so that you don't repeat it.
How do you actually learn from these experiences?
One of the things you realize in VC is it's the winners that count and the losers are irrelevant. Our investment in Explorium is worth more than our entire first fund, and we're just getting started there. It doesn't matter that I lost $2.5 million on a company that we wrote off. Always take the bet. If you see the spark, take the bet. We're in the risk-taking business.
Do you consider this a company that you run? This is not like banking, right?
No, this is our startup. We have one fund and a second fund, and soon we'll have a third fund. I think we've had a lot of success, but I take nothing for granted.
How do you raise the happiness level as a VC?
You need that team of people who have that same core set of values so you'll all be happy as a result of the same thing. What is life about? I call it ROI, return on impact. That's what we're looking for here. What greater impact is there than to be at this ground stage of future great companies and great leaders? Layered into that is this sense of pride in Israel and these young Israelis making a positive change in the world.
What have you learned that will make young entrepreneurs' paths better?
It's key to have great people around you. What happens is you raise money and then you have pressure to release a product on time. You still have to hire people. You realize people have issues, and you start to make compromises. That is the genesis of mistakes. You need to hold out until you have the top people. If you can't get them immediately, understand what it would take to get them and orient around that. If you get that right, the rest should follow.
What have you observed in the Israeli ecosystem over the years?
It's important to understand the source of the innovation. I think it goes back all the way to the hostile region we live in and the necessity for a big military and mandatory national service. Those who have a potential to be technologists are grouped together, given highly ambitious tasks, and told the fate of the country rests on their shoulders. That can't be replicated.
Another key trait they share is resilience. We're used to every five years having some sort of conflict here, and we can withstand that. But on the negative side, there is a big difference between the last generation of Israelis and the current generation; I feel the current generation may take things for granted.
Why do you think that is?
It always surprises Israelis when I say I've experienced anti-Semitism. Growing up in Ohio, you experienced it all the way through. That creates a certain humility and also a calibration. The US is so much bigger than Israel. Everyone here talks about doing something special, but unless they spend time outside of Israel, they may be setting their sights too low or ignorant of certain challenges.
I want to ask some fun questions. Favorite subject in middle school?
Definitely history.
Any specific time?
Now I read nothing but historical fiction from like 1900 to 1930. That's when all the world was changing. The birth of aviation and automobiles, telephones, electricity—it all happened then.
Somebody who is a role model?
Rocky Balboa. He's a fictional character, but his motto, his whole life was a million-to-one shot. It just inspires me deeply. The beauty of having fictional heroes is they can't let you down.
Three words you would use to describe yourself?
Optimistic, humble, and curious.
Michael Matias, Forbes 30 Under 30, is the author of Age is Only an Int: Lessons I Learned as a Young Entrepreneur. He studies Artificial Intelligence at Stanford University, while working as a software engineer at Hippo Insurance and as a Senior Associate at J-Ventures. Matias previously served as an officer in the 8200 unit. 20MinuteLeaders is a tech entrepreneurship interview series featuring one-on-one interviews with fascinating founders, innovators and thought leaders sharing their journeys and experiences.
Contributing editors: Michael Matias, Megan Ryan