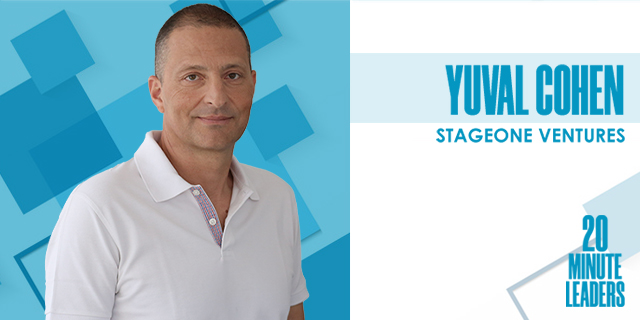 20-Minute Leaders
"The lesson that actually goes from those days till today is that everything is about people; it's all about people"
Yuval Cohen, co-founder of StageOne Ventures, talks to Michael Matias about seed investing and building companies from scratch
Founding StageOne Ventures has brought together Yuval Cohen's passion for helping to build companies from scratch and his curiosity to learn about new markets and domains. He thrives on working with people who are experts in different fields that may be new to him and helping them take their idea from seed stage to early sales. Cohen and his co-founder saw the strength of Israeli engineering and decided to focus on Israeli companies in the very early stages that are changing B2B infrastructure. They have invested in nearly 50 companies, mostly as the very first investor. StageOne has made it through several crises, such as economic downturns in 2001 and 2008, but Cohen's motto for himself and the company is to never give up.
Click Here For More 20MinuteLeaders
I really want to focus on your journey. You're one of the top investors in Israel, and StageOne VC is one of the top VC firms in Israel. Why become an investor? What was the plan on becoming a VC?
Frankly, there was no plan. I grew up in France, in Paris. I came to Israel just before my military service. Spent about five years with the IDF. After studying in The Hebrew University of Jerusalem, I did a kind of a mix of law school and an MBA in corporate finance.
I think you skipped something. You started out as a bellboy at a hotel.
Just after coming to Israel, I had a few months before military service. I spent about six months working as a checker and bellboy in a hotel in Jerusalem. Believe me, it's a kind of a lesson for life.
What do you take from there to now?
The lesson that actually goes from those days till today is that everything is about people; it's all about people. The interaction between people is both on a personal level and the business level, but you need to communicate. I started my career in IDB, at that time, one of the largest groups in Israel. I joined the capital market division, and I was pretty fascinated by public markets and option trading. All of a sudden, the market crashed worldwide. I want to believe it's not because of me. We had to reinvent ourselves at that time. It was the mid-'90s, very few tech companies in Israel. After a trip to New York, the head of the division presented a senior person who had spent several years in the Bay Area. He said, "This guy will be leading a kind of corporate fund for IDB." It was actually maybe one of the first in the country.
I teamed up with two other partners, and we actually set the first fund. And then, we set a second fund as part of IDB. These were terrific years to invest in the telecom sector and the enterprise software in Israel. It was six, seven years before the internet boom. Second, a lot of knowledge that was more like military knowledge got to be commercialized from the army and went to different sectors. That's the story of Israeli high-tech of course.
At that point, do you feel that Israel is going to become a powerhouse? Is that obvious?
It wasn't obvious at all. I remember the first founders that we backed were pure engineers, zero business experience and no international experience at all. This was actually a decision that we took after analyzing the market. The major advantages of the Israeli ecosystem are the technology, the manpower, the engineers. We decided to focus on those sectors. We backed a bunch of pretty successful companies.
Funny enough, the first fund was pretty successful. The second one was less successful. After a period of seven years, the idea within the group was to form a fund that would be larger like most of the funds all over the world. At that time, I felt pretty senior. I was stupid enough to say, "Okay, let's lead it and start basically a kind of a boutique." That's how I teamed up with a founder that I backed several years before, Adoram Gaash, and together we started StageOne.
Take me to that day. You're sitting down with a founder you previously backed to form a VC fund. What happens?
We set a pretty naive approach. We're gonna start a fund, a small one basically, that would invest and follow three major pillars or guidelines. It was pretty clear that I'm bringing the financial/business experience while my partner was bringing more the technical aspects and the network. It was a good fit.
We decided to start a fund that basically would invest in Israel and Israeli entrepreneurs. In some cases, they just have the R&D center in Israel. But in most cases, these would be companies here in Israel. Second, we do seed only. For us, early stage means that in more than 90% of our companies, we are the first and only check around the table. In most cases, we actually register the company with the founders. That's how early we are. The third part of the strategy was to be very focused on what we call B2B infrastructure. Everything that will go to the infrastructure of the medium to large enterprises was, and is still, of interest to us.
We've started three funds so far. My initial partner actually left to run one of our portfolio companies, and in 2013, Tal Slobodkin joined me. Tal is younger than me by more than 10 years. These are very different entrepreneurs that we are approaching. For me, it's more like second timers or sometimes third timers, while Tal brings the network from the army.
Yuval, can you take me back to the first investment or one of the first investments that you made as a team? How did you define the structure under which you agreed as an investment committee to go into a deal?
Frankly, seed investing is very risky, and although we try to be very focused on some sectors and we believe we are pretty familiar with those sectors, it's still pretty risky. It was never discussed on a formal/legal level that we're going to take a decision to a unanimous vote. But in most cases, we vote together. Since it's so risky, if one of the partners feels that we shouldn't do it, let's skip it. For us, it worked pretty well in the unanimous approach. Now, Michael, not to tell you that's the right approach or the bad one, but it works for us for almost 50 companies so far.
What gets you going? Why go for the 51st company? Where is that passion coming from?
I think the passion, at least from my point of view, is actually just curiosity of knowing and learning new markets. That's what is basically fascinating in the VC industry: in most cases, I would meet people that are cleverer than us, know their domain much better than us, and actually can take you on their journeys.
For example, when we first invested in Otonomo, a car data platform, frankly, we're very far from being experts in the car industry. But we felt that data would be a big issue in that sector and change that industry.
The passion is to join this journey very early, to take it from seed to early sales. And frankly, I think that after that stage, now many other investors can take the lead. I'm more interested in really building the company from scratch, helping the founders, understanding, by the way, that we are the co-pilot. The pilot is the founder. We are here to give advice, not because we are smarter, but because I've seen those situations 25 or 30 times. But at the end, that's the founder's show.
What are three words you'd use to describe yourself?
Never give up. I would like to believe that it describes me, but it describes StageOne as well. We've crossed many crises in 20 years. I remember in 2008, the world looked pretty bad. We said, "Okay, it's going to improve. We shouldn't give up on our portfolio." The same goes for 2001 when we really started. I think that the motto here is really never give up.
Michael Matias, Forbes 30 Under 30, is the author of Age is Only an Int: Lessons I Learned as a Young Entrepreneur. He studies Artificial Intelligence at Stanford University, while working as a software engineer at Hippo Insurance and as a Senior Associate at J-Ventures. Matias previously served as an officer in the 8200 unit. 20MinuteLeaders is a tech entrepreneurship interview series featuring one-on-one interviews with fascinating founders, innovators and thought leaders sharing their journeys and experiences.
Contributing editors: Michael Matias, Megan Ryan