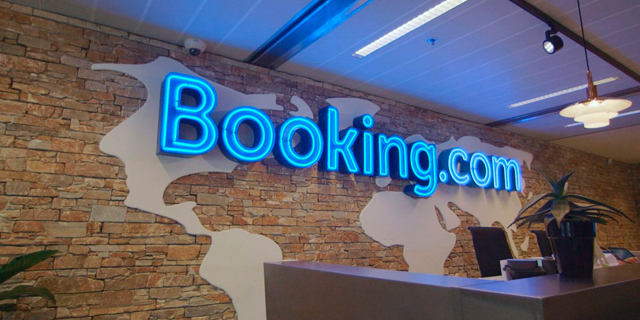 How can AI solve traffic jams and what are the 5 biggest global cyber threats of 2021?
CTech Daily Roundup: Nanotech startup Feelit raises $7 million led by Continental and Henkel
Booking.com CEO: "We've had good success buying companies in Israel and we will continue to look out there." Glenn Fogel, President and CEO at Booking Holdings and CEO at Booking.com, spoke at Calcalist's E-commerce 360 conference organized in partnership with Phoenix Insurance about the way Covid-19 will affect travel even long after the pandemic will be gone.
Watch full video
FinTech 2021 | "What attracts investors most is the opportunity to build multi-billion companies." Speaking at FinTech2021, Adam Fisher, Partner at Bessemer Venture Partners, spoke of the allure of Fintech's unchartered territory. Read more
Read more
Costa Group to start deploying Arugga's pollination robots across Australian tomato fields. The Israeli startup aims help growers solve critical challenges related to more efficient pollination and reduced labor costs, while reducing the spread of viruses with its non-contact solutions.
Read more
Spotlight | The company harnessing AI to clear traffic jams. "Our solution works, if we get access to all the lights in the city we can reduce traffic jams by 30%-40%," explained itc CTO Dvir Kenig. Read more
Abu Dhabi Investment Office spearheads meetings between Israeli and Abu Dhabi ICT companies. Leading information and communications technology (ICT) companies in Israel met with their counterparts in Abu Dhabi in a slew of virtual meetings.
Read more
Nanotech startup Feelit raises $7 million led by Continental and Henkel. The Haifa-based company has developed printable sensors that provide condition monitoring and predictive maintenance of industrial assets, like valves, pipes and pumps.
Read more
MTI wins U.S.-Israeli grant to develop space antenna. The Israeli group will customize an existing antenna set to fit space environmental requirements, while the American aerospace company will focus on marketing the new technology commercially.
Read more
Opinion | The 5 biggest global cyber threats of 2021. "Despite increased governmental attention to cybersecurity, existing cyber threats are here to stay and are likely to evolve at a faster pace than implemented countermeasures," writes Omree Wechsler, a Senior Researcher at Tel Aviv University.
Read more