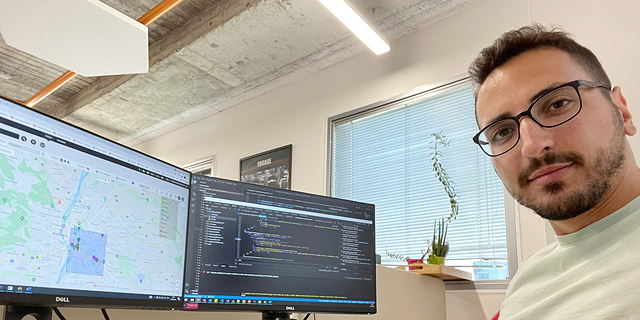 A Day in a Life
Cobwebs' macaroon-baking coder
Alon Almog, a software engineer at Cobwebs, is into baking, Beyonce and weightlifting, but only when he's not coding
Sponsored Content
|
10:57 14.07.2021
ID
Name: Alon Almog
Age: 29
Where do you live: Tel Aviv
Company: Cobwebs Technologies, developer of an AI-powered opens-source intelligence platform for the analysis and monitoring of threats
Position: Software engineer
For a Starter
What is special about what you do: I am part of a team that develops Cobweb's location based intelligence product which provides access to vast amounts of data from any type and place. This means my team and I face many challenges due to the amount of information gathered. Our roles include working with large amounts of big data to provide an easy-to-use, fast, and low-cost user experience for our customers. On top of that, we develop lots of analytics capabilities over this data. It demands a lot of coding on both the server and client sides, finding scalable solutions, and a continuous chase after innovation to improve the product's outcomes.
What tasks do you perform: My work starts with a lot of research to understand what will help Cobweb's clients get the best data on their target. My team does a lot of brainstorming, and after that, the product team coordinates the work. From there, we continue to develop new features accordingly and implement them in the product. There is a lot of code writing, both frontend and backend, after which we release a new version. After release, we wait for feedback from the clients on how the recent changes affected their work, what we can improve on, and so on.
Describe your daily routine, in general: I have predefined days I work from the office or from home. When I work from home, I usually start my day at a specific cafe in Tel Aviv. I like taking my laptop and sitting there before it starts to get crowded. I work on my tasks, whether those are missions waiting for feedback or code writing in which I am only required to write logic. I consult my other team members about the product's structure which makes the work more interesting and helps me learn new ways to do things.
What do you enjoy the most about what you do: I like to complete tasks and see that stuff gets done all along the work process, from the concept stage to completion, and mark it off in my notebook as that helps me know I am making progress. I value the task's content because I invest my abilities in each and every job. It doesn't matter if the task I am working on is big or small; making progress gives me satisfaction.
When you start at Cobweb, they give you a list of industry terms to search and learn about. I am not really a fan of learning in structured classes and prefer studying by myself. That's also why I don't have an academic degree. Cobweb gives you the opportunity, time, and tools to learn and advance your professional knowledge by yourself, and it works for me. They provide us with access to online on-demand courses such as Pluralsight and the time to sit and learn.
Preference - working from Home / Office / Hybrid, and why: I prefer the hybrid model as I find advantages both in working from home or the office. Even before the Covid-19 outbreak, I had a fixed day working from home, and it helped me avoid needless stress and distractions and focus on the work.
How do you break your daily routine: I like practicing Mindfulness, a form of meditation. Usually, I find time during or a bit after the lunch break. It helps me clear my head, focus, be present at the moment, and continue with my day. When I work from the office, it is less possible because everything is always fast and there is less time for breaks. When I work from home, I make sure to find time to practice.
How do you get to work: On the days I go to the office I arrive by bus after taking a scooter to the bus station. I try not to fall off and avoid cops.
Highlights in the office / with clients: One task I am especially pleased about is building a dashboard that monitors all the data we receive from our content providers. In the past, the monitoring process was manual and sisyphean work, and I was tasked with optimizing it. The new dashboard streamlined the identification and notification of anomalies in the data. So every morning, I make a point to check the dashboard, see how things are playing out, and I am just glad it works.
What did you want to do when you'll grow up: I think I wanted to be creative. Creativity is very important to me. That is why I am so interested in baking. I like doing graphic design and building websites, and there is also a creative aspect in code writing in which you create something from nothing. I didn't have a specific thing I wanted to do growing up, just to be creative, and now I am.
My Daily Routine
08:30
I pack my laptop bag, take a scooter and ride to my regular café. I order a small water-based cappuccino with almond milk, open my laptop, and start going through emails and organizing today's tasks. It takes me approximately half an hour to go through my open tasks and plan the rest of my day/week. I prefer writing my plans on a piece of paper and dividing them into smaller tasks as it helps me be more focused. After that, I organize today's task status and prepare for the daily meeting.
10:30
My team has its daily meeting in which everybody gives an update about their tasks' statuses. We advise each other, talk about gaps we found, and synchronize the team's work assignments for the rest of the day.
11:00
Usually, after we finish the meeting, I conduct Zoom meetings with some of my team members, and we brainstorm about our tasks. If everything is clear and I have development assignments, I simply sit to work and write code.
12:00
Around this time, it tends to get crowded at the café, so I take my things and go to continue my work from home. When I get home, I usually make myself food, have a lunch break, and use my phone to catch up on what else is going on in the world.
13:00
I insert my laptop into my docking station at home and continue with the second half of my day, working on my development tasks and writing code. If this were an office workday, I would work on more collaborative assignments and enjoy the office's amenities, such as happy hours, the kitchen, and various food-related surprises. Somedays, during afternoons, I work on clients' data because this is their downtime.
18:00-19:00
I finish my workday by making myself a protein fruit shake, pack a bag – sometimes a bathing suit if I'm feeling like it – and go to the gym.
21:00
I return from the gym and make sure to feed my building's cats. I make myself dinner and go to a bar to meet friends or just crash on the couch watching Netflix.
After Hours
How do you unwind and relax at the end of your work day: I usually work out in the evening. These days I am working through a weightlifting training plan called Starting Strength. This is my escape. I put on music and focus on the workout as if now it is the only thing in the world. I know some won't consider this as relaxing, but I find it really helpful. During the Covid-19 lockdowns, I couldn't work out, and it was tough for me.
Another thing I like is baking, especially macaroons in different tastes. People think it's complicated, but once you perfected the technique, you realize macaroons are the perfect cookie. They are gluten-free because they don't contain flour, and are very airy.
What music are you listening to: Beyonce
Recommended book / series / movie: Lately, I have been reading a fantastic book called "The Immortal Life of Henrietta Lacks." It tells the fascinating story of a 20th-century woman whose body cells are basically the foundation for all the medicine we know today. Yet, nobody agreed to treat her because she was black.
Apple or Android (and why): Apple, because it is flawless. There are no bugs, and you don't need to know what you want because somebody already thought about it for you.