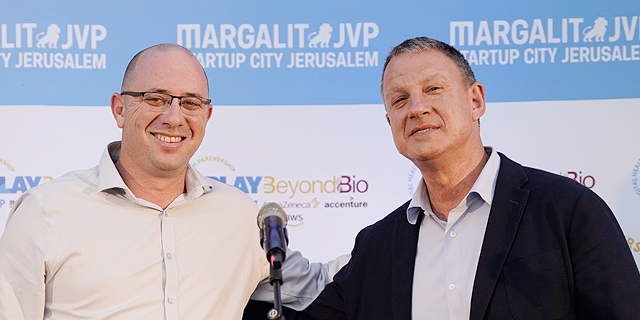 PlayBeyondBio names nine healthtech startups for mentoring and development program
The program examined dozens of candidates, seeking to identify and promote mature, active companies, with track records and proven potential
The PlayBeyondBio initiative has announced the identity of the nine startups selected to participate in its program for companies developing solutions for future challenges to healthcare systems. The startups will be awarded fast-track assistance, focusing on commercialization agreements, implementation, and investments from the program's partners, including Jerusalem Venture Partners (JVP), global pharma giant AstraZeneca, international consulting firm Accenture, Margalit Startup City community, AWS, and the Shaare Zedek Medical Center. The selected startups were revealed this week at a special event which took place at the Margalit Startup City Center for Excellence in Jerusalem, attended by leaders of Israel's medical and pharmaceutical sectors, together with prominent investors and industry professionals.
Dedicated teams examined dozens of candidates, seeking to identify and promote mature, active companies, with track records and proven potential. Among the startups taking part in the program are: Itamar Medical, which raised over $300 million, and trades on the Nasdaq with a market capitalization of over half a billion dollars; Medial Earlysign, which has raised over $150 million and C2I Genomics that has raised over $100 million.
several health conditions by analyzing voice/speech samples recorded in a simple mobile app backed by sophisticated and proprietary signal speech processing algorithms, which allow near real-time monitoring and early detection of condition deterioration. Its Cordio HearO solution can sense fluid accumulation related to congestive heart failure and alert healthcare professionals in real-time, is non-invasive and easy to use.