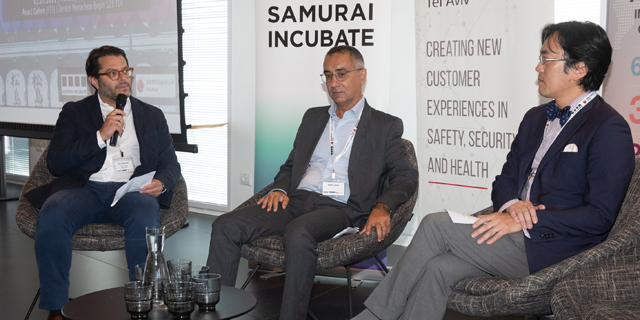 "The potential of Israeli technology in Japan is no less than in the US"
As part of the annual Big in Japan conference, the business opportunities for Israeli tech entrepreneurs and businesspeople in Japan were highlighted, including the way they can be exploited
Multilateral cooperation between Israel and Japan, especially in high-tech, was at the center of the annual Big in Japan conference held by the Pearl Cohen law firm in cooperation with the Israel Innovation Labs of Sompo, Japan's second-largest insurance company, and Samurai Incubate, a Japanese venture capital fund that invests in early-stage companies and one of Japan's most active venture capital investors in this market in Israel. The conference, which aims to bring together Israeli and Japanese entrepreneurs and businesspeople, was held last week in the shadow of the Covid-19 pandemic, which still makes it hard for business people to fly from country to country. However, the conference participants, and especially the guests, were able to look beyond the coronavirus crisis and describe why there is potential for multilateral cooperation, especially in tech, and how the way in which Israelis work with the Japanese can be simplified in order to produce results for both sides.
Nakamura took part in the first panel of the day with Gilad Cohen, Israel's Ambassador designate to Japan who takes up his post in the fall. The panel was moderated by Pearl Cohen Senior Partner Adv. Guy Lachmann and touched on the diplomatic relations between Israel and Japan.
Figures that were presented during the conference showed that out of the $2 billion, one-third was invested in fintech companies ($665 million) and one-third in artificial intelligence ($686 million). "In addition to fintech, Japanese investors are beginning to take an interest in Israeli agro-tech and food-tech companies," stressed Nakamura.
Cohen said that he would focus mainly on strengthening economic cooperation between the countries. "I am going to Japan in order to serve businesspeople," he told the conference participants. "My aim is to increase Japanese investments in Israel and bring as many Japanese investors to Israel as possible and as many Israelis as possible to come and work in Japan."
Nakamura reinforced Cohen's words and remarked that, "It is hard to miss the size of the Japanese market. In Japan, there are many giant corporations, with global activities that very much want to absorb Israeli technological innovations. There is a lot of room for cooperation between Japanese companies and Israeli companies."
The panel moderator Adv. Guy Lachmann, a Partner in the High-Tech Group at the Pearl Cohen law firm added, "Despite the lack of being able to fly and conduct face to face meetings, the major interest by large Japanese companies in Israel has not been reduced and as our conference shows, the seriousness and determination that there is among them is continuing with full force to work in Israel and to seek opportunities here."
Yinnon Dolev, Head of Sompo Digital Lab in Israel, said "the Coronavirus has absolutely no negative influence on our activities, and only stresses the growing interest of Japanese industry in Israeli innovation. There is in Japan must less competition than in the US and it is much more business friendly," concluded Dolev.
Adv. Shirley Binder, who manages the Israeli branch of the Samurai Incubate fund, said that "over the past year there had begun a significant rise in the number of investments from Japan in Israeli startups," and she also mentioned that the investments made by Samurai over the past year were done "remotely," and only now "were local staff getting to meet face to face with the entrepreneurs in whom they invested."