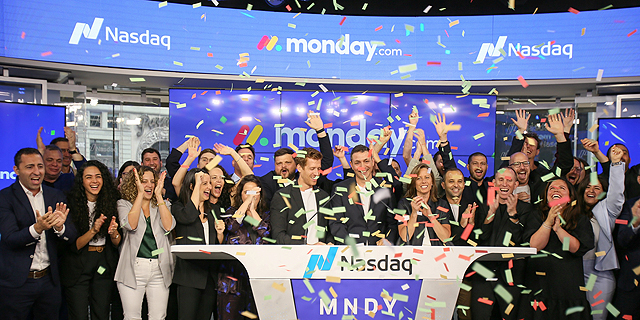 $35 billion payday awaiting 200,000 Israeli tech employees
Due to the sharp spikes in the stock markets recently, and due to the wave of Israeli companies launching on Wall Street, the value of the options that can be exercised has doubled compared to 2020
Sophie Shulman
|
16:44 18.07.2021
Headlines about another record-breaking move on Wall Street and another Israeli technology company's IPO with a valuation of billions are no longer exciting, rather they have become part of an endless mix of events that bring much happiness but are very similar to one another. It is clear to everyone that these major offerings are great for those who were lucky enough to find their way into the high-tech industry, and also for Israel, a country that needs a growth engine for its economy following a difficult Covid year. But in what way exactly does this technological craze affect the citizens of Israel? To sum it up in one number: $35 billion. This amount is an astounding and almost inconceivable illustration of the amount of money that the tech boom is pouring into the pockets of Israelis.
3. What does the state get? Revenue of $10 billion
If high-tech workers realize all their options at once, the state will also make a big profit. On most options, capital gains tax is paid at a rate of 25%. But some of the options are defined as a benefit within the framework of an employee-employer relationship and are therefore taxed not as capital but as work income, meaning a tax rate of 50%. So the state's revenue can reach $10 billion, which is about a tenth of Israel's annual tax revenue. This number illustrates the importance of the high-tech sector to Israel. Even before the options and shares, high-tech workers, who make up 10% of the workforce, pay 25% of the taxes that go to the state coffers. Along with these positive effects, the enrichment of high-tech workers has a long-term effect, which may turn out to be less positive. Since 2018, there has been a trend of a declining number of start-ups. Between 2012 and 2017 the number was higher than a thousand new companies, however, in 2020 it dropped to only 520. It is likely that the uncertainty that accompanied 2020 and the profound change in behavior patterns, led to a deterioration in entrepreneurship, which is the driving engine of the Israeli technology sector. But the industry is already talking about the fact that the impressive capital that hitchhikers are accumulating as employees, is for most of them a negative incentive to risk setting up their own start-up. On the other hand, in time, perhaps the capital they have accumulated will give these minds the safety that will encourage them to set out on their own. Ironically, a collapse on Wall Street could give a new push for new companies. A large portion of the unicorns that are coming to the stock market these days were established at the height of the financial crisis of 2008, when manpower was more available and cheaper and mainly there were fewer "background noises". 4. What is the danger? Stockholm Syndrome: Techies are in no hurry to cashout For the state to get the tax revenue in question, employees need to exercise the options. The high-tech industry says that the younger generation suffers from a type of Stockholm Syndrome and is in no hurry to realize the capital it has accumulated. "There are 7,500 people for whom we hold more than a million shekels and they are not selling. They believe in the companies they work for, and until they buy an apartment, they will not sell," says Dori. Add to this the fact that the average 35-year-old high-tech employee has not yet experienced real declines in the market. Since 2008 the market has been on a more or less continuous rise and in the last two years has been warmly receiving technology companies. Meanwhile, managers say that they are forced to beg employees to agree to investors' offers and realize at least some of their shares. "I invested three years of my life for NIS 5 million?", Is a real phrase heard in the corridors of high-tech companies. The technology sector may continue to enjoy unprecedented high tides for a few more years, but at the basic economic level, this is an incorrect diversification of risk, because these workers' capital is in only one stock, promising as it may be. It is dangerous, and there is no knowing how these workers will react if the market goes down. 5. What does it do to us? Growing gaps and the need to expand the high-tech circle All Israelis suffer from Stockholm Syndrome to some degree. Until recently, high-tech workers were a kind of nature reserve, in part because it is an industry that allows for some social mobility based on skills, but that it is only allegedly. After all, it is one of the most homogeneous industries. Most of the workers are men who have served in the top intelligence units in the army, and they are the vast majority of development workers.
Covid, which accelerated the digital transformation, also deepened the gap between high-tech and all other sectors and exposed the two separate economies that exist in Israel. The plan of the Minister of Science and Technology, Orit Farkash-Hacohen, to introduce high-tech studies at elementary schools is a step in the right direction.
Programming studies should be as basic as English studies. It is a foreign language that today is an elementary condition for integration into the labor market. It is important to say that not everyone must be a cyber genius. It is enough to be part of a class of worthy programmers to preserve Israel's unique position in the global industry on the one hand and to enjoy the economic fruits on the other.