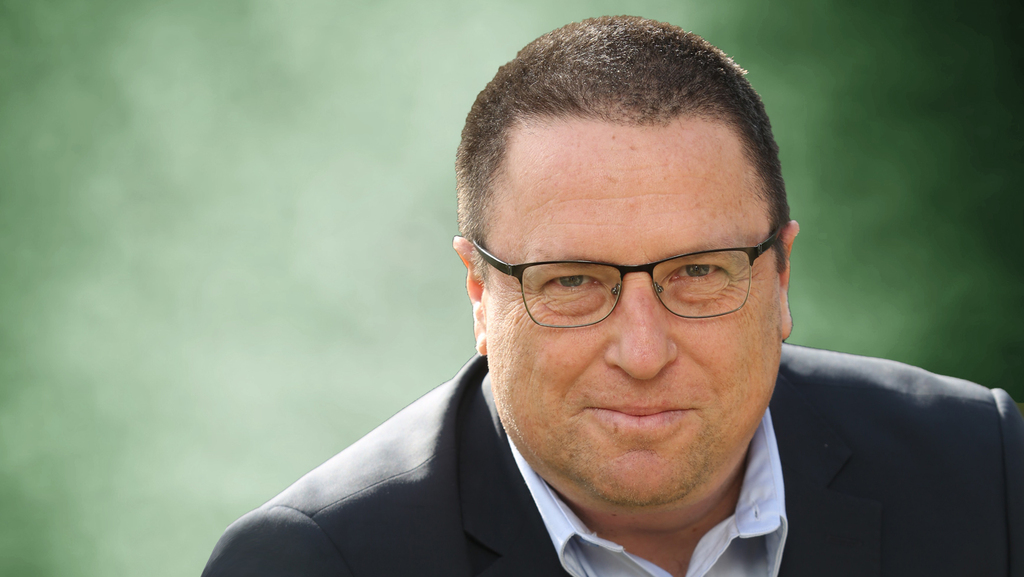 The "TV guy" who founded five tech companies
"Technology, to me, is a way to solve problems," said CEO of NanoLock Security Eran Fine, whose career includes building five tech companies, having 22 patents to his name, and producing staples of Israeli television
Maayan Manela
|
13:00 25.07.2021
Eran Fine's lifelong dream was to be a film director. "My grandfather had cinemas in Holon and as a child, I would sit there and help screen the films. My grandmother would cover my eyes during parts I was not allowed to see," said the television creator, and CEO and co-founder of NanoLock Security. "When I was growing up I thought I would be a director, I would make videos and sell them to employees at the Standards Institute of Israel when I came to work with my mom. I later studied film, and became a commercials director."
"A new investor came in and his representative thought I was not doing a good enough job. They felt they were not happy with the results I brought. It is an unpleasant experience to be dismissed in any scenario, but the agreement I signed with life did not say I would always succeed," Fine said jokingly. "But I did not let it consume me. I am very hard on myself and it is relatively easy to blame the situation on the telecom crisis, but I made mistakes and even if there was an external factor, I probably did not make the right adjustments fast enough."
After leaving MobileSpear, Fine returned to television working on known satire programs, including some that have a cult following decades later. However, his next big idea was coming, and surprisingly it was born during a mundane dental treatment. Oree, Fine's next company, was born out of a wisdom tooth extraction. "There was a lot of pain and a lot of narcotics and what I saw during the treatment was that the dentist, constantly played with the light to illuminate into my mouth. That seemed to me like an interesting problem and I thought, why isn't the glove creating light or the saliva pump. I learned about the regulations around the gloves and I fell in love with the idea and became interested in rubber. I found myself doing research, among other places, in a condom factory in Thailand, where I saw quite shocking images," he said. "I took out a patent and we raised some money, and then during a convention where I was the keynote speaker, LG came to us. That's how we raised money from Genesis Fund and another Japanese fund and Taiwanese investors and developed the world's first flat LED." Fine managed Oree for five years until it was sold for $10 million to the Israeli street lighting company Juganu Systems in a deal that was described as a loss after raising a total of $25 million. "In an entrepreneur's life, there are ups and downs, and constant doing and learning. Oree is not considered a great success, but it is certainly not a failure. The deal included a cash component and later other milestones from sales significantly improved the return. As an entrepreneur, I was not working at the company at the time of the deal, but it taught me a lot of things in my entrepreneurial way and I think I became a better entrepreneur thanks to it," he said. Fine's next position was as a consultant at the Nanotechnology Center at Tel Aviv University, where the idea for the company he heads today, NanoLock Security, was born. "It started as a super-technological idea from an article written by Prof. Slava Krylov. It is not similar to what we do today but it was a hardware solution for what we do with the software today. We started bootstrapped, but pretty quickly we raised a Seed round from AUZ," Fine said. The company, which Fine founded with his partners Erez Kreiner and the late Shlomo Oren, has developed a device-level management and security solution for the industrial infrastructure and controllers market, which protects remote end devices and industrial machines and ensures their continued proper operation. "When we started NanoLock we had an idea we were confident in and then we came to an American organization that sent us an email saying that what we had been working on so far was not good enough. But the second part of the email was that the problem we were trying to solve was a big issue for the organization, and that was uplifting. It was not such a moment to sit on a cliff with champagne and celebrate, but that email included both the highlight and the low-point of the profession. The low is when you are told you are not good enough, 'you are not our man'. But after that, there is a moment of light, the moment when you understand what needs to be done." These days, Fine still works in the media where he has a daily segment on Israel's Army radio. Last year, he received personal recognition when he won the "American Cyber ​​Award". Do you know what you want to be 'when you grow up'? A tech entrepreneur or a TV guy?
"I feel lucky I can do radio, but setting up and running a company is completely absorbing. I am 500% committed to it. There is a big company here that we are building. Even when I did television it was not to be a TV guy. It was an expression of how I perceive the world."
"It was a very specific moment. Naora Shem Shaul, a woman who wrote a book called a digital novel, is the one who showed me the Internet before it was graphic, and its power was so dramatic. She showed me code and that's it, I lost it. I found out that technology has riddles, problems to solve and it's so much fun to try to solve them. Even when there is no funding and it is difficult for the company, it is a powerful experience of a huge challenge for which you have to collect all of yourself. I do not know how to code, certainly not like some of the people I work with, but I ask decent questions and I have set very achievable goals. Over the years you learn to recognize what is stupid, what is irrelevant, it is not technology in the sense that I know how to code, rather in the sense of what the technology is supposed to do."