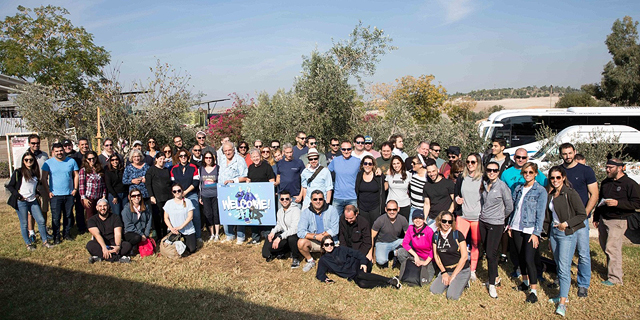 IL Tech in NY
"Israeli companies know that to be successful they must have a U.S presence"
In collaboration with Israeli Mapped in NY, ThetaRay has joined CTech to share insights behind their reason to set up a base in the U.S.
"Israel is a world leader in technology, but the U.S is the largest market in the space," said Mark Gazit, CEO of ThetaRay. "Israeli companies know that to be successful they must have a U.S presence." According to the fintech company, the team chose New York because "most of the country's financial institutions and government agencies are based on the east coast. It also has a geographical advantage being much closer to Israel than Silicon Valley, San Francisco, and Los Angeles."
Gazit joined CTech on behalf of ThetaRay to share some of the reasoning behind why the company, which has 100 employees and $90 million in funding, decided to cross the ocean for an office in New York City.
Company name: ThetaRay
Field of activity/product: Fintech space. ThetaRay developed SONAR, an AI-powered, transaction-monitoring SaaS solution for cross-border payments that allows banks to expand their business opportunities by achieving safe and reliable cross-border payment monitorization. Founders: Amir Averbuch and Ronald Coifman Year of founding/start of New York operations: Company founded 2013, New York Operations in 2016 Number of employees and whether the company is active in other locations: 100 Sum of total funding to date/funding rounds completed: $90 million Names of investors/VC backers: JVP, Ourcrowd, Saints, Benhamou Global Ventures, Bank Hapoalim, ABN AMRO, La Maison, and others. General background on the founders/senior managers: Mark Gazit, CEO
Prior to joining ThetaRay as CEO, Mark was a senior executive with over 20 years of experience working for Israeli and international high-tech companies. He served as a Managing Director of Nice Track, which provides software and hardware solutions to government agencies worldwide in the areas of information intelligence and cyber. Mark also served as Group President & CEO of SkyVision, which he led from startup to international success serving over 50 countries worldwide.
Mark moved to New York five years ago to open the New York branch. ThetaRay saw a gap in the market and an increase in demand from U.S banks and payment service providers for AI-based anti-money laundering solutions that can identify even the most malicious financial crime activities.
Professor Averbuch is a world-renowned expert in applied and computational harmonic analysis, big data processing and analysis, wavelets, signal/image processing, and scientific computing, as well as a co-founder of ThetaRay. At Tel Aviv University, Prof. Averbuch has supervised fourteen post-doctoral researchers, as well as more than 30 Ph.D. students and hundreds of MSc students. Prior to joining ThetaRay, Prof. Averbuch was a Research Staff Member with IBM's TJ Watson Research Center in New York.
Ron Coifman, Founder,
Ronald Coifman is the Phillips Professor of Mathematics at Yale University and co-founder of ThetaRay. Coifman is also a member of the American Academy of Arts and Sciences, the Connecticut Academy of Science and Engineering, and the National Academy of Science, and in 2018 received the Rolf Schock Prize for Mathematics.
Background on the product/service/platform/solution: ThetaRay's SONAR SaaS solution analyzes SWIFT traffic, risk indicators, and client/payer/payee data to detect anomalies indicating money laundering activity across complex, cross-border transaction paths. It is one of the only AI-driven Anti-Money Laundering (AML) solutions that can be easily integrated and deployed within days, with minimal implementation required. SONAR increases detection capabilities for both supervised and unsupervised data and includes profiling and advanced analytics assessments all in one platform. Why New York? What advantages does it offer? How does the market differ from Israel? How does the competition differ? Israel is a world leader in technology, but the U.S is the largest market in the space. Israeli companies know that to be successful they must have a U.S presence. We chose New York because most of the country's financial institutions and government agencies are based on the east coast. It also has a geographical advantage being much closer to Israel than Silicon Valley, San Francisco, and Los Angeles. Two things you learned about the U.S. market from operating in New York: First of all, we've learned that there is an almost unlimited market with a vast potential that behaves in a different way than the European market. Second, the U.S is so large that it requires a local presence if you want to be successful there.
Two things you learned about American investors as a result of starting operations there:
It is a great pleasure to do business with American investors. We started working with American investors even before we opened our office there, and our experiences in America have remained positive. We also found that JVP has its own partners in America, which has helped us extend those relationships. Two suggestions for Israeli entrepreneurs on what to do in New York: I believe Israeli entrepreneurs need to become part of the business community there, participating in events and networking. I also found that quality marketing materials help make entrepreneurs appear more professional, which helps open more doors. Two suggestions for Israeli entrepreneurs on what not to do in New York: There is a difference between Israeli culture and American culture. You can be bold, but you absolutely cannot be rude. You also need to recognize that America is huge. Go big or go home! On a scale of 1-10 how much did the Covid pandemic impact your work? The impact of Covid-19 forced the financial and payment industry to re-evaluate how they were doing business and adapt to a new reality – digitalization. The adoption of digital banking and changing customer behavior became more prevalent due to the pandemic. This opened up new opportunities for ThetaRay. Banks realized they needed to adopt new technologies and modernize their infrastructure as traditional banking was based on relationships and human interactions. To meet these changes, AML programs had to modernize their technology, leading to an increasing requirement for solutions that can detect financial crime in a cloud-based environment. What are the differences when it comes to recruiting employees? The main differences that we see are in the type of hire based on talent. New York is the hub of the financial market. Talent is closer and more informed with regard to the market, and we find that there is a stronger pool for recruitment for business development and channel management roles. Israel, on the other hand, is the hub of innovation and booming with young talent in the field of data science, product, and R&D. As a company with international customers, it is important for us to have Business Development Representatives (BDRs) and salespeople who can speak to our prospects and customers in their own language. Sales is global for us. We have salespeople in EMEA and Israel, as well as in New York.
We are firm advocates for Olim Hadashim ('new immigrants') and hire BDRs, for example, who can speak to our customers in their own native language.
What are some of the workplace culture differences between Israel and New York? As a multicultural organization, our workplace is very diverse. In addition to our Israel and New York offices, we also have a strong presence in Europe and Latin America with employees from all over the world including Spain, Italy, the UK, and more. We feel our culture is unified at all of our sites. We all live and work by our company values. Leadership, teamwork, passion, and innovative thinking are key parts of our core values.
The IL Tech in NY project is a collaboration between CTech and Israeli Mapped in NY. For more information email Guy Franklin via this link .