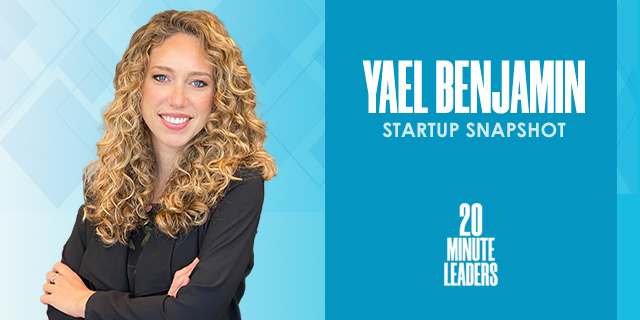 20-Minute Leaders
"When I decide on something, it takes me maybe time to decide, but when I decide, I go for it."
It's common to speculate about how COVID has affected startups, but Yael Benjamin shows Michael Matias the data to show how things are changing
It's common to speculate about how COVID has affected startups, but Yael Benjamin has the data to show how things are changing. With her Startup Snapshot, she oversees anonymous data collection from hundreds of companies, which is released in reports to inform everyone in the Israeli ecosystem about what startups are doing. In the most recent report, they found that the time it takes to close a round has been cut in half since COVID hit. Also, about four in ten founders who had recently closed a round said they never met their investors in person. The newest report also reveals that many startups use freelancers for half their workforce. Besides the hard statistics, Startup Snapshot includes interviews with different startups to get insight into the data. Benjamin wants to make the information accessible to all entrepreneurs so they are able to make better decisions for their companies.
Click Here For More 20MinuteLeaders
Tell me about what Startup Snapshot is. How have you been bringing your expertise from your previous organizations into this project?
Startup Snapshot started about a year and a half ago. For the past 10 years, I've been working with startups helping them prepare for fundraising, go-to market strategy. Before that, I worked in investment banking.
I saw that the same questions were coming up again and again. It could be in terms of benchmarks for fundraising, best practices. A lot of the questions were around secondary transactions. I saw that there was no organization that was collecting this kind of data. I'm used to having a lot of market research reports and basically coming up with conclusions based on that. I said, "Let's start collecting a little bit of data." Startups were happy to share their data and insights and how they were doing things. I think they felt comfortable because it was anonymous.
Did your experience from investment banking help you strategically think through what questions to even ask or what would be interesting for people to know?
Definitely. I always came from the fundraising side. So that was the first step for me to understand. But then I started talking to a lot of VCs and startups and that's how we came to the list of questions. We've released three reports already. We're starting to work on the next one. When COVID started, really fast we collected data from hundreds of startups, and then we shared the insights with the entire community, and everyone was able to see—when it's such an uncertain time—what other startups were doing and make better decisions.
Walk me through a few of the major insights you've gained.
Everyone was really worried about what was going to happen with fundraising in the past couple of months. But the digital pitch actually accelerated the fundraising process. We saw that the time it takes to close a round was cut in half compared to pre-COVID. There's a lot of money in the market. But now you can have a full global road show from Tel Aviv.
From our stats, 41% of the startups that closed a round recently said that they never met their investors face to face. It's also a huge opportunity, but it's also, especially for early-stage startups, introducing new challenges. One of the challenges we saw is they've had to create credibility.
As you're uncovering these statistics, it sounds like you're also digging deep with founders to try to explain these trends, right?
Definitely. We collect the data, and I've put together a team of partners that works on this together; the more data we get, the better it is for everyone. Yifat Oron, who was the CEO of LeumiTech, really saw the need for this and helped us collect a lot of data. But we also interview a lot of startups from different stages and get their insight to understand the more qualitative insights and get their take on the data.
I need some more statistics.
One of the biggest challenges for early-stage startups these days is competing over talent. The Israeli ecosystem is becoming very expensive. It's rivaling salaries in Silicon Valley. We found there was a huge jump in 2020. So, 13% of them had to hire employees abroad and another large percent turned to outsourcing. For early-stage startups, it's a way to scale and to grow. We got a lot of great insights from Micha (Kaufman), the CEO of Fiverr, our partners on it. More than a third of the early-stage startups said that half their workforce is freelance. Those are companies that raised up to $10 million.
Did this question come up in the previous reports?
I think it was definitely accelerated by COVID; now it's possible to work remote. A lot of companies are keeping their core capabilities in house and supporting it with a whole range of freelancers. Besides the flexibility and the cost savings, it's also enabling them to create credibility abroad. You can get a team of freelancers to create a really professional company video for a webinar, for example.
Talk to me about the secondaries. What have you learned about secondaries in the market?
It's usually when you're starting a startup, the founder or the team has options that can cash out when there's a liquidation event—when you're selling the company, when you have an IPO, any kind of final transaction. It's become more acceptable nowadays that the founders or senior management cashes out a bit before. As we're moving from startup nation to scale up nation, you have to give the management team some incentive to keep growing these big companies and not just starting a startup and selling quickly. We'll include that in our new data collection, and then we could compare it to a year and a half ago.
Were there things that came up that were really surprising?
It was always common practice for an entrepreneur or one of the founding team to move abroad. The past year, fewer entrepreneurs are moving abroad. An interesting trend we saw is the rise of the remote-first organization, which that's a shift in thinking. Supersocial was interviewed in our report, and I think they have 25 employees from 25 different countries. The company managed to grow really quickly. It was a strategic decision from day one, and that's even when things go back to normal.
How have you evolved your thinking through these reports?
I think the days of these heavy reports, the 60 page reports—those days are gone. I want to find ways to make these insights or these tips like the data from the founders themselves to really make it more accessible. I think that's the direction that it's going, how we give more entrepreneurs access to this content. Not just data points, but more of what they can do with it.
Tell me about the accessibility of this information and how you're thinking through who reads this, why they read this, when they read this.
From the efforts that we've had so far, it's a lot of founders that are looking, before they're making an important decision, to see what's happening in the ecosystem and what other companies are doing. Also general ecosystem players, VCs, accounting firms, law firms. It's just a general awareness of what's happening in the market today. Because until today, a lot of the data was very siloed. The VC funds would collect it for their own entrepreneurs, and it was based on that specific data.
It sounds like you're doing a big service to especially the less experienced entrepreneurs. Thank you.
I think it's also that the markets nowadays are evolving so quickly. Things are happening in short bursts of "this is a situation for a couple of months." It's really short sprints. You have to know what's relevant, hop on the wave in that very short amount of time.
What really fascinated you as a kid?
I was always a literature nerd. Everyone was reading the CliffsNotes, and I was really reading the books for fun.
Some figure of inspiration, professionally or personally?
Stefan Sagmeister. He's an Austrian graphic designer. He had an amazing exhibit where he took data on what makes someone happy. He used different graphic design elements to show it.
Three words you would use to describe yourself?
Ambitious because when I decide on something, I go for it. Generous. Energetic.
Michael Matias, Forbes 30 Under 30, is the author of Age is Only an Int: Lessons I Learned as a Young Entrepreneur. He studies Artificial Intelligence at Stanford University, while working as a software engineer at Hippo Insurance and as a Senior Associate at J-Ventures. Matias previously served as an officer in the 8200 unit. 20MinuteLeaders is a tech entrepreneurship interview series featuring one-on-one interviews with fascinating founders, innovators and thought leaders sharing their journeys and experiences.
Contributing editors: Michael Matias, Megan Ryan