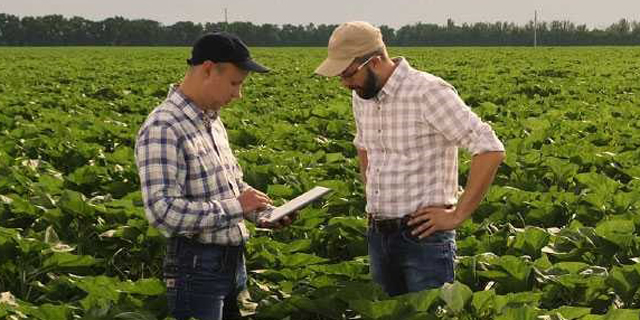 Good Company, Strauss Israel, Agoro Carbon Alliance, Smart Agro Fund, and ERB are searching for agritech startups
The companies are looking to partner, invest, and pilot solutions to improve productivity and boost sustainable agriculture
The Good Company, Agoro Carbon Alliance, Strauss Israel, Smart Agro Fund, LeumiTech, Meitar, ERB, and AWS launched their agtech mission on Wednesday. The groups are actively seeking out startups that re-envision how food and other agricultural products are grown, harvested, packaged, stored, transported, processed and sold. Startups they are interested in can emerge from a variety of sectors of the foodtech and agritech market, but must be interested in being more efficient, sustainable and resilient to protect the Earth's resources, human rights and animal welfare and help solve the world's hunger problem.
A select number of startups will have the opportunity to pitch their ideas in front of a panel of experts from the participating corporations, investors, as well as larger startups already innovating in those areas. Good Company and Smart Agro Fund are offering investment opportunities of up to $250,000. In addition, numerous possible opportunities to pilot with Strauss and Agoro Carbon Alliance for commercializing products are also available, along with consultations with LeumiTech's senior management. The most promising companies will receive free legal advice and commercial consulting from the Meitar Law Offices.
The final pitch event will be at Start-Up Nation Central's headquarters in Tel Aviv and judges will include: Ido Fishler, Managing Partner at Good Company; Michal Benishti of Strauss Israel; Sam Aloni of the Agoro Carbon Alliance; Dganit Vered of Smart Agro Fund; Nir Inbar, of LeumiTech; Yael Nardi of Meitar; Yael Gal of AWS; Shubhang Shankar of Syngenta Ventures; Omer Davidi of BeeHero; Kimberly Drory Lev-ran of ERB and Gilad Pinhas of ERB.
Applicants need to submit a short application form detailing their founders, purpose, and product. Following a round of meetings with selected startups, approximately five will be given the opportunity to pitch to an expert panel of judges as part of the live final hybrid event. Applications are open until September 30, 2021.
Strauss is an international food and beverage company, the largest in Israel, whose portfolio businesses include Strauss Coffee B.V., Strauss Israel, Strauss Water and PepsiCo – Strauss Fresh Dips & Spreads International. Good Company is a studio fund that invests in early-stage startups that leverage technology to solve the world's biggest problems. It is focused on entrepreneurs with do-good attitudes, who want to improve the fields of energy, mobility, work, education, the economy, precision farming, and digital health.
"The pressure on the agriculture sector is unprecedented: we need to produce more with less while growing conditions are becoming increasingly volatile. Agoro Carbon Alliance wants to support farmers on their journey toward decarbonization, making it possible to transition to climate-smart farming practices, restoring carbon to the world's soils, and making carbon cropping a practical, profitable choice for every farm," said Sam Aloni of the Agoro Carbon Alliance.
"We are working closely with local farmers to source raw materials. It is crucial for us to ensure that our raw materials are grown with care, and are economically viable for farmers," said Michal Benishti of Strauss Israel. "We know that technology and agtech in particular has a significant role in this ambition, and are always on the lookout for better agricultural practices. We support sustainable and regenerative agriculture."