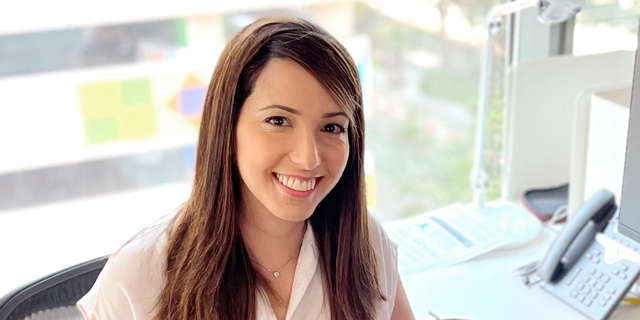 A Day in a Life
Finding the right recipe in coding and baking
Roni Aloni, a Software Team Leader at the Citi Innovation Lab in Tel Aviv, is responsible for the team that creates a "no-code" platform for Workflow Management and also enjoys baking in her free time
Sponsored Content
|
11:00, 16.08.21
ID
Name: Roni Aloni
Age: 36
Where do you live: Tel Aviv
Company: Citi group - Innovation Lab
Position: Software Team Leader
For a Starter
What is so special about what you do: I'm a Software Team Leader, responsible for the team that creates a "no-code" platform for Workflow Management, within Citi group. Our platform allows users to build workflow-based applications. Our platform is very generic and you can use it to manage the life cycle of almost every type of data. We also provide Audit, Notifications and Reporting tools.
As part of my responsibilities, upon receiving the development requirements I need to break them down into features and tasks and subsequently divide the different tasks among the team. The team consists of five developers, a product manager, and a QA person. In addition to breaking down to tasks, I also oversee the entire development process and timeline which includes both the architecture and design.
Beyond the fact that my team develops a very unique and strategic product, the work environment at Citi brings another exciting aspect to the job. Being a part of the development in the innovation lab allows us the freedom to explore new technologies and the freedom to be creative and innovative in our product.
What do you enjoy the most in your work? As a development manager, my team and I must constantly break the development of very complex features into small pieces in the most efficient way. We are constantly identifying what will be the most effective way to develop and implement the functionality and visibility of the feature we are working on. In this way, we understand how to write the code in the best way and make sure it's technically efficient. Aside from the technical work which is very challenging and rewarding, my favorite part is managing my talented team. They are very important to me and I enjoy working with them every day and advancing together towards our goals. These challenges and teamwork on the way to the solution are the most enjoyable things for me.
What do you like about working for Citi's innovation lab? I believe the best part about working at Citi is being able to work alongside such a great crew. There truly are very amazing people here. They are supportive and very technical. Citi places an emphasis on the employees and work atmosphere. There is great flexibility in terms of working hours, snacks and treats in the kitchen, and multiple fun days dedicated to team bonding. Furthermore, as part of the work in the innovation lab we do a lot of research and have the freedom to offer and test new ideas.
Preference - working from Home / Office / Hybrid: Personally, I prefer a hybrid mode. On the one hand, working from home is efficient and allows you to avoid traffic jams and accomplish more tasks without being distracted. On the other hand, there is a great value in maintaining social ties between colleagues. Managing a team remotely is more challenging. Therefore, the combination of the two is ideal.
What did you want to do when you grew up? For some reason, I wanted to be a lawyer, but today I know that it wouldn't be a good fit for me. When I started studying computer science, I realized that this is what I want to do and that I enjoy it. I love the creativity of writing code and the fact that I create something valuable that has an impact on others.
My Daily Routine
08:00
Coffee and getting started. I usually start by checking my emails, going through our task board and defining to myself what I want us to achieve today and go over all my meetings for today.
10:30
We have our "Daily" meeting – where everyone updates on what he/she is going to do today, what was accomplished yesterday and whether there are any issues or blockers regarding our work.
12:00
Lunch break – at home I usually heat something up to eat and if I am in the office we will order something or go out to a nearby restaurant.
12:30
Usually in back-to-back meetings: meetings with the team, with customers, with our product manager, with the management team etc.
18:00
Finishing the work day and heading back home, there are shorter days when I go to pick up my kids and then I continue to work after they go to bed. I can manage my time to meet both personal and professional needs.
20:00
Having dinner and spending time with my family.
What do you do in your spare time? I really like to bake, it's a hobby I started at the beginning of the Corona period and it has stayed with me ever since. I always look for new recipes and try them out. I like the fact that baking involves exact measurements of ingredients and a very specific order of actions in the recipe. It is important to follow exact instructions in order not to ruin the ingredients and to reach the desired texture. I can find common ground between baking and coding.
Apple or Android: Apple, I have been using an iPhone for years now and I am not planning on replacing it any time soon. I prefer a closed operating system and I really enjoy the UX design of Apple.
What type of music do you listen to? I love many different types of music but mostly Israeli music, punk and a lot of mainstream.