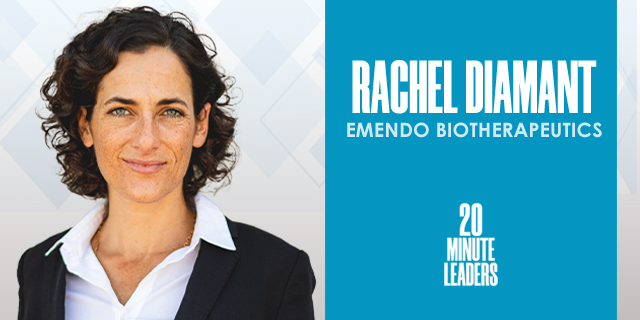 20-Minute Leaders
"Innovation and groundbreaking innovation is really mind blowing. … That's what inspires me today."
Rachel Diamant, chief IP officer & head of pipeline development at Emendo Biotherapeutics joins Michael Matias to discuss biology and innovation
Asking the right questions about your new technology and product are important before drafting a patent for it, according to Rachel Diamant, chief IP officer and head of pipeline development at Emendo. Often, companies patent their new technology without thinking through the actual product they will be selling and who they are selling to. While the technology may be key to the product, they are not necessarily the same thing. Diamant was introduced to IP strategy through a job at a medical center, where she was satisfying her lifelong curiosity about the human body. Most recently, she co-founded Emendo to continue making advances in biology that can help cure diseases. The company works on protein engineering in a process called directed evolution. They have seen success with their solutions in some clinical programs for a disease in children, and these kind of breakthroughs inspire Diamant.
Click Here For More 20MinuteLeaders
Before we dive into biotherapeutics, can you mention a few of the key milestones on your journey and how they helped you progress as an entrepreneur or a leader?
My academic background in engineering gave me a lot of flexibility to understand complex systems like MRIs and heavy technology. My education was very helpful and helped me stay very versatile with the fields I was able to dive into. When I started working at Sheba Medical Center in the technology transfer unit, that's where I first dived into the world of IP strategy and how to construct an IP portfolio that would make sense and generate value. My father is a physician and a surgeon. I was always very intrigued by the human body and biology, but also medical systems and how that world operates. It all came together during the years to where I am right now.
What is the struggle or the constraints in terms of intellectual property in the biotech space? What is the role of the IP strategist in protecting that domain expertise in your company?
I saw numerous examples of how IP at companies is usually handled in a crooked way. When companies develop technology, they go to the patent attorney, who writes a patent on the technology. But more often than not, you will not get a good patent that really helps you, that really generates value. Because patents are not about writing or technology. It's really a business tool. You have to ask the right questions before you draft a patent. What's the product? Who will be buying the product? Where will you be making it? If they're not asked and not analyzed, usually you'll get a patent that covers the technology but doesn't cover the product. Product and technology are often not the same. They may be overlapping. But your patents have to be directed to the product, the way it's going to be designed, and what you're actually going to be selling.
For example, in the glucose sensing space, you have companies developing glucose sensors and writing all the patents for the sensor. But they're actually not selling the sensor. Their entire business model is based on the strips that they're selling, and there's no patent covering that. That happens a lot, more often than not. It's fascinating because the patents are like the major assets of the company. If it's not directed correctly to the actual product, the components, what's going to be in the final product to sell, you don't get valuable patents. Actually, these patents are often not enforceable.
Are we shifting away from patents and IP holding? Or is it just that the software domain that I am living in has less of that?
I think you're right in software, it is moving away from patents. It really doesn't have a lot of value, you disclose a lot, and your ability to enforce those patents is really low. In tangible technology, definitely patents are still ruling big time and getting even more strong.
Tell me about your entrepreneurial journey within biotech. As you're going through the Technion and then in neuroscience at Weizmann, what are some of the convictions that you understand that you're going to employ as a strategy as an entrepreneur?
At the time, I really didn't know what I was going to do. I was just fascinated by the field and the technology and the biology. I started working at Sheba Medical Center, which brought a lot of innovation to my table, which was also really interesting. I was exposed to entrepreneurial ventures from my role in IP.
When I started working with David Baram, my good friend from school, I started on the IP side. David is a super talented entrepreneur, a brilliant scientist and a brilliant businessman. We were having a lot of fun during the work and working together so synergistically. We started more and more projects and moved forward in this world of establishing companies and taking technology forward and funding it.
Emendo, genes, tell me about the problem space and how you're tackling it.
David comes from structure function of proteins and protein engineering. Lior and Noa come from DNA repair. Together, we kind of realized that if we take the current tools like CRISPR, basically, and combine it with protein engineering, we can actually do a lot of improvements and a lot of progress in the field. Protein engineering is a very powerful methodology if you want to take proteins and evolve them and change their properties and make them better adapted to what they're supposed to do.
If you want to take a protein from one context where it was evolved for millions of years and you want to take it into a new context, you need to make adjustments. This is what we decided that we're going to do with protein engineering. It's a methodology called "directed evolution," where you actually take a protein, you introduce changes, and you screen what happened with those changes. You are really able to select those specific variants that have improved characteristics. Then you continue with those variants to develop cures, to develop genetic medicines.
How much of it is software-based simulations versus physical ones?
It started on the physical side. We started by setting up the generating protein libraries. After almost two years, we really started building also our "bioinformatics," which is the software people coming in and analyzing this huge amount of data that we're generating and starting to build models and to do predictions.
I've been asking myself what it is like running a biotech company as an entrepreneur, in comparison to that of a traditional B2B SaaS in cyber or traditional AI. Can you walk me through some of the big milestones that you experience as an entrepreneur in the deep technology biotech space?
I think it's very different because biology is very challenging. You never know if it's going to work. It's not like in software: you decide to do something and then you have to just make it. In biology, there's a lot of unknown and a lot of work that needs to be put into setting up the right systems that will report correctly on what you want to see. Also, you work in the context of human disease. So, you're also very much dependent on the literature and what is already known. There's a lot of unknowns. And biology is really, really tough on one hand, but it's also very rewarding. We work in clinical programs that we were able to show that we correct a very severe genetic disease that children have in patient-derived cells. So, when you're able to develop a cure for that, it is actually crazy.
How early in your life did you know this is the world you're going to be living in?
Oh, very early on. I was sitting with my dad for hours asking him about the digestion system, the CNS, and how things work in the body. I also loved the technology. So, I took on a different direction.
Going back to your childhood, what part of this really was the fascinating aspect?
It's the medical side of things and really understanding how the body works from the organ level to the cellular level to the molecular level.
What inspires you today as you go about your journey and your day to day?
Innovation and groundbreaking innovation is really mind blowing. That's what inspires me today.
What are three words you would use to describe yourself?
Innovator, optimistic, and relentless.
Michael Matias, Forbes 30 Under 30, is the author of Age is Only an Int: Lessons I Learned as a Young Entrepreneur. He studies Artificial Intelligence at Stanford University, while working as a software engineer at Hippo Insurance and as a Senior Associate at J-Ventures. Matias previously served as an officer in the 8200 unit. 20MinuteLeaders is a tech entrepreneurship interview series featuring one-on-one interviews with fascinating founders, innovators and thought leaders sharing their journeys and experiences.
Contributing editors: Michael Matias, Megan Ryan