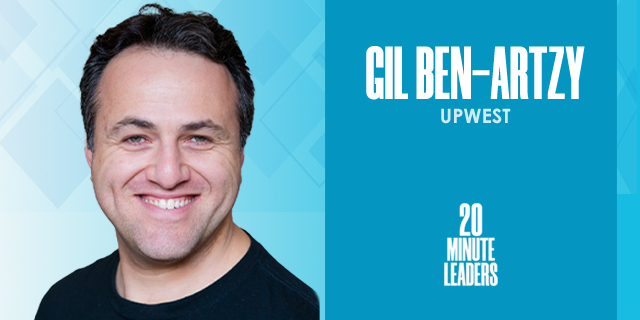 20-Minute Leaders
"I get great joy from working with various domains and various founders, and being there for them."
Gil Ben-Artzy, founding partner of UpWest, tells Michael Matias that inspiration comes from making a difference with each founder and company they invest in.
For Gil Ben-Artzy, founding partner of UpWest, inspiration comes from making a difference with each founder and company they invest in. UpWest aims to provide the first check for Israeli startups who are looking to break into the US market. But beyond the check, Ben-Artzy shares that they really want to go on the journey with the founders and help with everything an early-stage company encounters. That can be finding employees, new investors, and customers as well as navigating the makeup of management and conflicts among the team. He explains that much has changed in the nearly 10 years since he co-founded UpWest, but many of the mechanics of building a company have remained the same. One change has been the amount of money available and founders often being able to choose between investors. Ben-Artzy advises entrepreneurs to do their homework to choose the best partner for their journey.
Click Here For More 20MinuteLeaders
Nine years ago, you and Shuly created this new idea of Israeli entrepreneurs breaking into the US market. What is it like as a venture capital investor watching the Israeli ecosystem drive up?
It's been amazing. So much has changed. Back then, Israelis still had, like they do today, amazing entrepreneurial spirit and power. There was an emerging landscape of companies that are creating great momentum. Fast forward 9, 10 years, we've seen a huge shift and uptick in companies that are creating hopefully "marquee brands" and new emerging businesses.
Take me back to the founding idea. What was the thesis?
When we started, we said the same things we believe in today, which is, "Being in market increases your likelihood to build amazing businesses, amazing companies." It's about finding those entrepreneurs in Israel or the ones already in the US and helping them with the first few years in their ecosystem.
For example, we were fortunate to be in New York two weeks ago on the SentinelOne IPO. We were their first investors in 2013. In the first year or so, they were with us in our office space in Palo Alto. We helped them find their first investors, advisors, and customers, and worked with them since then. We have a whole slew of companies that are coming up as well.
What has happened to the Israeli ecosystem over the last nine years?
What has happened in Israel is amazing. We've actually seen similar things around the world. Amazing companies have raised the bar. The great news for Israeli startups and high-tech is if you look up, there's still a ways to go. You can hear it in the language of the founders that they are aspiring for more.
I think the mechanics of building a company, of choosing the right investor and starting off is the same. The first average check has gone up a lot. But how do you get to your first milestones? How do you build the company? A lot of that has remained true.
What does it mean to choose the right first investors for an early-stage company that may be getting blinded by what's happening now?
As a founder, you have many more financing options on average than they did in the past. Just do your homework. Spend time with the investors, do your due diligence on companies they invested in, and if you're fortunate to pick, just pick the one that fits you the best.
We've tried to grow a little bit with the check size, but still be the first check. Just like in all of our 80-plus portfolio companies, being that first check or almost the first check is what we aspire to do and help the companies as they begin to grow in the US market.
Is there a difference in the perspective of the entrepreneur from that first investment until their next round? Are there timeline expectations that they're feeling pressured to do?
2021 is a crazy year. Certain domains, certain companies, you see them gain momentum a few months after their financing round and then they get knocks on the door from the next round of investors saying, "Take my money now." Each is a case-by-case basis. Under the right situation, maybe you want to spare yourself the trouble of going through the financing round. But sometimes, you want to do your due diligence on investors and the right time to raise the next round. People will come to you with lots of money, which is hopefully why founders—and I see it much more today than in the past—talk to one another and learn from one another. Especially in Israel, which is such a collaborative ecosystem.
What does your partnership with entrepreneurs look like?
The way we think about it is it's a partnership and it's a long, long journey. Sometimes a company seems like they move so fast. SentinelOne was eight and a half years. We want to be there for the long term. That's what we want the founders to see us as.
For us, it means anything from finding the first set of employees, the next round of investors, or the first set of customers. For us as a fund, our focus is really the US market. It's getting those customers that can afterward serve as amazing reference points. And frankly, a lot of things that go on in the early stage of startups that you sometimes don't talk about, the right management team and getting the founders on the right page. For us, it's really about being there for the founders in those early years and supporting them throughout the process.
There's lots of really good investors out there. You want to find the ones that can help mentor you and guide you throughout the process.
Where are we moving from here?
I think a lot of things are still being figured out. In the post-COVID world, are people going to go back to the office the way it was? I personally believe things are never going to go back to the way they were. We'll be in a good middle ground. But that middle ground, I think, is going to be the hardest to navigate. Money seems to be flowing on the streets. How long can this last? I studied economics in undergrad, and I remember the cyclicality of the economy. Now we are on a high. Probably there's going to be a low at some point.
But at the same time, for us as early-stage investors, we are still laser focused on those founders that are trying to solve a major problem. That's what inspires us to do what we do. We get our energy from them.
What's the joy that you're getting out of UpWest?
UpWest is a startup itself. We grew a little bit; we're growing it a little bit now. But we're still remaining small and nimble. As a startup, we have a set of customers, our founders that we work with. What we get the greatest joy from is helping them work through their own vision. Personally, I get great joy from working with various domains and various founders and being there for them.
Sometimes it doesn't end like SentinelOne. Sometimes it goes to an M&A, or sometimes the company doesn't work out. It's being there for the not just for the highs, that's easy; it's being there for the lows. It's just working with the founders that makes the most difference for us.
Take me back to your childhood, middle school, what really fascinates you?
I love sports. Also, my Commodore 64 with tape. The books I gravitated to were all autobiographies of the world's greatest companies. It got me thinking about what it takes to build these global brands. I thought that being in the U.S. ecosystem would be the best place to try to build those companies. That's what got me initially to go to business school there.
Did you think that you're going to be working at the intersection of finance and innovation?
Absolutely not. When I came to the US, I always thought that I would be in corporate. But just being in the Valley and seeing lots of Israeli founders' struggles and challenges inspired Shuly and I to kickstart UpWest. I think once we got the taste of UpWest, we never looked back. This is our startup and, in a way, our mission.
Three words you would use to describe yourself?
Advisor, trustworthy, and Kefar-Sava, which is the city I grew up in.
Contributing editors: Michael Matias, Megan Ryan