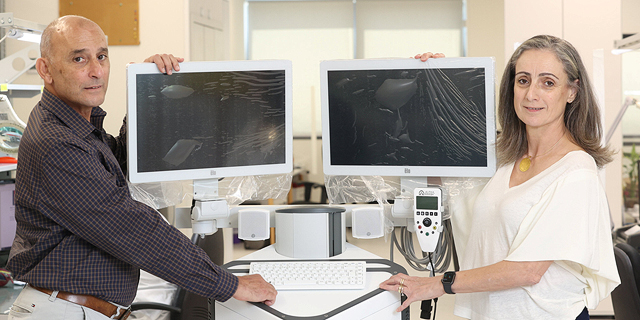 Interview
"In the operating room, it doesn't matter whether you're from New York or Nazareth"
Alpha Omega, a revolutionary biomedical startup from Nazareth is valued at hundreds of millions of dollars and is writing a new and fascinating chapter in Israeli high tech history
Roni Dori
|
14:51 19.09.2021
When Reem and Imad Younis launched the technological system they developed, it filled the biomedical community with hope and excitement. The system's great potential, which started a revolution in intracranial navigation during operations, immediately captivated many. Naturally, all the excitement and wonder raised several eyebrows: when a senior Israeli brain researcher sent an exclamatory email to his colleague overseas, sharing the news of the system, the colleague asked where the company's offices are based, and thought the researcher was joking. The address was Maayan Mariam Square in Nazareth, a place that has long been considered a holy religious pilgrimage site for Christians, and differs drastically from the high tech hub in central Israel. The company's idea was born in the home of young Arab engineer Imad Younis in 1993. Over the past few years, the company has become a leader in the field of surgical intracranial navigation, and has also created lab equipment for conducting brain research. The company owes its success to its founders Imad (60) and his spouse Reem (57) who opened Nazareth's gates, turning the city into the capital of the Arab high tech industry in Israel, which today houses no less than 70 companies.
"Offers to sell? We didn't get any"
The cost of Alpha Omega's system is between $100,00-$200,000, but that is dependent on the precise configuration a hospital requires. In addition, the company also sells its services - which also brings in money. Although the company is private and its financial information is not released, it is believed to be valued at hundreds of millions of dollars. What about acquisition offers? I'm sure you've had plenty of those over the years. "You'd be surprised, but we didn't get any," Reem says. "During the company's first 15 years, we were constantly occupied with how to stay afloat, and not go out of business. We were so immersed in that thought that we couldn't even fathom the fact that some people invest in companies. Now we're in a completely different place: we want Alpha Omega to continue on after we're no longer here, and want it to be a beacon for other companies in the region." The year 2021 saw the high tech industry raise insane sums of money. While you were busy building a real company that was profitable, with a product that has turned it into a world leader, internet companies without sales have gone public at billion-dollar valuations. Doesn't that drive you crazy? "Everything has a price, but what drives us isn't making an exit but the ability to influence the industry, those in remote areas, in Israel, or around the world. We're not driven by money; we choose to focus on making milestones: we are interested in having an impact." In order to do so you need to increase market shares, and continue to develop and grow. That's why companies need money. "We'll see what's needed in the future, we're thinking about it. That will require us to go public on a stock exchange at some point. But even if we do so, it'll be to receive an investment to develop our products and bring them to market rapidly, and to conquer other markets." "We built the company to stay in Nazareth, and do its work where it was founded. The minute you sell or go public, you don't know where you'll end up. Many Israeli companies that were acquired, halted their Israeli operations. As owners, you can dictate that during the first two years its operations will remain here, but after that you don't have much say."
Learning Arabic is a good idea
Although it's still early in the morning at the Alpha Omega offices, their company's large sophisticated coffee machine sits alone on the counter. Suddenly, it becomes clear that dozens of the company's employees - women and men, Jews and Arabs - are gathered around a stove top chatting as it boils up freshly brewed coffee that is better than any machine can produce. The company's cafeteria also features ping pong and foosball tables that are lined up against the wall, and will be used as the day wears on.
The kitchenette, filled with brimming employees, is in a sense a microcosm of the Israeli society that the couple dreamed of. During the past decade, they've dedicated time to holding extensive public activities. Imad also serves as a fellow on the Technion's board, and was recently appointed as a Member of the National Council for Development and Research. Reem, meanwhile, serves as a member of the Jewish National Fund's board as part of a co-impact initiative to employ more Arabs and integrate them into the local economy as well as an initiative to promote Arab employment in the high tech industry. According to recent data, out of 160,000 engineers in Israeli high tech, only 9,000 of them are Arab - less than 6%, translating to less than a third of Arabs in the overall population (18%). But there is still room for hope: there are 6,600 Arab college students who are currently pursuing high tech fields in academia, a number that has tripled since 2017. The Younises have done plenty to help young Arab professionals find good jobs, and hold routine interview simulations where they encourage students to put aside their cultural inclination to downplay their achievements, and push them to emphasize their strengths. Despite that, young Arabs still face many obstacles when finding a career, often for objective reasons. "The Arabic language's status in Israel is still problematic on both sides," Reem says when asked about the language's status which isn't an official language but was granted a special status. "On one hand, if the Arab community in Israel isn't proud of its language and culture, it will only become harder to feel connected to Israeli culture. If we aren't proud of ourselves and recognize our history, it will be harder for us to move on and we'll remain stuck where we are. For instance, young Arabs in Tel Aviv don't even speak Arabic. And if you're driving through the security checkpoint at Ben-Gurion International Airport and you're listening to Arabic radio, instinctively you'll reach over to turn down the volume. Those things add up." "On the other hand, Jews and Arabs coexist in Israel and have been doing so for over a century. I think that Jews should also learn how to speak Arabic. The language should be given special respect. I see all kinds of advertisements in Hebrew that were translated into Arabic using Google Translate without even taking a second glance to edit. If you look at street signs for example, you'll notice that names of cities or towns are spelled inconsistently. I think that's embarrassing. Everyone should know how to speak, read, and write Arabic. I think it will bring both peoples closer."