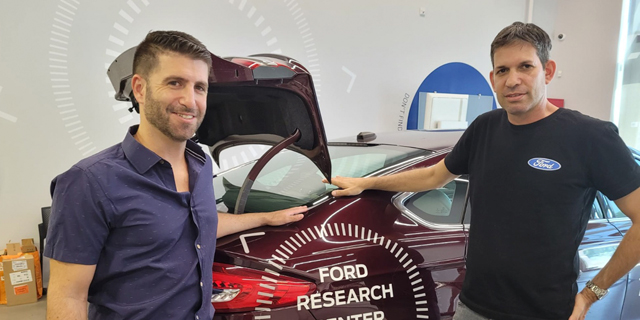 FORD's Innovation Center set to support 8200 Impact accelerator program
The center will help social and environmental tech startups during the 8200 Impact accelerator program from the 8200 Alumni Association
James Spiro
|
11:21 22.09.2021
The FORD Innovation Center, with the support of the FORD Fund in Israel, has announced that it will support the 8200 Impact accelerator program and its startup community. It is understood that FORD will help entrepreneurs develop technological solutions to social and environmental challenges. Over six cohorts, 8200 Impact companies have raised more than $58 million and created over 160 jobs.
"We are pleased and excited to collaborate with the impact program of the 8200 Alumni Association," said Boaz Hartal, Director at Ford Research Center, Israel. "FORD Fund supports diverse programs around the world, and for the first time also operates in Israel through the company's growing innovation center in Tel Aviv. It is a great privilege for us to partner with the 8200 Alumni Association, a unit whose alumni lead some promising companies that work with us, whom we help to integrate optimally within Ford's products and services worldwide."
"We welcome Ford and FORD Fund to join onboard the list of companies and public bodies that support 8200 Impact, which is one of the flagship programs in the technology axis of the 8200 Alumni Association," added Chen Shmilo, Program Director at 8200 Impact. "The spearhead in the development of new and advanced technologies will help entrepreneurs in the field of technological impact to accelerate their activities and thus turn Israel from a Startup Nation into an Impact Nation."
8200 Impact is a non-profit organization and supported by Hapoalim Bank, Doral Energy, Partner, Nashitz-Brands-Amir Law Firm, Amdocs, Harel Insurance Company, MFI Initiative, Nefesh Benefesh, Tel Aviv- Jaffa Municipality, the Jewish Federation of New York, ICL, and IMED. FORD's Innovation Center was established in 2019 and operates in cyber security, vehicle connectivity, robotics, sensors, ADAS and autonomous vehicles, smart cities, and more. Ford Research Center Israel hopes to bring talent from Israel into the Ford Motor Company globally