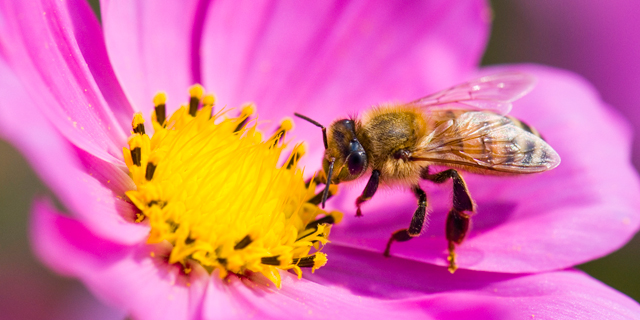 The buzz on the brightest Israeli bumblebee startups
These 10 Israeli companies are helping repair and save the world's dwindling bee population from going extinct through new and innovative technologies
Yafit Ovadia
|
09:05 24.09.2021
While the slogan "save the bees" isn't something you'd expect business-savvy startups to embrace, many have begun to understand its importance as the changing climate and other weather phenomena have begun to have an adverse effect on agricultural produce much of which depends on bees. Pollination is, among other things, crucial to human survival. Successful pollination allows plants to produce seeds, yielding the next generation of plants which sustain wildlife throughout all stages of the food chain. Bees transfer pollen by picking it up from a flower's anthers, or male part of the plant, which sticks to their legs and thereby transmitting the substance onto a second flower, where it sticks to the stigma, or female part, fertilizing fruits and vegetables.
According to the Pollinator Partnership, a San Francisco-based non-profit organization dedicated to protecting global pollinators, somewhere between 75%-95% of all flowering plants on Earth require pollination assistance. Furthemore, insects such as butterflies, moths, bats, and bees pollinate over 180,000 different plant species. Moreover, in the Status of Pollinators in North America report compiled by the National Research Council of the National Academies in 2006, the inherent risk and decline to pollinator populations due to a variety of changing factors has resulted in the loss of feeding and nesting habitats for bees due to pollution, the misuse of chemicals, disease, and changes in climatic patterns which are shrinking entire populations.
Founded: 2019
Funding: Undisclosed; Seed
Headquarters: Kfar Monash
Some startups are uniquely focused on extracting pollen from plants, processing it, and pollinating plants, like Bumblebee AI, which focuses on avocado, almond, kiwi, cocoa, and blueberry plants. Bumblebee AI Ltd. has developed an autonomous artificial intelligence-based pollination service, which identifies each fruit tree's pollination needs, then mimics the pollination process performed by bees to increase crop yield. The company's data-driven solutions have assisted growing Hass avocados and blueberry fields in Peru. Bumblebee AI was founded in 2019 by Avi Keren, Thai Elgrabli, and Ido Senesh, and is based out of the Kfar Monash moshav in central Israel. According to recent financial data, the company is currently in the seed stage of funding.
2. Beewise Technologies Founders: Saar Safra, Hallel Schreier, Eliyah Radzyner, Yossi Sorin, and Boaz Peterzil
Founded: 2018
Funding: $38.66 million; Series B
Headquarters: Klil
This startup's solar-powered imitation beehive, termed BeeHome, is equipped with a robot that takes care of bees in real-time. The company believes that redesigning the beehive is crucial in order to address numerous inefficiencies in hives, as well as momentously improving bees' well-being and extending their longevity. The BeeHome can house up to 40 different bee colonies at a time, allowing beekeepers to remotely treat hives and monitor bees by controlling temperature, humidity, monitoring pests within the hive, and applying pesticides. The smart home for bees is also capable of retrieving honey once ready for harvest. The company is based out of the town of Klil in the northern part of the country, situated in the lush green Western Galilee region. It was founded in 2018 by Saar Safra, Hallel Schreier, Eliyah Radzyner, Yossi Sorin, and Boaz Peterzil. So far, the company has raised $38.66 million and completed its Series B round in December 2020.
Founded: 2017
Funding: $4 million; Seed
Headquarters: Tel Aviv
The Beehero Ltd. startup inserts IoT devices into beehives, constantly monitoring in-hive changes such as whether the hive is attacked by pests, the queen dies, or there is a change in behavior or humidity, and then alerts beekeepers who can immediately respond to crises. The company's sensors are installed inside beehives to collect data and environmental information from within the hive, which then is applied to the company's machine learning algorithms to predict future beehive disturbances. The company was founded in 2017 by Itai Kanot, Michal Roizman, Omer Davidi, Yuval Regev, and is based in Tel Aviv. According to recent financial data, the company has raised a total of $4 million, and is at the seed stage. 4. Bee-io Honey
Founders: Adi Zim, Arik Kaufman and Yaron Caesar
Founded: 2021
Funding: $2.5 million; Public
Headquarters: Rehovot
The company, is run by Ofir Dvash, who serves as CEO and his sister, Dr. Efrat Dvash, who serves as CTO. Bee-io Honey is developing technologies to address the rising demand for honey in an eco-friendly and sustainable way, by offering an innovative solution to produce honey without the bees. The company holds a number of patents, in areas such as the mass production of nectar, and mimics the process that transpires in the honeybee's innards, whereby nectar turns into honey. Bee-io Honey is also working on technologies to produce natural nectar to help increase the capacity of honey production, and make the process more rapid, efficient, and cost-effective. In January 2021, the company completed an initial fundraising round of NIS 8.3 million ($2.6 million) from private investors. The company recently went public on the Tel Aviv Stock Exchange after merging with the BH Whitestone Group in May. The company is based out of Rehovot.
5. ToBe2 (Influencing Innovation)
Founders: N/A
Founded: 2015
Funding: Undisclosed; Seed
Headquarters: Hod Hasharon
ToBe2 or ToBe Influencing Innovation as it is also known, is a startup solely focused on combating a harmful parasite to bees - the Varroa mite - that may cause bee colony collapse. Its device, termed the Hivemaster, optimizes the delivery of anti-Varroa compounds, which can lead to a 98% decline in the parasite. The device is fully automated and controlled, and utilizes unique electromechanical machinery to deliver volatile and nonvolatile compounds into beehives. The company was founded in 2018 and is led by Dr. Avi Ben Shimon and Ofer Yogev, and its team also includes the expertise of beekeeper Ron Korkidi. The company is based out of Hod Hasharon, and is currently at the seed funding stage.
6. BioBee Biological Systems
Founders: N/A
Founded: 1983
Funding: Public
Headquarters: Kibbutz Sde Eliyahu
Veteran bee company BioBee Biological Systems, is involved in pest management against red spider mites and other harmful pests by using spiders, flies, and bees as an alternative to harsh chemical pesticides. BioBee claims its products have reduced harmful pesticide use by 80%, and helped stabilize bee populations around the world. The company relies on bumblebees, which are larger and do not produce honey like honey bees do, and are capable of working in colder environments or inside confined conditions such as greenhouses. Bumblebees also rely on a mechanism noted as buzz pollination, whose efficiency is superior in particular when pollinating tomato plants. The company was founded in 1983 and is based in Kibbutz Sde Eliyahu. Currently, the company operates in markets around the globe, including in Chile, Colombia, India, Russia, South Africa, and the U.S., and has six subsidiaries and five production sites. 7. Edete Precision Technologies for Agriculture Founders: Eylam Ran and Keren Mimran
Founded: 2016
Funding: $3.8 million; Seed
Headquarters: Basmat Tab'un
The company, based out of the Bedouin town of Basmat Tab'un in northern Israel, was founded in 2016 by Eylam Ran and Keren Mimran. The company develops and manufactures automated fruit orchard pollination systems for almond trees. Its artificial pollination devices automatically harvest flowers, separate the pollen, and store germinable pollen to reduce the dependency on insect pollination, whose dwindling population is constantly fluctuating. During the flowering season, dry pollen is later dispersed on almond trees. The company's end-to-end pollination solution has been proven to increase almond yield, and unlike bees, remains unaffected by lighting conditions, weather, and temperature. So far, Edete has raised $3.8 million, and is currently in the seed stage.
8. Polyam
Founders: N/A
Founded: 1995
Funding: Public
Headquarters: Kibbutz Yad Mordechai
This Israeli startup mass produces bumblebee colonies to pollinate agricultural crops as well as raising other insects to control greenhouse crop pests. Polyam, which is an acronym for Pollination Services Yad-Mordechai and is based in the kibbutz by the same name, was founded in 1995. Currently, the company's main focus is on improving pollination techniques for crops such as the greenhouse tomato, sweet pepper, eggplant, strawberry, melon, and zucchini. It also assists in pest control and management in orchards that produce fruits such as cherries, pears, apples, blueberries, and avocados, and are pollinated by bumblebees. Polyam produces and markets a predatory insect to control thrip insects in greenhouse sweet peppers and other crops, and also is known to utilize a parasitic wasp against aphids. Its management team includes Udi Yosha and David (Dudi) Doron. Its revenue is financed through the funding stage, and its product has gone global.
9. Arugga AI Farming
Founders: Iddo Geltner and Eytan Heller
Founded: 2017
Funding: $5.8 million; Series A
Headquarters: Yokneam Illit
While not exactly a bee-centered startup, the company still has its sights set on a solution in case of eventual bee extinction. Arugga AI Farming has developed robotic solutions to treat and monitor individual plants in greenhouses. Since its founding in 2017, the company has focused its early product development on robotic pollination to replace manual methods and has recently been deployed to pollinate Australian tomato plants after partnering with the Costa Group. The startup was founded in 2017 by Iddo Geltner and Eytan Heller, and is based out of the northern city of Yokneam Illit. Currently, Arugga has raised $5.8 million, and recently completed a Series A round in May.
Founded: 2017
Funding: $37 million; Series B
Headquarters: Tel Aviv
The startup is giving agricultural drones an Israeli twist. Blue White Robotics, as the name implies, relies on its team and the region's military speciality for developing UAVs, bringing that expertise to the agricultural sector. The company has used its robotic pollination to fertilize date palms in the Arava region as well as apples in northern Israel. The startup's technology has also been used to pollinate numerous almond orchards in California. Its platform is designed to collect data, provide actionable insights, and improve efficiency and safety for large operations. The company was founded in 2017 by Aviram Shmueli, Yair Shahar, and Ben Alfi, and is based in Tel Aviv. It raised a total of $13.7 million so far, and completed its Series A round last September. As robotic pollination and other methods of improving pollination and protecting bees increase, this may just be the start of a brighter future.