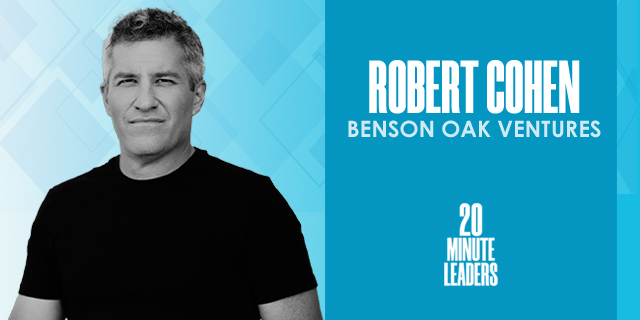 20-Minute Leaders
"I want to invest in things that can be big, that can conquer the world"
Robert Cohen, managing partner at Benson Oak Ventures, shares with Michael Matias how he spends a lot of his time listening to founders
Balance in life is important to Robert Cohen, managing partner at Benson Oak Ventures. He is passionate about his investment work, but he advises people to make sure they balance their career with other things, like family and hobbies. Cohen shares that he gets excited about people who think differently about problems and likes to invest in ideas that can conquer the world. Benson Oak focuses on investing in B2B, B2SMB, and Passionware companies, and Cohen explains that their product is not just providing funds but adding value to their portfolio companies wherever they can. Different businesses have varying needs, but Benson Oak can help entrepreneurs think through their product, how to build the organization, and different business models. He spends a lot of his time listening to founders and says he enjoys being surprised by new ideas every day.
Click Here For More 20MinuteLeaders
Start by telling me about yourself and your journey.
I'm originally from Philadelphia. I moved to Prague for 18 years. I was part of Benson Oak, which was a local investment banking boutique. In the early 2000s, I thought we should start investing. Honestly, we stumbled into AVG, the anti-virus company, in the early 2000s in Brno, two hours east of Prague. We actually ended up buying it.
Then nine years later, I had a great opportunity to go back to do acquisitions and enable us to go public. I ended up doing two deals in Israel. That brought me to Israel for the first time professionally. I fell in love with it. For me as someone who's passionate about investing and startups, it made sense to be here.
How does that passion entering the startup ecosystem transition into your work today?
AVG was a team of 20 people in this little town who accidentally fell into this big market. We kept saying, "There's no reason a small company in Brno cannot be a global leader." That's not something you ever have to say in Israel. That mind-set is there from the get-go.
Bringing that experience from actually seeing it happen in an unusual situation and then coming here and seeing these amazing entrepreneurs, it fits what I enjoy doing. It also fits the skills that I've developed from B2C and B2SMB.
Tell me about the high-level strategy of B2C or B2SMB.
Our specific strategy is to invest in B2C, B2SMB, and "Passionware," which is what we've dubbed the tools and services that drive the passion economy. The reason we put all of those together is because they all start from very similar beginnings.
We focused our investments anywhere from early-stage to post-product stage and really help our companies. We only invest in things that we understand. By definition, if we can't add value, we don't invest. That doesn't mean we have to add value, but we have to be able to. That's specifically in the area of product, being a mirror to entrepreneurs in thinking about product. Helping with business models. Helping the organization build. That's our Benson Oak product. It's not just investing. It's invest and add value wherever we can. Different founders need different things.
Why is it irregular to find somebody in the Israeli ecosystem really excited about B2C or Passionware?
I think that's part of the way Israel has developed. The Israeli ecosystem started with deep tech, B2B. That was where the early exits came from. In B2C and SMB, your aspiration from the get-go is to build something big. The mind-set of newer companies is to build a big global brand. That's what excites me. I want to invest in things that can be big, that can conquer the world, and go for those big gains.
What are some examples from your portfolio?
Promo.com is an amazing story of a company that started as B2C and built a user base around the world. They turned that secret sauce of a B2C platform into Promo. Basically, the CEO invented a new market around video marketing for SMBs. Now we're moving beyond that and enabling SMBs to really promote themselves. I call Promo a "Passionware business" because at the end of the day, I'm in the business of scaling my business, getting users, and generating revenue.
Is it common to be the lead investor in a company and be so involved in the day to day?
It's becoming more common. I think that's really become part and parcel of the VC ecosystem. It can't just be about money. The value add has become the thing that differentiates. Our way is a specific way. We don't invest in 30 companies. We wouldn't necessarily be able to do what we do.
I think it's also being part of the team. We're all in the same boat. We share some of our carry with our founders. It makes them a part owner of the fund and of everyone else. It sends the message that it's not management versus shareholders, it's not founders versus investors. And we're not usually the sole investor.
Is the ecosystem moving more towards a B2C or B2SMB mind-set and not just cyber and AI?
Yeah. I think there's still going to be amazing cyber and AI companies. There's more money that's available to B2C and B2SMB now. I think as more companies succeed and some of these companies go public, you'll get more deal flow. The amount of deals I saw in a year in B2C five years ago is probably equal to what I'm seeing in a month now.
Are you developing any specific thesis as you help your Israeli founders to scale their business? Most of them are not selling to the Israeli market, right?
One of the advantages of investing in B2C is you get to use Israel as an early petri dish. Four or five of our companies had their first revenue in Israel. It's great because it shows the hustle, the ability, and product market fit. At the end of the day, it's a very similar market in terms of mind-set.
My intuition was that the consumer behavior is so drastically different that it doesn't actually show the right intention of the user acquisition or how to scale.
I think in terms of product market fit and the value prop, it's a very good indication. Especially for the American market, it actually is a very good fit. But in terms of user acquisition, scale, and growth, it's a completely different ball game.
But from my point of view, seeing the team's ability to put a product out there that people want and will pay for and that early hustle to generate the early revenue, that's important.
To your question about thesis, we have a certain thesis about some things. We're big in blockchain, crypto. We take an open mind and want to meet entrepreneurs who are thinking differently and are attacking a problem a different way.
For B2SMB, we have a simple thesis, which is "everything a big company can do, a small company will be able to do." It's just about providing them that tool. For consumer, there's things that we're surprised at almost every day. That's what's exciting. It's really being disruptive, transformative, and what Israelis are great at: thinking differently about how to tackle the problem.
What really fascinated you as a kid?
I've always been into sports. One of the things I did was collect trading cards. I didn't do it to make money. I still haven't sold it. Now I'm into looking at a lot of things that are in sports tech. If I can combine making money, investing in sports, and enjoying sports, that is just heaven.
What inspires you today?
It's my job to invest and to make money for my investors. But it really is my passion and I love it. It's also a balance. First of all, do something you enjoy, but also find all the other things that are outside of work. For me, that's family, that's sports, that's hobbies.
What are three words you would use to describe yourself?
I'm a very focused person. Well-balanced. I'm into meditation, which has actually enabled me to balance. And optimistic. To invest in startups, almost by definition, you need to be optimistic. You need to believe that tomorrow was going to be better than the day before.
Contributing editors: Michael Matias, Megan Ryan