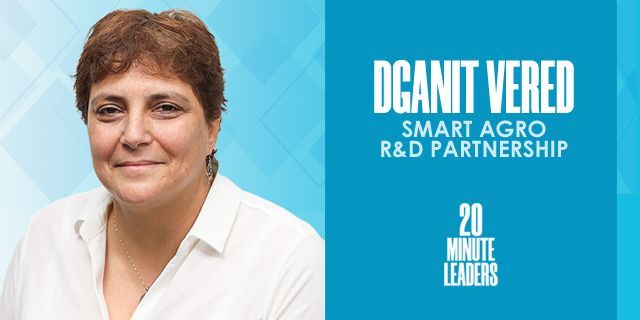 20-Minute Leaders
"It's not a cliche. We're trying to save the world."
Dganit Vered, CEO of Smart Agro R&D Partnership, talks to Michael Matias about how finding solutions for agriculture challenges is critical for our survival
The agritech industry needs more entrepreneurs and startups, says Dganit Vered, CEO of Smart Agro. She sees a lot of brilliant minds go into consumer-oriented fields, where financial success might come more quickly, but she shares that the rewards of making an impact on food yields and helping the world are even better in the long run. Vered explains that climate change, lack of manpower, and declining bee populations all pose serious challenges for agriculture. Also, the world population keeps growing, so demand will continue to rise. That's why she is passionate about making a difference in agritech through Smart Agro and through mentoring entrepreneurs. Vered has worked in corporations as well as startups and VCs, allowing her to have an all-around view of the ecosystem. She says that finding solutions for agriculture challenges is critical for survival, and she is committed to doing her part to save the world.
Click Here For More 20MinuteLeaders
Tell me about your background and what helped you get into agritech.
It was actually a journey. Not all of the stages were precisely planned. Most of my career I did with Intel in the factories. From engineering, to R&D, and later on the Israeli site manager for corporate services. After 17 years with Intel, I moved to be VP R&D of Perrigo, the API division. After that, I was the VP R&D of Hazera. This was really the place where I got introduced into agriculture. I realized that the problems go way beyond just the seeds.
I made a strategic decision to move into the startups innovation arena. I joined ViAqua, a biotechnology company as chairperson of the board. I was an active chairperson, so I really joined the team and worked with them. The second thing that I did was being a CEO of a startup. I was able to experience everything. Everything that can go wrong went wrong.
Almost three years ago, I joined Entrée Capital to run the investments on agritech. There, I really learned from the best. I learned how to invest, what to look for, how to manage the relationship with the entrepreneurs, and what's important for the investor and the startup, and how to make sure they're focusing. Four months ago, I decided to move from the venture partner to a CEO of a startup investment body, which is Smart Agro.
Tell me about agriculture tech. Why is it important today that we focus on this?
I think everyone knows why it's important. You see the climate change and its effects. It causes an increase in pricing. Yields are going down. I think climate change is something that we're seeing now; it's going to get worse. We're not talking about let's take care of it in 50 years: this is the money time right now.
I think that the aspects of agritech—finding solutions for degradation of the soil, ability of the plant to deal with weather conditions, the ability to change the way we approach agriculture, putting technology into agriculture, and trying through the genetics to solve the problems—all those things are bundled together and require dramatic solution. You can see solutions from the side of manpower. People don't really want to work in agriculture. We also see a dramatic reduction in the number of bees. Trying to find solutions for all those items is critical for the survival of the planet.
Feeding the world is going to be very difficult moving forward. We're going to hit 10 billion people in 2050. This is in your and probably my lifetime. I don't want to see my kids and my future grandchildren involved in wars over food.
Can you give me some specific examples of how technology is being used with agriculture today? I could get a lot of inspiration as to what I can actually be doing with technology in the real world.
Let's start with bees. In the last three years, I invested in two companies that deal with it from completely different angles. One is Arugga, which went into the greenhouse and said, "We want to take the place of the bees." They built a robot, and the robot is doing non-touch pollination. If the bees move from one plant to another, they can transfer diseases. With the non-touch pollination, this cannot happen. You don't need to take care of whether the bees are healthy or not healthy. Those things are out of the equation. Because of the improvement in the computing capability, the AI knowledge, the cost is equivalent.
The second solution is for beehives outside. BeeHero developed a device that sits inside the hive and listens to the hives and checks the temperature, the movement. If anything goes wrong, it flags the beekeeper. In the past, the beekeepers would come at a certain frequency. If something goes wrong, it might be too late to recover. But if you get the alert immediately online, you can recover the hive very fast.
The CEO of BeeHero, Omer Davidi, a good friend, took me to an area where they had beehives. Being there physically with a beekeeper and watching in the physical world changed my perspective. I think that's really the magic of what's happening with agritech.
Right. This is mind-blowing, the technology going into agriculture. People don't understand how far back agriculture is from the technology we're used to. There are startups that are introducing technology at the highest level; we're bringing high-tech into agriculture. That's a huge change and an increase in the efficiency and effectiveness of the farmer.
You can see precision irrigation. Water constraint is becoming a huge thing. SupPlant is even taking it another step forward and measuring the plant from additional sensors and not just soil sensors. That way you can give the farmer exact irrigation recommendations. You don't over-water, wasting water. You don't underwater, leaving the plant thirsty.
How are investors responding to this changing world and the fact that now there's more entrepreneurs going into agritech?
I would like to see more entrepreneurs going into agritech. I see a lot of brain power going into gaming and nice consumer solutions, probably a faster path to the money. But the impact to the world is much more of a reward. More entrepreneurs need to move there.
In Israel, there are about 400 companies that are doing agritech. The industry is maturing. There are more and more startups raising B-rounds and C-rounds. But I don't see enough new startups stepping in. One of the problems is that there are not that many exits yet in agritech. I think we're like a year, two years from the big exits. This is why it's attractive for VCs and for investors because we are before this industry is going through major exits and mergers and acquisitions. I think that we are a bit behind the food industry that is in the big hype right now. Being at the first line of investors in this field, I believe that this industry is about to blow.
What really fascinated you as a kid?
I read a lot. I played professional basketball. Chemistry was fascinating. It always was my passion. I recently learned that biology is more interesting, in my opinion. I think that passion for science and technology that goes with me all my life is something that comes to play now in the investment world.
What really inspires you in your day to day?
Because of my very different experience that is not common—I was in corporate, I was in startups, I am an investor—I think my 360 degrees loop on the startups arena is a strength. I'm trying to utilize this strength to mentor startups. Whoever is interested in getting my brainpower and picking my brain on their startups or ideas, I'm making the time to do that. It's not a cliche. We're trying to save the world. Wherever I can help people and make a difference, I'm trying to help them.
What are a few words that you would use to describe yourself?
I'm busy. I like being busy and I like doing multiple things. I like mentoring. I like discussion with people that are open to listen. The entrepreneur that doesn't listen is in trouble. He needs to listen to the market, he needs to listen to his board, he needs to listen to his team. At the end, they need to make the decision. But if you don't listen and take everything into account, you might not make the best decision. And passion, the passion to do good.
Michael Matias, Forbes 30 Under 30, is the author of Age is Only an Int: Lessons I Learned as a Young Entrepreneur. He studies Artificial Intelligence at Stanford University, while working as a software engineer at Hippo Insurance and as a Senior Associate at J-Ventures. Matias previously served as an officer in the 8200 unit. 20MinuteLeaders is a tech entrepreneurship interview series featuring one-on-one interviews with fascinating founders, innovators and thought leaders sharing their journeys and experiences.
Contributing editors: Michael Matias, Megan Ryan