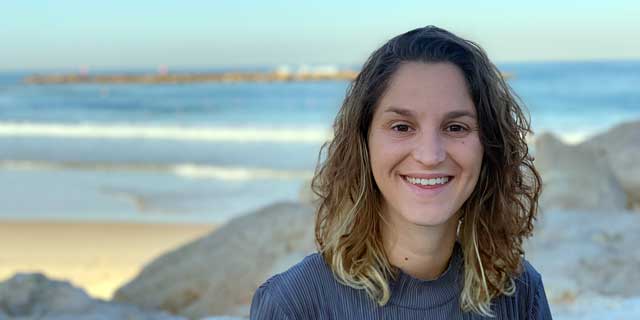 A Day in a Life
Amplio's potter helping shape the therapy world into a data-based field
When she's not busy with her job as a Learning Researcher at Amplio Learning, Shani Perl is probably working on her thesis in linguistics neuroscience, having fun with clay or on the beach surfing on SUP
Sponsored Content
|
11:36 14.10.2021
ID
Name: Shani Perl
Age: 27
Where do you live: Tel-Aviv
Company: Amplio Learning
Position: Learning Researcher
What is so special about what you do? Amplio Learning is a company that aspires to change the world for students with special needs using cutting-edge technology such as machine learning (ML) and artificial intelligence (AI). As I grew up, through my time as a counselor to children with cerebral palsy, my service in the 8200 unit, lots of coding in different tech environments, and my thesis that relates to people on the autistic spectrum, it has become clear that almost everything in life depends on the opportunities one has. This understanding led me to work in a place that strives to create a world where everyone has an equal opportunity to succeed. Amplio Learning does exactly that and sees its goal to create a smarter, data-driven, technology-based therapy to help all those with disabilities. And we are very successful with it – all the way from Israel we have closed huge deals with entire states and counties, impacting the lives of so many children with disabilities, allowing them to learn in the best way possible for them. My day-to-day job is to analytically investigate how to make the learning process better for our students and give them the best tools to succeed. My work is very diverse. One day I can find myself jumping between calls with leading Ivy League institutes and the speech-language therapists using our platform, while another day I'll be wracking my brain with a new AI algorithm that could improve our users' education.
What do you enjoy the most in your work? Learning, especially from my co-workers. My background is in academia and 8200 so it's truly amazing to see how an AI product is being built from the ground up. The collaboration between all the different teams and the creativity needed to get to the best solution never stops amazing me. I enjoy diving into a specific problem, observing the different possible solutions, and then examining it from other teams' perspectives, understanding better how to shape the solution. In the end, it is always exciting to see how a great solution is designed by our product team and built by our amazing R&D team.
Amplio Learning encourages us to chase the best solution for a problem. We are not scared to learn and to integrate and use information from different fields, changing the therapy world to become a data-based field. We get the chance to learn from the best sources relevant to our product, from the "on the ground" level to the state-of-the-art academic discoveries made in computer science, psycho-linguistics, and neuroscience. We don't hesitate to try innovative solutions, even if they might lead to dead ends.
I truly think that the most incredible thing in the company is the people. I'm so excited working with people that aspire to change the world and are thrilled to make their best effort doing so. It's just inspirational to see how much effort is being put into the product by each employee.
Preference - working from Home / Office / Hybrid: Hybrid. The combination of days in which you are working from your quiet home to days in the office leads to great workflow and maintains a great atmosphere. Working in a hybrid manner allows you to best organize your work environment according to your goal on a specific day.
My Daily Routine
08:00
Waking up in the morning, taking care of my plants and my avocado tree, making myself a cup of coffee, and starting my day. If I'm working from the office, I would probably stop for a coffee in one of my favorite coffee houses nearby.
09:00
Daily meeting – This is when I get to see everyone, update on the changes from the day before, talk about the plans for the following day, and most importantly, see who has a new Zoom background.
09:15-12:30
My best working hours. This is when I'm most "in the zone," and it's the perfect time for me to tackle a problem.
12:30
Lunch. If I'm at the office, I usually order something out last minute. It always comes as a surprise, as I'm very concentrated on my work. If I'm at home, I stare at the refrigerator for a few minutes and finally end up chopping up a salad.
15:45
Time for Daily meeting with our team in the USA – like the morning team meeting, just in English with our amazing USA team. It's always nice to say "good morning" while drinking your second (or fifth) coffee of the day after 7 hours of work.
19:00
I usually glance at my watch around this time, startled to see that it's time to finish things up, answer final mails and get some rest.
What do you do in your spare time? Most of the time I'm working on my thesis in linguistics neuroscience. Recently, I started working with clay and fell in love with it. When I'm not in my pottery classes, I would probably be on the beach, either running, relaxing and or surfing on SUP. If I had some spare time, I would probably find myself looking for a new patisserie to try lemon pie.
Favorite book? My favorite book is "Flowers for Algernon" by Daniel Keyes. It's a story about a man called Charlie, with an IQ of 68. The book starts when Charlie undergoes a procedure that aims to raise his IQ level. I'll leave it at that in order not to spoil it. It's all told from Charlie's perspective as an experiment journal he is asked to write. It reflects the difficulties that a person with cognitive disabilities faces in his day-to-day life. I might have three copies that I hand out to friends to read. Favorite type of music? While I really love music, I sadly don't have a sense of rhythm. I love musicals and recently got addicted to the "Hamilton" soundtrack, which I hear on repeat.