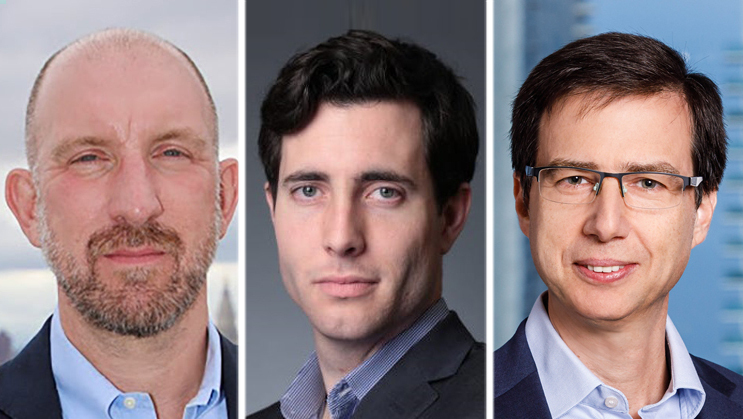 Meet the Israeli unicorns and high tech stars at Mind The Tech NY
After a two-year break, the Calcalist and Bank Leumi conference will bring together the hottest American and Israeli names in the high tech industry in New York, between November 15-17
Omer Kabir
|
20:01 25.10.2021
After a two-year break, the Calcalist and Bank Leumi conference is returning, featuring the hottest American and Israeli names in the high tech industry. The three-day conference will include social, business, and professional meetings, and take place between November 15-17 in New York City. The conference will feature interviews and lectures on the central stage as well as meetings at round tables led by international investment funds and leading Israeli firms. The conference will open with a celebratory cocktail party hosted by Bank Leumi that will take place at the Refinery Rooftop.
For more details and registration click here .
During the second evening, JVP will host a cocktail party at the international cyber center, Margalit Startup City in New York. On November 17, the America-Israel Friendship League - 50th Anniversary Gala will take place nearby, featuring former U.S. President George W. Bush and former Israeli President Reuven Rivlin. "We waited a long time to celebrate the win of science, innovation, and technology, and this will be a special meeting between both the American and Israeli high tech and business industries. We are just as excited as we were ahead of the first ever international conference that we held a few years ago," said Calcalist Publisher Yoel Esteron.
For more details and registration click here .
Samer Jassar, born in the Israeli-Arab village of Jatt, is the Director of Basketball Strategy & Analytics at the NBA champion Milwaukee Bucks, and the most senior Israeli figure in the top basketball league in the world. Jassar is a former basketball player, and is responsible for building the team that led the Milwaukee Bucks to the championship.
Saagar Kulkarni, Partner at the American equity firm, Stripes Group, will also be in attendance. Some of his most prominent investments in Israel include Monday.com, Verbit, RapidAI, and Snyk. Prof. Ellen Goodman from the prestigious law school at Rutgers University, a world expert in social media network regulation will also speak. She specializes in areas such as free speech, media regulation, privacy, information ethics, and empowering digital platforms. Her model for taxing social media and transferring money to publishers is considered a groundbreaking idea, and has inspired moves such as the tax on Facebook in Australia. Exposure to venture capital
Senior partners and executives from prominent venture capital funds will also attend the conference, including Teddi Wardi, Managing Director at Insight Partners, which invested in companies such as Shopify, Hello Fresh, WalkMe, and Israeli Monday.com; Erel Margalit, one of the most senior figures in the Israeli venture capital industry, founder of JVP, which is considered a significant factor in promoting startups and companies in Jerusalem, the Galilee, and New York. In addition to his activity in the venture capital industry, Margalit conducts extensive social activities such as the JVP association that strives toward promoting equal opportunities in education. In attendance will be many other notable figures, including: Josh Brennan, Partner at YL Ventures, which has invested in companies such as Axonius, Orca, and Hunter; Yodfat Harel Buchris, Managing Director at Blumberg Capital, which has invested in Any.Do., Fundbox, and MediGate; Gideon Argov, General Partner at New Era Capital Partners, Natalie Refuah, Partner at Viola Growth, which has invested in SimilarWeb, Trigo, and BlueDot; Lotan Levkowitz, General Partner at Grove Ventures, which has invested in Lumigo, Neuroblade, and RapidAPI; and Oded Hermoni, Managing Partner at J-Ventures.
As part of the conference, as in previous years, the Qumra fund, headed by Boaz Dinte, Erez Shachar and Sivan Shimri Dahan, will unveil the ranking of the top ten companies with the highest potential to be market leaders in their fields. The ranking seeks to uncover innovative Israeli technology companies, which are growing rapidly and becoming market leaders. Some of the companies included in previous rankings include Snappy, which completed a $70 million funding round last May, nine months after raising $25 million, with the company's CEO also appearing on stage among the conference speakers; Vim, which raised $60 million in May led by insurance giant Anthem and pharmaceutical chain Walgreens; Papaya Global, which became a unicorn in March after raising $100 million; and Capitolis, which in August acquired American company LMRKTS for $50 million.
The conference will also be attended by Global X's head of research and strategy, Jay Jacobs; Israeli Mapped in NY founder and CEO, Guy Franklin; Israeli Consul in New York, Asaf Zamir; New York Economic Attaché Anat Katz; Senior Vice President, CIO and Director of Leumi Technologies at Bank Leumi, Haim Skolnik; Leumi Tech CEO Timor Arbel-Sadras; Amit Lang, former Director-General of the Israeli Economy Ministry, who currently heads EMS Mekorot Projects, a subsidiary of Mekorot that specializes in the design, construction and supply of infrastructure, facilities, and systems of water, sewage and treatment, and is considered a world leader in the infrastructure and water facilities; Partner and head of technology at KPMG Israel Dina Pasca-Raz, and KPMG Partner Itay Falb.
For more details and registration click here .