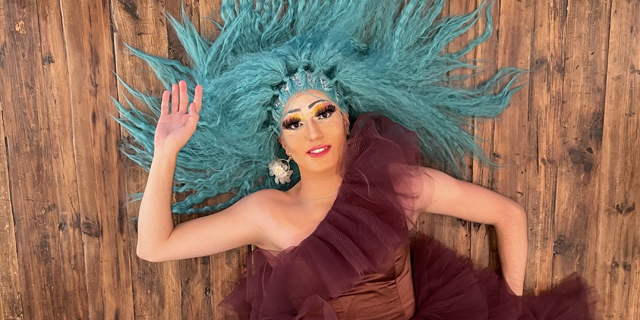 A Day in a Life
The drag queen coding for HoneyBook
Amit Harari, a Full Stack developer, loves his dynamic job at Israeli unicorn HoneyBook, but after work he's busy practicing his lip-sync for his drag show
Sponsored Content
|
10:23 15.11.2021
ID
Name: Amit Harari
Age: 27
Living in: Tel Aviv
Company: HoneyBook
Position: Full Stack Developer
For a Starter
I grew up in Holon, and during my seven years of military service, I was a programmer. When my contract ended, I traveled to the Far East, from Thailand to Japan. I returned to Israel and started working for HoneyBook just four months before the pandemic broke out. I've lived with my spouse for the past seven years. I love anime and TV series, and a year and a half ago, I adopted a new hobby – I perform as a drag queen. I always had a "thing" towards performing arts, but due to my military background, I chose to learn computer sciences. Now that my professional career is well balanced, I feel comfortable exploring new territories of interest.
What's so special about what your company does? Our clients are small businesses and freelancers that expect us to provide casing to their venture. We are all deeply involved in the product process from all aspects. It means that I am a Full Stack developer but well connected to the end-product and not only to the coding elements. I love it because I can see how my work is incorporated and make the product better. It's essential to understand why and to whom I write the code. It brings me great professional satisfaction.
What do you enjoy the most about your work? I'm a developer on the growth team. Our work is very dynamic. Every day we have exciting new projects or are thinking of new ideas. We are responsible for providing the smoothest user experience to new clients until their product is working. It's a broad scope but very rewarding.
HoneyBook is truly family-like. The entrance of the offices is a large and comfy living room. It feels intimate and inviting. The relationships are close and attentive. It's great to be part of it.
Preference - working from Home / Office / Hybrid: Hybrid works for me. I like to be able to choose. I tend to come twice or three days a week to work in the office and the rest of the days at home. Before the pandemic, we worked only at the office; now, we can mix and match according to the needs or mood.
My Daily Routine
09:00
The alarm clock wakes me up. I start the day with a cup of black coffee and either walk to the office or arrange my desk.
10:00
I get to the office, and at 10:15 we have our daily meeting, which is generally brief. We all talk about the day's tasks or discuss problems. If I work from home, I join the meeting by zoom.
10:30
Start working. I have a notebook where I prioritize my tasks. It's very helpful. I start with the most urgent issues or continue to work on tasks I didn't finish.
12:30
Lunch discussion starts: Are we ordering in or cutting salad in the office kitchen. If I work at home, my spouse and I (also a programmer who sometimes works from home) cook together.
13:00
Lunchtime. It's fun to eat together. It's quality time; we talk about movies or our weekend plans. During the pandemic, we moved to a bigger apartment, and each had an office.
After lunch, we push on working. My team has a daily deadline between 14:00:15:00 when we upload all the work we have done to production. It must be ready by then.
19:00-19:30
I end my working day and leave. Lately, I go to drag shows, to support my fellow drag queens and expand my knowledge. In the weeks before my booked show, I'm busy practicing my "lip-sync", working on my makeup, or learning new songs.
I practice Pilates twice a week and like to go out with friends for a drink.
After Hours
What do you like to do in your spare time? I'm taken by the drag queen hobby. I fell in love with it during my trip to Thailand; then, I discovered Ru Paul's drag race, a reality show where the participants are going through a complete metamorphosis. I love all the props such as ridiculously high stilettos, the dresses, and the makeup. (BTW, I haven't mastered the heels challenge yet). My debut performance was six months ago, and I keep on learning and training. I love to present a wide range of characters from Pink to Shania Twain.
Apple or Android? Apple. I gave Android a chance, but I love Apple's interface.
What type of music do you listen to? Pop, 90's, musicals, Britney Spears, Shania and many more.