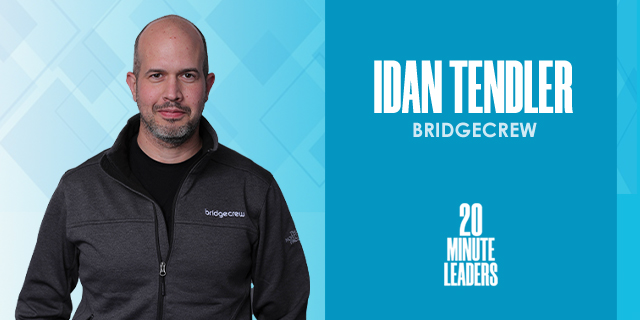 20-Minute Leaders
"Startups are more like an art than a science."
While entrepreneurs can be focused solely on their technology, Idan Tendler explains that a key question to ask from the beginning is how you can sell your product
Growing up, Idan Tendler thought he could never be an entrepreneur because he wasn't that into technology. But in retrospect, he sees that he has always had the mind-set of wanting to do things differently and change the status quo. Tendler let his entrepreneurial nature come out as he co-founded two startups, Fortscale and Bridgecrew. He recently became a VP at Palo Alto Networks when it acquired Bridgecrew. He shares that his limited technical background can be a disadvantage at times, but his business and go to market experience, complements his co-founders' technical background, and with that each one brought perspective things to the table. He has the ability to ask good questions, be the voice of the company to the world, and bring in customers, investors, and advisors. While entrepreneurs can be focused solely on their technology, Tendler explains that a key question to ask from the beginning is how you can sell your product.
Click Here For More 20MinuteLeaders
In your core, who is Idan?
I was born and raised in Rishon LeTsiyon in Israel. I just came back from seven years in San Francisco in the Bay Area.
How do you define yourself?
These days? A dad, husband, entrepreneur, and leader, I guess.
What does that mean to you?
From the day I remember myself, I wanted to do things differently. I wanted to change the status quo of things. I see it in retrospect.
Is it mainly in technology? Or do you also see that in the real world?
When I was kid, when I was in unit 8200, it wasn't about technology. It was about teams and it was about building processes and about building new projects. I'm not coming from a technological background, so this is why I never saw myself as an entrepreneur. I have an uncle I admire who is from the entrepreneurship world. But he has a background in hardware. When I was a kid, I said, "Wow, that's cool. But I will never be an entrepreneur because I'm not that into technology." Only in retrospect, I think I was actually an entrepreneur.
How do you go from saying, "I don't think I will be an entrepreneur" to building Fortscale and Bridgecrew?
Life just happened. After I finished my military service in unit 8200, I started to learn industrial engineering. I did a couple of gigs in the VC world. For the first time I saw myself meeting CEOs and founders. In 2009, Yair Cohen had just started to work in Elbit, the biggest defense integrator in Israel. He told me, "You should come here. Let's do something around cybersecurity." I didn't know what cybersecurity was, but it was a good opportunity and a good challenge. We became one of the fastest growth engines of this huge company. One day someone told me, "Idan, you should have your own startup." The next day I just quit, and we built together our first startup, Fortscale.
What were some of the key takeaways as you started Bridgecrew?
Fortscale was a long journey of five, six years. We were in a very deep area of security, finding cyber threats. We had an amazing experience, but it was challenging. Eventually, we were acquired by RSA Security. But it was not that good of an exit. I decided that I needed to take some time off. I just started to hike. I think I know every hill, every mountain in the Bay Area.
I heard some good music. Sometimes I took good friends with me. Mainly, it was by myself. Then I started actually writing. I just started writing the key lessons that I learned from the Fortscale experience. Then it became personal. What did I do which was good? And what did I do that was really wrong because of me? I knew that I wanted to do another startup. It burned really, really hard inside my heart. I didn't want to do it in security.
What was the thought of straying away from security?
I saw myself as an entrepreneur, not necessarily as a security professional. I wanted a new challenge. Also, the majority of security companies try to sell some fear. I didn't like it. I wanted to do something more positive.
I was shocked that you're not a developer yourself. You don't write code, but you've built a tool that was very effectively helping developers. How does that work without knowing how to write a single line of code?
Sometimes it's a disadvantage. But sometimes it's an advantage. First of all, in Bridgecrew, I founded it with Barak Schoster Goihman and Guy Eisenkot. They are amazing with their capabilities and technical background. We complement each other a lot.
I just know which questions to ask, and I know who I should ask. We interviewed something like 100 security manager CISOs before we developed something. That was one of the lessons learned. Never write a product without being certain that somebody will actually use it. And we did it. When you talk to so many people, then you start to hear what they actually need. I think this was an advantage that I brought to the table from day one.
How did you balance the experiences you've had with your co-founders?
I'm not sure I've thought enough about it. It's like a marriage. Each one is bringing something else to the table. It was clear from day one that I'm more the outbound voice. I'm bringing the customers, investors, and advisors. I'm telling the story of who we are.
It was very clear that Guy is leading the product and decides what actually we are building. It was clear that Barak brings the open source and builds the community around it and actually creates the first engineering team. I'm not sure we even talked about it.
On your next journey, what are one or two things that you're going to come in with real conviction on?
Startups are more like an art than a science. I think one thing is always thinking about the go-to markets. We tend to think too much about the technology. Sometimes you need to think, "How am I going to sell this product?" I'm super, super passionate about building a strategy and the thesis of the go-to markets.
In our case, it was bottom-up. It was product-led growth. Usually with security, you're selling top-down. You are going to the CSO, you scare him, then you are getting a big deal.
In our case, we understood that the user is not the security officer. It's the developer. They want to try it by themselves. Maybe they will pay you $100. We understood that we need to copy models of Slack and of Twilio but to translate that to the security world, to the DevOps world.
In elementary school or middle school, what fascinated you?
A lot of things. I had a lot of imagination, and I liked to build stuff. Sometimes physical stuff. I decided I needed to be in the student council, although there was not a student council back then in my school. So I built it, and actually I became the chairman. It was always around learning new stuff. One day, I decided I need to learn Arabic.
What inspires you today?
I'm now VP in Palo Alto. It's funny, Palo Alto is selling more than four billion dollar a year, but probably not a single dollar is coming from a credit card. We are the first machine in Palo Alto Networks that actually you could buy with a credit card. Building a bottom-up motion in this huge company, that's an amazing experience.
We just came back to Israel. We feel again like immigrants. It's fascinating to me to see how we do that. I insisted that my kids will talk Hebrew and we are Israelis. But eventually, they were Americans. Following the acquisition, maybe now that was time for us to go back. My daughter was seven years old, and we told her, "Hey, we're considering moving back to Israel." I remember that she immediately started crying. The first thing she said was, "Will I see the family?" I understood that she was waiting for that for her entire life.
What are a few words you would use to describe yourself?
Passionate. Caring. Leader. Friendly.
Contributing editors: Michael Matias, Megan Ryan