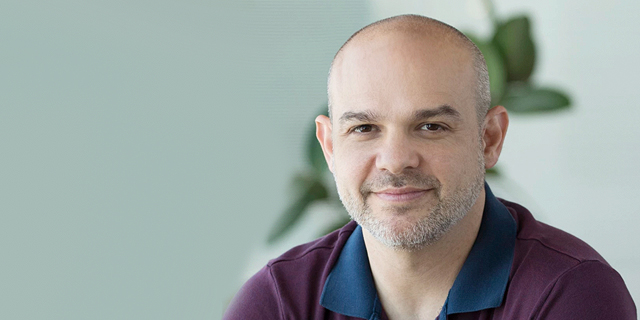 Gateways to Israeli Tech
Yanai Oron, Vertex: E-commerce and financial solutions are two key areas we're succeeding in
Speaking to CTech as part of a special investor survey, Yanai Oron, General Partner at Vertex Ventures, said that he "love's to see founders that are able to articulate their thoughts very clearly and are very convincing about their vision"
Elihay Vidal
|
10:41 06.12.2021
"As tech and coding become such a big part of modern as well as traditional companies, tech talent is becoming a major bottleneck. Any company helping to solve this problem is super interesting for me," says Yanai Oron, General Partner at Vertex Ventures.
Oron shared his views in CTech's exclusive investor survey conducted with participants of the Poalim Hi-Tech and Calcalist Road Show event. The event brought together dozens of startups who pitched their venture to more than 20 leading Israeli investment groups and investors.
Companies selling to SMBs - until recently a tough market to succeed in due to high acquisition cost and high churn. The ability to sell effectively to these companies has opened up a huge underserved market. E-commerce and financial solutions are two key areas we're seeing success also within our portfolio with Yotpo as well as DataRails. Another space that we will see tremendous growth in are startups replacing traditional manual services with either a fully digital solution or a hybrid solution of people and algorithms. One such company is Verbit which offers transcription services. Other areas ripe for disruption are services like legal and accounting.
What's your latest, most exciting investment?
It was recently announced that we invested in Zenity, a company in the security space. As the notion of no code/low code is becoming more mainstream, allowing citizen developers in corporations to create complex applications with little or no code (EasySend and Kryon are portfolio companies in this space) - there could be security gaps that arise from such a trend. Zenity's goal is to ensure these applications are monitored and secured.
Which industries seem well-positioned to thrive long term? What companies are you excited about (whether in your portfolio or not), which founders?
As tech and coding become such a big part of modern as well as traditional companies, tech talent is becoming a major bottleneck. Any company helping to solve this problem is super interesting for me. Companies like EasySend allow Financial companies to build modern consumer facing applications and processes without code. We made two additional investments in related companies - one deals with open source code to allow developers to speed their back-end development as well as a company helping to maximize engineering talents having to face changing environments.
What areas are either oversaturated or would be too hard to compete in at this point for a new startup?
Cyber could end up as an over invested space as some consolidation is expected in the next few years. We still like the space as the problem is getting bigger with the digitization of everything and invest in it, but we do it cautiously and try to make sure we are not investing in companies on a collision course with some of the cyber consolidators.
What are you - as an investor - looking for in an entrepreneur or a startup?
Aside from common features like smarts and grit I love to see founders that are able to articulate their thoughts very clearly and are very convincing about their vision. This is critical for the company to be able to attract top talent, early design partners as well as financing down the road.
What is your approach to VC involvement in the management of the companies they invested in?
I try to have little preconceived notions as to what involvement is needed on my part as it changes from company to company and founder to founder. The essence of my roll is to help the founders balance between opposing themes - to focus or to be opportunistic, pushing harder with goto market or holding back etc. My roll is to provide a sounding board for the group of founders with my experience and gut instincts to rely on.
What should be the level of a fund's involvement in solving a company's HR problems?
It is hard for us to help with HR issues on scale so we focus on helping with top management, including sourcing to some extent, but most definitely interviewing and in recent years helping to convince top talent why they should join any specific companies.
Where will the solution to the HR crisis come from?
Off-shoring and targeting new sources of engineering talent is a critical aspect of the solution and any company that does not have a strategy for that is neglecting its short term ability to execute on product roadmap.
Wages in tech - How long will the current upsurge in wages continue?
No idea…
How harmful is it to companies, to the investors?
Companies able to raise large sums of money should be fine. Other companies and maybe all of them should start considering increasing the amount of equity reserved to workers as a defensive or offensive move to attract top talent.
This is one of the major issues facing Israel. The one silver lining is that as companies remain independent and HQ and goto market functions can be located in Israel there are many more types of jobs in tech that become relevant to non tech workers including Marketing, Operations, Analysts, Legal, Sales etc - and all of them can take part in the tech economy.
Share with us your golden tip for an entrepreneur presenting a pitch.
Convince the investor that there's momentum and the company is not looking for funding in order to set things in motion - that momentum can be in sales, recruiting, talking to potential design partners or the round is progressing - anything to prove that the train is moving and the investor should hurry up and jump on the train.