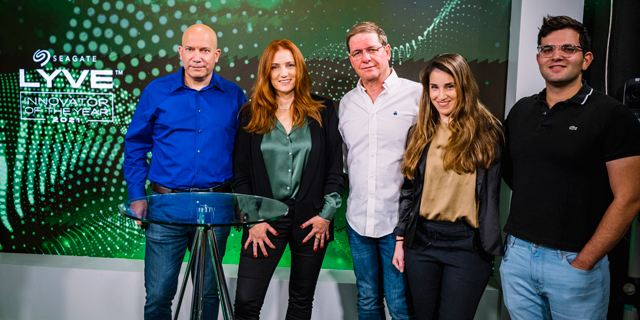 A Day in a Life
The senior manager promoting Lyve Labs' innovation for Seagate's Israel center
Noa Franko Ohana, a Senior Innovation Manager at Lyve Labs Israel, prepares the kids for school and even manages to squeeze in a sporty walk before beginning a long day at Seagate's Innovation center
Sponsored Content
|
15:05 06.12.2021
ID
Name: Noa Franko Ohana
Position: Senior Innovation Manager
Company: Lyve Labs Israel, Seagate's Innovation center in Israel.
Family: Married to Moshik + 3 kids Danielle (13 years old), Guy (11 years old), Yair (6 years old)
My Daily Routine
6:50
Rise and shine – it's a new day.
7:00
Prepare my kids for school and kindergarten, Moshik, who is working as a VP R&D at Airspan Networks, is also responsible for making them their sandwiches.
8:00
Going on a sporty walk before going to work. Morning training is my way to avoid driving during traffic!
9:30
Home again, prepare myself to work, this is going to be a long day- grabbing coffee to go from my favorite coffee shop near my home.
10:00
On my way and there's heavy traffic. Trying to be productive, so calling my mom and dad and making some work calls and working from my car but still driving safely.
10:20
At the office! Meeting with my team, syncing and speaking about new ideas but we also find the time to gossip about yesterday's episode of 'Married at First Sight'.
10:40
First meeting – working on Lyve Cloud with Kshitish Soman, Global Head of Lyve Cloud, who's visiting our office in Israel and the Lyve development team at Seagate Technology and my team.
11:30
Appointment with the business development/marketing team, Omer and Ruti, planning our next OPS review. We are a company that believes in people and we look forward to collaborating and sharing ideas to make our product better but mostly to make our products more accessible for the Israeli startups. This is the time we plan all of our next activities.
12:30
Lunch with the guys in the office – we ordered Hummus and Falafel today. This is a vegan friendly office :)
13:00
Leading team meeting about our upcoming Lyve Cloud for Startups launch – it's time to decide about the plan, schedule and goals. One of Seagate Innovation Center's main goals is to help startups in the field of data, cloud, information security and storage to grow and to be more efficient, so we will soon launch our program, Lyve Cloud for Startups, which will provide Israeli startups from those fields storage of up to 1 petabyte (1000TB) in our cloud for free.
14:00
Private working time – I also have my own tasks which I need to complete – this is my time to finish things and also to improve old things.
15:00
Getting ready for Lyve Innovator of the Year – our annual competition for startups that invent products that rely on data, cloud, security and AI.
15:30
General rehearsal for our event at the YNET Studios in Rishon Lezion.
17:00
We are live – Lyve Innovator of the Year has started. Eight startups are going to pitch and show their ideas to Seagate's executives. The winner of this event will have the opportunity to collaborate with Seagate, and maybe one of them will be the first to be part of our new program – Lyve Cloud for Startups.
18:30
And the winner is Beamr! Time to raise a toast to the winner.
19:30
On my way home, time to be with my kids before they go to sleep. Moshik and Guy are going to see an Israel national team soccer game against Faroe Islands with friends and family.
20:00
Arriving home, my parents are babysitting the kids today, and helped Danielle with some math assignment.
20:30
Reading Yair a story before he goes to sleep.
21:00
It's my free time to hang out with my friends, we went to a walk and ended up in a coffee shop planning our next getaway weekend on March.
23:30
Going on a quick call about our new Lyve Cloud for Startups program – stay tuned for updates.
24:00
Going to sleep! It was a hard day! And the next one is going to be very similar!
What music do you listen to? I really like Israeli music but there's nothing really specific.
Apple or Android? Why? Android - I like their OS instead of Apple's and the fact it syncs to all of Google's services such as Google Photos, Gmail etc.
What do you want to do when you grow up? I wanted to be a lawyer.
Your favorite quote: "Talent wins games, but teamwork and intelligence wins championships." – Michael Jordan.
What do you do in your free time? TRX training, trips, and mostly spend time with my family.
Where did you serve in the IDF? I was a technological officer in the Mamram unit.
How did you get into the tech industry? It was a natural connection to proceed to hi-tech after my military service, so I started working in Discount Bank as a team leader.