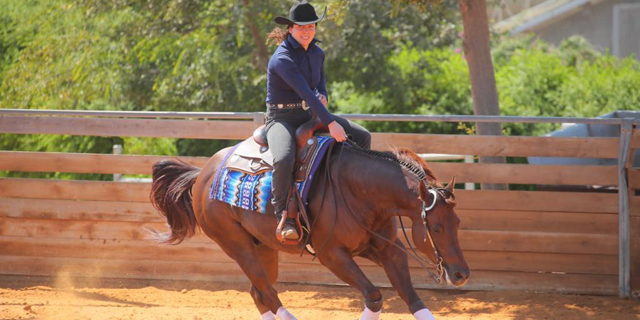 A Day in a Life
Laguna Health's horseback rider coding for the greater good
Gili Carmon, a Full-stack developer at Laguna Health, forgets all her troubles when she's riding, but when at work she feels incredible knowing that she is playing a role in making someone else healthier
Sponsored Content
|
11:18 14.12.2021
ID
Name: Gilli Carmon
Age: 23
Residing: Rehovot
Company: Laguna Health
Position: Full-stack developer
For a Starter
I was born in Gan Yavne, and I have been working as a full-stack developer for the past 2.5 years. My experience in programming is quite unique. Like many engineers, I learned the basics of computer science in school. Then when I had to decide if I wanted to serve in 8200, unlike some engineers, I decided to try something else, as I wasn't sure that programming was what I wanted to do in life. During my service, I realized that I really missed programming, and so I started learning and building independent projects on my own. As I was close to finishing my army service, I began to interview for a few positions, not because I felt ready, but because I figured "what's the worst that could happen?". And that's how I started my dream career. I love working at Laguna. And the great thing about my career is that it also allows me to stick to my hobby and life passion - horseback riding. I have been riding and competing for the past 13 years as part of the Naan Riding Center team. I train 3-6 times a week, and participate in 6-8 national competitions a year.
What's so special about what your company does? When I work on a new feature, I love that its end goal is to make someone else healthier. It's a great feeling. Our goal is to ensure people recovering at home do not have to be readmitted or suffer from medical complications. There are real people in need on the other side of each feature. When I get to hear member testimonials about their experience with Laguna, it feels incredible to know that my team and I played a role in their successful recovery. What do you enjoy the most about your work? I really enjoy the people I work with. Everyone here is so friendly, funny, really good at their job, and wants you - us - to succeed. I was surprised by how easy it was to feel part of the team and feel comfortable. I also love how Laguna supports work-life balance and pursuing personal passions. I feel comfortable starting work late or leaving early for training, or taking days off for competitions. Work-life balance was an important factor for me when looking for a job. Preference - working from Home / Office / Hybrid: Personally, I prefer to work from the office. I love the small-talk and interactions in the office. I always come back home with a story about something funny that happened in the office. Sometimes it is easier to work from home, but I try to avoid it when I can.
My Daily Routine
6:30
I wake up. My morning routine includes getting everything ready for the day ahead: getting dressed and getting my riding gear, preparing a quick breakfast for later, and getting a change of clothes for work.
7:00
This is one of the best parts of my day: Riding. I usually ride for about one hour. I then spend more time after I finish training tending to my horse, cleaning him up and sending him off, until we meet again for training the next day.
10:00
I get to the office, just in time for Laguna's R&D daily standup, where everyone updates on what they are going to do today and what they accomplished yesterday. It's a great opportunity for me to change gears - from riding to coding. The daily team meeting allows me to connect with my team and make sure we are aligned, have thought through things, and have everything we need to start hammering out the work. After that, I put on my AirPods and hoodie: Hacker mode - on.
12:30
Lunchtime, AKA: social catchup time, AKA: movie recommendation time. We try to eat together, but as our company grows, it's starting to get more challenging to sit at one table. l Totally fee
l the FOMO when I'm not joining the big lunch table. We have a strict "no work talks during lunch" policy, and we try to stick by it when possible :)
19:00
Usually, I end my workday at these hours and head home. It's a 30-minute train ride and I like to spend it sleeping, so I guess we can call it nap time.
20:00
It's my evening activity time. Sometimes I meet up with friends, sometimes work out (but not as much as I would like, I usually try to get at least two workouts a week). In recent months I've been involved with Mobilot, an initiative aimed at promoting female mobile developers. I usually use this time for the Mobilot work, which is very near and dear to my heart.
21:30
Dinner & a show. This means I eat whatever my roommates make - I am literally the last person who should be cooking and my roommates respect that and take amazing care of me. Dinner is followed by binging on our favorite TV shows.
What do you like to do in your spare time? My biggest hobby is horseback riding. Every time I get on the horse, my cares fade away. I forget about all of the issues, bugs, and everyday troubles. It is so peaceful and relaxing, but with adrenalin and fun at the same time. When I'm in competition, a moment which may seem stressful, I actually feel like I'm meditating - clearing my mind and re-focusing. I also enjoy working out - jumping rope, running, and going to the gym.
Apple or Android? Android. I'm a mobile developer, so iOS devices are the enemy.
What type of music do you listen to? Everything that is mainstream and at all times. Sometimes when I code, and I need to be really focused, I listen to EDM in full volume.
What do you want to do when you grow up? I have a dream to be a philanthropist. I try to donate and volunteer as much as possible. I really believe helping others is essential to happiness.
What is your favorite Netflix show? Superstore. So funny.