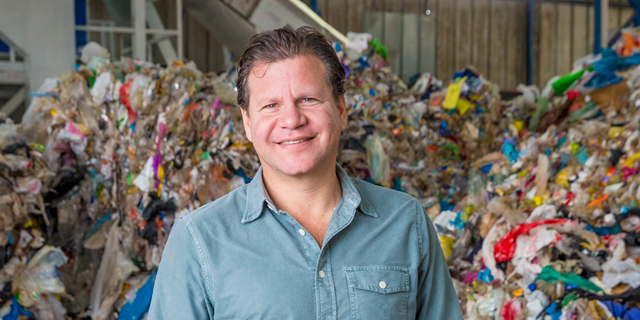 UBQ Materials raises $170 million to convert landfill waste into recyclable plastic substitute
The Israeli company has developed a technology that turns municipal solid waste, including all organics, into a climate-positive plastic alternative
Meir Orbach
|
16:00 15.12.2021
UBQ Materials, which has developed a climate-positive thermoplastic material, announced on Wednesday that it has completed a $170 million funding round, led by TPG Rise, TPG's global impact investing platform. The financing round also included participation from existing investor Battery Ventures, and other prominent investors such as M&G's Catalyst strategy, a UK-based investor specializing in impact investments. UBQ had previously raised a total of $42 million.
UBQ Materials turns landfill-destined municipal solid waste, including all organics, into a material it has named UBQ, a climate-positive and fully recyclable plastic substitute. A sustainable replacement to plastic, wood or concrete, UBQ can be used both on its own and in conjunction with conventional oil-based resins to offset the overall carbon footprint of end-products in industries including construction, automotive, logistics, retail, and even 3D printing.
UBQ's client list includes Mercedes-Benz, global retail solutions provider Mainetti, and Arcos Dorados, the world's largest franchisee of McDonald's restaurants across Latin America.
Today, over 2 billion tons of municipal solid waste (MSW) are produced annually around the world, more than 70% of which end up in landfills or are openly dumped. Landfills are the third-largest human source of methane, a GHG 80 times more powerful than carbon dioxide over 20 years. For every ton of UBQ produced, the solution can prevent as much as 12 tons of CO₂ equivalent from entering the environment. The new funding will allow UBQ to expand internationally, with the company currently in the process of building a new plant in the Netherlands that is set to open in a year. The company is also planning on upgrading its plant in kibbutz Tze'elim. "We selected the Netherlands for our new plant because the ecosystem there is very suitable for companies like ours," added Bigio. "We had to select a convenient location for our first international plant and northern Europe was an easy choice. We will continue to expand and set up a plant in the U.S. as well."
UBQ employs 40 people, with the company adding another 140 employees with the opening of the plant in the Netherlands.
"As countries and industries converged in Glasgow at COP26, negotiating the urgent benchmarks we must hit in lowering Greenhouse Gas (GHG) emissions, this investment could not come at a more apt time," said Albert Douer, Chairman and Co-CEO of UBQ Materials. "Through the prevention of landfill-related methane emissions and the replacement of carbon-intensive raw materials, UBQ can support governments, brands and major manufacturers in achieving their sustainable development goals."