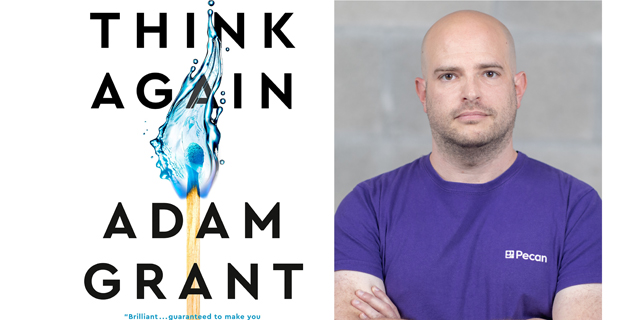 BiblioTech
CTech's Book Review: Let's change the way we think
Noam Brezis, Co-founder and CTO at Pecan AI, shares insights after reading "Think Again: The Power of Knowing What You Don't Know" by Adam Grant
Noam Brezis
|
10:47 19.01.2022
Noam Brezis is the Co-founder and CTO at Pecan AI, a predictive analytics platform. He has joined CTech to share a review of "Think Again: The Power of Knowing What You Don't Know" by Adam Grant. Title: "Think Again: The Power of Knowing What You Don't Know"
Author: Adam Grant
Format: Book
Where: Home
What I've Learned:
As someone who trained in scientific ways of thinking, I applaud Grant's effort to spread this mindset. A willingness to be flexible and to change strategies based on new information is critical to business success and personal growth. His specific research examples really bring home the significance of this approach to decision-making. The sections of the book addressing politics, education, and the workplace all address topics one would expect, but the section on what Grant calls "Identity Foreclosure" offers an intriguing way of considering one's personal and work choices. Essentially, he recommends an even deeper form of rethinking — applying a scientific approach to one's sense of personal identity and career journey. Grant suggests that our identities and work can also be subjects of experimentation, data gathering, and continuous improvement: "Rethinking liberates us to do more than update our knowledge and opinions — it's a tool for leading a more fulfilling life." Critiques: Grant doesn't really offer brand-new insights in this book, and on the surface, the overall idea of rethinking one's beliefs seems pretty obvious; of course, that's something people should do. However, Grant pulls together the research in a convincing, convenient package that's enjoyable to read. Additionally, Grant sometimes seems to forget (or mentions only in footnotes) that for some people, it's more difficult to question their own ideas or others' ideas, especially in the professional world. For example, Grant says in a footnote that when men make self-deprecating comments in the workplace, others view them as "more capable leaders," but women doing the same are viewed less favorably. In the workplace, it's unfortunately the case that not all employees may feel they are equally able to express critical thoughts. Grant might have offered some strategies leaders could use to support all their employees in doing so. Finally, in terms of style, the book moves very quickly through a huge number of research studies, tying them into Grant's overall argument. Though it's short, this book might be best digested in smaller pieces to internalize it effectively. The epilogue, "Actions for Impact," is an efficient, practical refresher of the book's major suggestions. Who Should Read This Book:
This book is applicable for pretty much anyone, but it may be particularly relevant for those who are leading new businesses or new initiatives that would especially benefit from a data-driven approach to decision making and experimentation.
This book is also a useful guide for anyone who needs to persuade someone else to rethink their existing beliefs, whether in business (e.g., sales) or in any of life's dilemmas.