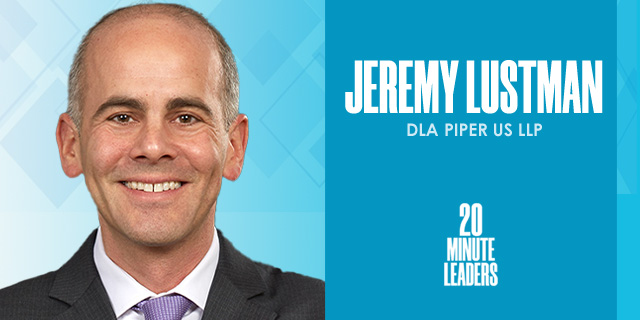 20-Minute Leaders
"Showing ways that you can add value to a business or person creates a level of trust and comfort."
Jeremy Lustman, partner and head of Israel Country Group at DLA Piper US LLP, talks to Michael Matias about law, startups, and connecting to investors around the world
When Jeremy Lustman came to Israel to set up a practice for the law firm he had worked for in the US, he really had no idea if it would be successful. This decision to risk failure gives him much in common with the Israeli entrepreneurs and startups he works with as partner and head of DLA Piper's Israel Country Group. Lustman shares that he has grown much in his 12 years in Israel, including learning to demonstrate his value quickly. He explains it is necessary in this ecosystem and it helps create trust early on. He seeks to go beyond merely executing legal work to becoming a trusted advisor to his clients and helping them grow their businesses in a more proactive way. Lustman says the global firm's many offices allow him and his team to help connect clients to customers, contacts, and investors around the world.
Click Here For More 20MinuteLeaders
You said you often like to debunk this idea that lawyers are boring. Tell me about your life and what it's like to be a lawyer.
I moved to Israel about 12 years ago from the States. I feel that the Israeli ecosystem has really been phenomenal for me. It's given me so much opportunity to interact with so many great entrepreneurs and companies and find a way of demonstrating value quickly.
In the Israeli ecosystem, you have to recognize that people are going to tell you how they feel quickly. There's challenges to that because if they're not happy with you, if they don't like you, if they don't see the value of you, you'll know that quickly. The positive is it forces you right away to demonstrate your value.
I look at lawyers as major facilitators; lawyers have really a phenomenal opportunity of becoming trusted advisors to the companies that they're servicing. If you can come in and you can show value, demonstrate your ability to add to a business or person, then that creates a level of trust and comfort early on.
How do you position yourself to be a part of this strategizing process and not on the execution process of just formalizing decisions?
I think that it all goes to doing whatever you can to become a trusted advisor. Your trusted advisors are the people that you want to have at the table because you value their counsel and judgment.
Normally, someone is coming to a law firm because they need some sort of execution. That's oftentimes where I come into a relationship. But at the end of the day, I work very hard at trying to develop trust and create the connection and a friendship so that the next time the entrepreneur will say, "I want to have Jeremy and his team at the table with us earlier."
How do entrepreneurs react when they see that their perception of the way that they're going to work with their lawyer is actually different from what you're offering them?
With us, there's a lot of value because we have a team that are sitting in Israel. People can talk to us. People can meet with us. They're not being charged for doing that. The only time that we're charging is when we get retained for a project and we involve one of our other offices around the world.
We make it very easy for people. You're a smaller company thinking about hiring your first employee in the US. Let's think about the easiest, most practical way of doing that. You're at a later stage and you're bringing in significant financing from an investor in the far east. Let's think about the best way of doing that. Sometimes it's a matter of getting to know your clients well. Sometimes it's a matter of sharing best practices with them.
Lawyers as a group are often reactive. You wait for a client to approach you. But I think that there's a real missed opportunity for lawyers to be much more proactive to say, "What can I do to help you drive your business? What can I do to help you grow?" I happen to be a partner in one of the world's largest law firms, so maybe we have contacts in Europe that can be great potential customers, points of contact, or perspective investors. There are a lot of opportunities to connect dots.
If you come in and say, "I know you're already working with this firm, but I could be relevant to you. You expressed your interest in growing in several countries. We're the only firm in Israel that has offices in all those locations. Not only can we do your legal work, but we can open doors for you." Being part of the conversation in that type of proactive way has made us more relevant to more and more conversations.
I'm thinking about starting a company at some point, and there's so many different pieces that I've thought about rigorously. I didn't think about who I wanted my lawyers to be. Why is it that I didn't think about this question before this conversation? What should my considerations be as I think about choosing the right partners for me?
I think it's looking at your service providers as your partners. If you empower them as your partners, then they're feeling, "I'm looking for this company to grow and develop and be strong. That's good for my client and my new friends. If they do well, then hopefully there's more opportunity to grow with them."
Even in the last two years, I think that there are a lot of legal points that companies are looking at less in a "check the box" kind of a way. Like privacy, which is a huge area for so many companies in your ecosystem. Years ago when they started thinking down the privacy track, they were saying, "What's the bare minimum of what I need to do?"
If you can show an investor, "I take my regulatory compliance very seriously. Here's what I've done. Here's the roadmap that we're following," investors are going to become more comfortable with you quicker. I think that's a lot of the value that lawyers can help generate.
Tell me a little bit about your career journey.
I grew up on the East Coast in the States. Jewish family. I was brought up in a world where there are some traditional career paths. I was interested in law early on, in part, because there were great television shows that were legal dramas. I had a lot of family members who are lawyers. What I was always taught is that law opens many doors for you. Law can open more and more doors to business. I went to law school in the States. I practiced in the States for nine years, six years within my firm now, DLA.
At the end of 2008, beginning of 2009, the markets around the world were crashing. I really felt vulnerable for the first time in my career from that perspective. My wife and I for years had spoken about spending more time in Israel. I said, "Maybe there's an opportunity to throw out an Israel practice to the firm." So, I threw the idea out to the firm. It was almost like shooting a dart and hoping that it landed in the right spot. With God's help, it really did. The CEO of our firm at the time was Jewish. Senior partners in my office were very supportive.
I put skin in the game. I said, "Just pay me enough that I can support my family. But let me go for a year and try to develop the opportunity here." One of the cornerstones of the Israeli entrepreneur scene is don't fear failure. You're not going to get places unless you try and make the best effort.
Thankfully, it wasn't a failure. Twelve years later, we have a really successful practice. We work with over 70 companies a month. We really represent Israeli companies in any given year in over 35, 40 different jurisdictions.
Where's the inspiration from on a daily level?
I would say the inspiration for me is being as well-rounded as possible. Trying to check the box for being fulfilled on various levels outside of work.
Within work, it's having a great team that I work with. Every day is something very different in my world. No two days are the same. I also gain a tremendous amount of inspiration from the ability in Israel to create close friendships with your clients.
Contributing editors: Michael Matias, Megan Ryan