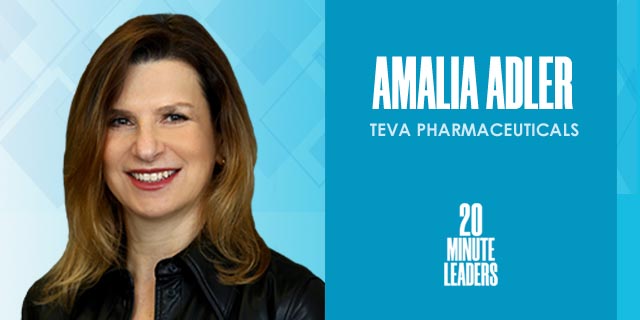 20-Minute Leaders
"You have to walk the talk and have proof for everything that you say."
Now vice president of Environmental, Social and Governance at Teva Pharmaceuticals, Amalia Adler-Waxman says that doing good requires being conscious and strategic
Doing good has been a common theme through Amalia Adler-Waxman's career in health, food, and pharmaceuticals, and she explains that anyone can pursue having a beneficial impact in any organization, business, or even one's family. Now vice president of Environmental, Social and Governance at Teva Pharmaceuticals, Adler-Waxman says that doing good requires being conscious and strategic. Several crises in 2020 converged, she says, and made ESG goals more personal for people, which increased motivation to change. She and her team at Teva help the entire company understand the concept of ESG and how to implement it. They find out what is important to customers and stakeholders and share that with other employees. They also report the company's progress to the outside world. Adler-Waxman shares that providing proof of positive impact is important today, and there are a growing number of ways to quantify the good a company does.
Click Here For More 20MinuteLeaders
Share a little bit about yourself and your experiences.
I'm from Jerusalem originally. I now live in Tel Aviv. I have two daughters. I've been around quite a bit in the world. My career has spanned three continents. I've worked in Israel, Canada, Switzerland, and New York. A lot of what I've done was really defined by the places and opportunities I was able to capture during those moves. They were not something that I planned. I was married to an Israeli diplomat and that brought me very close to organizations who allowed me to help them do good for the world.
Just to name a few: the World Health Organization, the Weizmann Institute, Pfizer, Nestle, and Teva Pharmaceuticals, where you're the vice president of ESG (Environment, Social, and Government).
I think it's incredible because it's a real recognition and realization that ESG—that I call "non-financial performance" or the how—are so integral and strategic to the company. This is an evolution that you would see around the world, but it's also very real where I see it and within Teva.
Take me back a little bit.
One thing that I want to start with is that you can do good in any organization. It doesn't matter if it's a company, private sector, government, non-governmental, an activist organization, or your family. Doing good, I think, is what most people want to do. You just need to make sure that you are very conscious and strategic about it. Any organization can do good, especially businesses.
About 22 years ago, I happened to come to Switzerland, and I found a job at the World Health Organization. I didn't know anything about health. What I did observe very early is that the whole UN system at the time started to look into social responsibility. I came to look into private public partnerships with the private sector. At the heart of it was: how can we influence companies who are doing things that impact the health of people to be more responsible in the way they do it?
Exactly at that time, the secretary general of the UN was Kofi Annan, and he decided to create something that was called the Global Compact. From this, what evolved was a set of criteria for what it means to be a good company. Second, what are the things that are most important for the world? Today, we know them as the Sustainable Development Goals.
I did not plan a career in ESG. But what I was doing was exactly that. What we were trying to do was see how we can work with pharmaceuticals and food companies to look into what they do and make sure that they are well aware of the health challenges and they address them. Those were the days where the first HIV medicines came to the world. They were very expensive. People really fought for making medicines for HIV accessible to poor people. This really created a shift in the understanding of companies that what they do has sometimes positive, sometimes negative impact on society and on the environment. There was, I think, the direction of travel that has really led to where we are today, globally, with ESG.
At what point did you observe an inflection point? Were there different triggers that made you feel that the world is shifting more toward the sustainability and the development goals in the private market?
My observation is that, yes, this was a tipping point, from a global perspective, that looking into environmental and social issues is critical. I believe that over the years, different crises unfortunately led to a step up. If we look back at the last 20 years, normally there was a step up after some kind of a crisis.
I think COVID-19 was really a critical turning point. First of all, it was the pandemic. It was access to care, the whole shutdown of the world. What happens to people, to employment, to how it impacts poverty, and how families are coping with it. What are companies doing to support their employees to maintain the supply? It's a pandemic that has amplified almost every aspect of life.
During COVID, there were quite scary environmental crises. When all of this was happening, we all observed the George Floyd case crisis in North America. And suddenly, the whole issue of inclusion and equity crosses COVID, crosses the environment. I think something in 2020, this triangle converged on the background of a lot of work that had already happened, of investors already talking about ESG, already looking at ESG as a risk management opportunity.
One would think all companies would care about is just continuity of business. But it became very personal. When things are personal, we have a broader understanding of the society and we are also motivated to act.
What does the vice president of ESG at Teva do?
We work across the whole organization. ESG is actually something that's happening everywhere in the company. What we basically do is that we help the company understand what is ESG and what needs to be done, what are the stakeholder expectations. We do it through responding to a lot of surveys and questions from investors and customers. We reflect it back to everyone in the company.
The other side of it is that we bring everything that the company is doing in those related issues and we share it externally. We do reporting and disclosure and make sure that we understand what's important for us as a company, for our stakeholders and shareholders and customers. We are responsible to understand what's important for them and make sure that we are able to act upon it.
We work with a lot of teams at Teva to create KPIs. ESG is measurable. We are expected to demonstrate performance over time, quantifiable. It's becoming an area where you have to make sure that you walk the talk and that you actually have proof for everything that you say. We are responsible for making sure that we have those internally and demonstrate them externally.
We are also responsible for some of the health-related activities under the social pillar. The main issue for Teva, for instance, is access to medicine. We are helping drive programs that improve access to vulnerable groups.
How do you measure an impact in a quantifiable way?
First of all, we are all learning. Not everything is fully resolved. But I'll give you a few examples. For instance, if you look at greenhouse gas emissions, those are quantifiable. If you look at water and waste and packaging, there are ways in some of those areas to measure something. If we talk about access to medicine, we're trying to define how many doses we provide through our programs and how much we increase the number of doses.
Because some of those areas are new, we can't always say what is good or what is bad. But we can demonstrate progress and change, which is quantifiable over time. When you make a commitment that you will improve, you can be judged whether you stand behind what you're saying.
As Teva, we issued the largest ever sustainability-linked bond. This is a bond that is linked to specific KPIs that are measurable, quantifiable. They have to be ambitious. They have to be linked to your existing ESG strategy. We are the first company in Israel that issued such a bond for environment and access. Through this bond, you basically commit financially to quantifiable KPIs. Legally, it's filed in the SEC. You really connect a financial strategy with an ESG strategy.
Contributing editors: Michael Matias, Megan Ryan