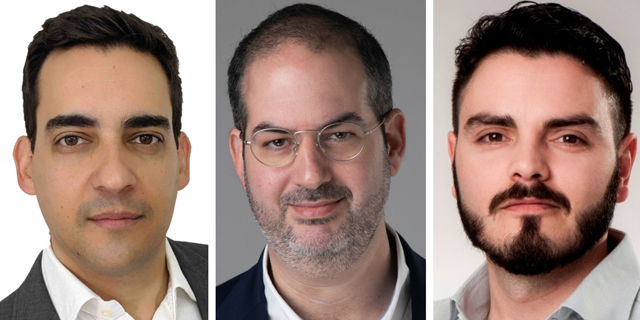 Boarding Pass
Simetria's $1.5 million investment to transform alternative assets in Israel
Simetria is backed by Tim Draper who led the Seed investment round via Draper Goren Holm VC
"Simetria's first significant milestone was achieved in February 2021 when the Israel Securities Authority issued a precedential nonaction letter that grants Simetria a green light to operate," explained Simetria's CEO Ziv Keinan. "Simetria is backed by Tim Draper who led the Seed investment round via Draper Goren Holm VC (DGH) alongside additional investors that include Swiss blockchain VCs Blufolio Consensus Capital and the German CoinIX."
As part of its Boarding Pass series, CTech has highlighted the progress that Simetria has achieved since it was founded in 2019. Founders Ariel Weiss, Ziv Keinan, and Nir Atar had a vision to set up the first private digital marketplace for alternative assets out of Israel - here's how it is coming along so far.
Sector: Fintech
Product/Service description:
Digital private market working under ISA permission.
Founder Bios:
Ariel Weiss, Ziv Keinan, Nir Atar
Year of Founding: 2019
Last Investment Amount: $1.5 million
Last Investment Stage: Seed
Date of Last Investment: May 2021
Total Investment to Date: $1.5 million
Investors (leading and all):
Draper Goren Holm, CoinIX, Consensus Capital, and BluFolio.
Current number of employees: 12
Open positions: No
Website:
Interview:
How was the idea born?
Simetria was incorporated in Israel in October 2020. It was founded by Ziv Keinan, Ariel Weiss, CTO, and Nir Attar, CPO with a vision to set up the first private digital marketplace for alternative assets out of Israel. Simetria's first significant milestone was achieved in February 2021 when the Israel Securities Authority issued a precedential nonaction letter that grants Simetria a green light to operate. In March 2021, Simetria unveiled its first demo at the Global Securities Token Summit. Simetria is backed by Tim Draper who led the Seed investment round via Draper Goren Holm VC (DGH) alongside additional investors that include Swiss blockchain VCs Blufolio Consensus Capital and the German CoinIX. In May 2021, the leading Blockchain company Algorand announced a partnership with Simetria.
What is the need for the product?
While public markets are hyper liquid, private markets remain illiquid at most. Simetria aims to provide liquidity for private companies, allowing employees to sell their vested options, early investors to exit, and investors to trade private assets.
How is it changing the market?
- It enables the liquidation of employees' shares and options (and thus, positions the employer as particularly attractive in the eyes of talents).
- It provides for a secondary trading venue for investors.
How big is the market for the product and who are its main customers?
We estimate the ESOP market at about $20 billion only in Israel.
Does the product exist already? If not - at what stage is it and when is it expected to hit the market?
Some features of our product are in production and some will be launched during Q1 2022.
Who are the main competitors in this sector and how big are they?
In the Israeli market, there are no other companies that offer similar trading services. There are several brokers working to provide liquidity to employees. In the U.S, CartaX, and NPM are competitors.
What is the added value that the founders bring to the company and the product?
Ziv Keinan - CEO: He is a certificated attorney with 14 years of experience in fields of capital market, secondary transactions, commercial law, GDPR, and more (ex eToro, Meitar & Co. Law Firm). He was also the former COO of Ownera, a company that enables digital trading for clients of financial institutions.
Nir Atar, CPA - CPO: Nir joined Simetria as a CPO to spearhead our product and growth efforts.
Over the last 4 years, Nir has been leading product, engineering, design, and customer satisfaction teams in testing the boundaries of technology innovation to deliver customer value. In addition, at his latest venture, Celsius Network, Nir helped secure approximately $780 million in several investment rounds, grow total assets from $30 million to roughly $28 billion and the client base from 9,000 to around 1.6 million.
Nir has been recognized for guiding companies through R&D and implementation cycles and for creating new services leveraging emerging technologies, including cryptocurrency and blockchain, to create an award-winning retail application.
Nir is a multidisciplinary product development leader with a solid background in growth, investments, finance, and accounting as well as over seven years of operational leadership experience as an officer in the Israeli Air Force. Nir is a certified public accountant since 2014 and a licensed investment manager since 2010.
Ariel Weiss - CTO. Ariel graduated from the Israel Institute of Technology (Technion) school of Mathematics & Computer Science in 2004 and further obtained an M.B.A from Tel Aviv University in 2010.
With over 20 years of experience in the software and hi-tech business, Ariel has long held an appreciation of how technology can change the world. From early-career roles in the elite tech unit of the Israeli Defence Forces leading command and control system development to public enterprise and startup C-suite leadership roles in the Edtech and Fintech space, Ariel has advocated the importance of creating technological products that address user pain points.
What will the money coming in from the round be used for?
R&D and Marketing
In the "Startup Boarding Pass" section, CTech will cover the (relatively) small investments made in companies during the early stages of their existence - and the entrepreneurs and startups who have not yet had the opportunity to reveal their stories to the world. Please use the linked form and fill it out according to the guidelines. This form is intended for startups raising between $500,000 and $3 million from venture capital funds, angels, or official grants from Israeli and foreign institutions. If relevant, someone at CTech will be in touch for follow-up questions.