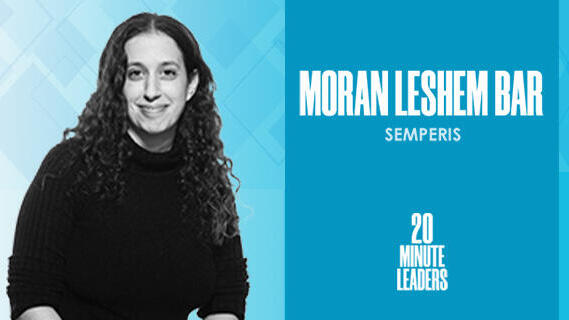 20-Minute Leaders
"Entrepreneurship is taking risks and doing stuff because it feels right."
Embracing opportunities is a theme of Moran Leshem Bar's career, which she says is more a result of accident than choice.
Embracing opportunities is a theme of Moran Leshem Bar's career, which she says is more a result of accident than choice. Now vice president of global operations at Semperis, she founded Geektime after accidentally meeting Yaniv Feldman. They wanted to learn more about the tech ecosystem's main figures for themselves and wound up launching a media outlet, then investing in pre-seed companies and running an accelerator. Bar says the investments were a mistake, but she believes in taking action and learning from mistakes. After Bar left Geektime, she wanted to take time off, but she had the opportunity to become Yizhar Shai's chief of staff. She shares that she'd had political offers before, but this was the right chance to make a real difference. Her current role is also one she didn't seek out, but she explains that she is guided by intuition and willingness to take risks.


Click Here For More 20MinuteLeaders

You've managed to operate at a very high scale across the landscape of the ecosystem and work really hands-on with companies. What part do you think you're playing in this ecosystem here? Who is Moran?
I think that it was life. I'm a person that likes to be in the small details of things. But I like to be in the small details of many things. It's not that I chose my career, but my career chose me. It was just how life turned out to be.
I met Yaniv Feldman by accident when he was looking for someone else. We started talking about startup ideas. Then we wanted to understand who are the main characters in this ecosystem so we can approach them. It was 2009, if I'm not mistaken. No one heard about startups. No one wrote about startups. We started going to every event that we could hear about. We started meeting people. Then we wanted to go to CES, and if you want to go to CES, you have to pay lots of money or be a journalist. So we started the blog. That's how NewsGeek, now Geektime, started.
Eventually, we started this media outlet in Israel in Hebrew. We got cynical reactions of: "Why in Hebrew? Who will be interested in it?" As the entrepreneurs we are, we did not listen. We continued to do what we liked to do.
Then what happened is that our first investor, which is, again, by accident, approached us via LinkedIn. He wrote me, "I was interested in investing in Israeli companies. What can we do?" A month later, we had our first investor. One year later, we had our first accelerator because he came to us and said, "We have to have this kind of accelerator in Israel." We said, "Okay." We invested in five companies. I didn't choose it. It just happened.
No, a major pattern here is the fact that you took opportunities and you embraced them and you ran with them.
I like to imagine things. I imagined how it would be having a media outlet, and I imagined how it would be to invest in companies and help them. By the way, it was a huge mistake because we thought that it would be an easy task. But we almost lost our company, NewsGeek, because we had to invest so much time in the five new companies.
The people that are there now, they have major roles in major companies. This is amazing what happened with them. I was happy to be there when they were so young, and it's a relationship that will last forever.


Then you decide to do something a little different and work with Yizhar Shai as chief of staff.
I didn't decide that. I wanted to take some time off after leaving Geektime. Two weeks in, I was on my way to take a shower, and I got a phone call. It said "Yizhar Shai." I was telling my wife, "It's Yizhar." She was laughing and saying, "Maybe he wants to suggest something in politics." I said, "No. No politics for me."
He started by saying, "I'm joining the government, and I'm searching for a chief of staff. I thought about you." He finished describing the position, and I said, "Yizhar, I'll take a shower and I'll call you back." I called back, and I heard some more. I asked, "When do you need an answer?" He said, "Tomorrow morning." I took the job. We worked together, and it was hectic.
Wait, you can't skip over the most important piece here. It can't be a simple decision to jump into politics.
This is entrepreneurship at the end of the day: taking risks and doing stuff because it feels right. I heard that he was an amazing man, and he sounded amazing. I said, "It's an opportunity to be more of an influence on what's going on in the high-tech industry."
We started working with startups, new ventures, and apps. I used all my connections to assist people in Israel. The impact was huge, and it was an amazing experience. I worked 24 hours a day and night and Shabbat.
Then I said, again, "I need to rest a bit." Then on a Shabbat morning, I got a phone call from Mickey Bresman, the CEO of Semperis. We have been friends since long ago. He started talking to me a bit more about what's going on with Semperis. I said, "Are we talking about anything in particular?" He said, "Yeah." I said, "Let's not make it a phone call for Shabbat morning. Let's talk a bit more later." Once again, I think it's about seizing opportunities that feel right.
I'm a big believer in intuition, and I'm a big believer in doing stuff. It was about impact here with what we're doing today, the impact in the Israeli ecosystem with Geektime, and impacting Israel, in general, with Yizhar. I believe that I'm drawn to these kinds of roles.
How did you adapt to working in the political arena? What mental shifts did you have to do in your new organization?
First of all, when you work with a minister whose head is still in high-tech, it's easier. Leaders are all about making other people inspired and getting them to do stuff. Not because you tell them they need to do it, but because they believe that they should do it. This is politics eventually, and this is what we did there. This is what we thought was good for Israel.
My major role was to make everyone in the office all sure that we are going in the right path, that we're doing good things, and have them join us. If you think differently, tell me. I'm listening. I believe in making mistakes, learning from mistakes, and in truth. I believe in honesty. These are the major things that lead me.
Today, you're working with Semperis. What is your role and what challenges did you come to solve here?
There are roles where it all depends on what you make them and what impact you want to make. Once again, it's a global role. It has an impact on the company as a whole. We were growing, but you need to have a company that can support this growth. Having the right platforms, having the right processes, having the right people that will do it: this is eventually my role. It's a bit like a COO role, which is doing what everyone else is not doing.
If you had to choose right now one or two things to tackle in the ecosystem, what would they be?
Easy, getting more young girls involved in this ecosystem. When I say young, I mean in kindergarten. I don't know why, but we still give girls dolls and we give boys things to build. This is horrible from where I'm standing. I want to give them a choice. When I'll be in pension, that's what I'll do. I'll go from kindergarten to kindergarten, and I'll speak to young girls and their parents on how to choose right and give them the choice.
I guess if I were to ask you if you ever thought that you would go into politics when you were at Geektime, probably the answer would be "no."
Yeah. I was offered a few times because people know me. But that's not the right reason to go into politics. You go into politics when you have the opportunity to make a difference.

Michael Matias, Forbes 30 Under 30, is the author of Age is Only an Int: Lessons I Learned as a Young Entrepreneur. He studies Artificial Intelligence at Stanford University, is a Venture Partner at J-Ventures and was an engineer at Hippo Insurance. Matias previously served as an officer in the 8200 unit. 20MinuteLeaders is a tech entrepreneurship interview series featuring one-on-one interviews with fascinating founders, innovators and thought leaders sharing their journeys and experiences.

Contributing editors: Michael Matias, Megan Ryan