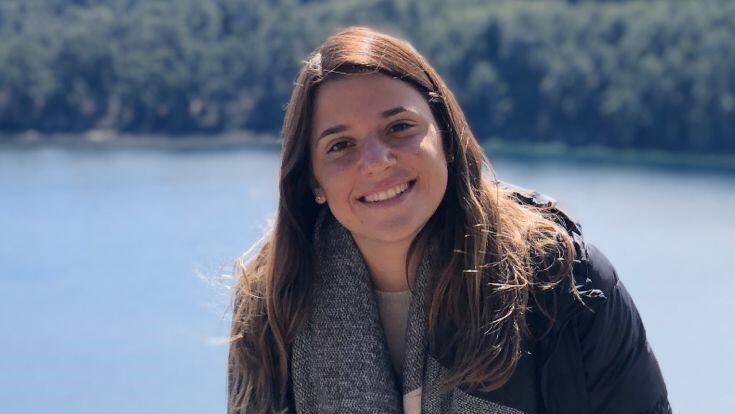 A Day in a Life
The buzzing gymnast engineering pollination solutions for BeeHero
Melany Cygiel Gdud, a Full Stack Engineer at BeeHero, has been a gymnast since the age of five but is now helping counter the threats facing bees and optimizing the pollination cycle our crops depend on
Sponsored Content
|
10:55 21.03.2022
ID
Name: Melany Cygiel Gdud
Age: 27
Living in: Tel Aviv
Company: BeeHero
Position: Full Stack Engineer
For a Starter
I'm Melany, currently living in Tel Aviv. I was born in Argentina and made Aliya with my family when I was eight years old. My biggest passion started in a gymnastics hall when I was five years old. Ever since, I have practiced acrobatics gymnastics and participated in shows and competitions worldwide. In my later years of high school, I started coaching groups and continued until I started working in BeeHero.
At some point in my adult life, I decided to change direction quite dramatically and start another career. Although I excelled in the sciences from a young age, only later did I decide to take it one step further and start my college degree in Software Engineering. Today I work as a Full Stack developer, which is my main occupation, and in my free time, I still combine sports and gymnastics.
I guess gymnastics will always be a part of me.
What's so special about what your company does? Around 70% of the world's food crops are reliant on insect pollination. The most important pollinators are bees, and with 40% of the bee colonies dying year after year, there is an actual threat for their survival and ability to keep pollinating our crops, let alone with rising demands as the population increases. We at BeeHero address exactly that potential fraction – we optimize pollination cycle, increase yields while maintain bees' welfare. By deploying non-invasive sensors inside the hives which are tracking and monitoring the bees activity 24/7, we can measure the hives efficiently and precisely and optimize the vital process of pollination.
What do you enjoy the most about your work? What I love the most about my job is that every day feels like I am being re-challenged. A day where I learn new things, and promote and develop ideas. Because we are a relatively small company, it is very noticeable that my work is of great significance. Beyond work, I can say that the team and human material are the primary motivating factors. I happily get up for work and it is fun to work in an environment with a good atmosphere and a total sense of teamwork. I genuinely feel that my voice has importance and significance.
Preference - working from Home / Office / Hybrid: I'm a people person, and I enjoy spending my working hours in the office, sharing time and ideas with my team, having the dogs running around, and eating lunch all together. It's just more fun!
My Daily Routine
8:00
I start my day either with morning training or a late morning sleep if the alarm clock did not ring loud enough.
9:30 - 10:00
I open my day in the office with a cup of tea and a small talk with my team workers. And yes, I don't like coffee (which by the way is also dependent on bee pollination, same as chocolate...crazy, I know).
12:30
Lunchtime, my favorite time of the day, our lunch is always around a juicy topic that gets everyone very excited. The latest topic is about living in Tel Aviv and the fine line between the freedom to do as you please in your home and disturbing your neighbors.
17:00
We usually take a quick break from our assignments and do a coffee break with something sweet (I drink tea of course). Our graphic designer, Dana, makes the most delicious cake or cookies for us if we're lucky.
19:30
I either finish my day during this time or have happy hour/yoga class at the office.
After Hours
What do you like to do in your spare time? I like to spend my time with my friends in the evenings, having a drink at home or in a local bar.
Apple or Android? Apple, I love the design and user experience. I have good taste; what can I say?!
What type of music do you listen to? Mostly pop music, but I love all kinds of genres.