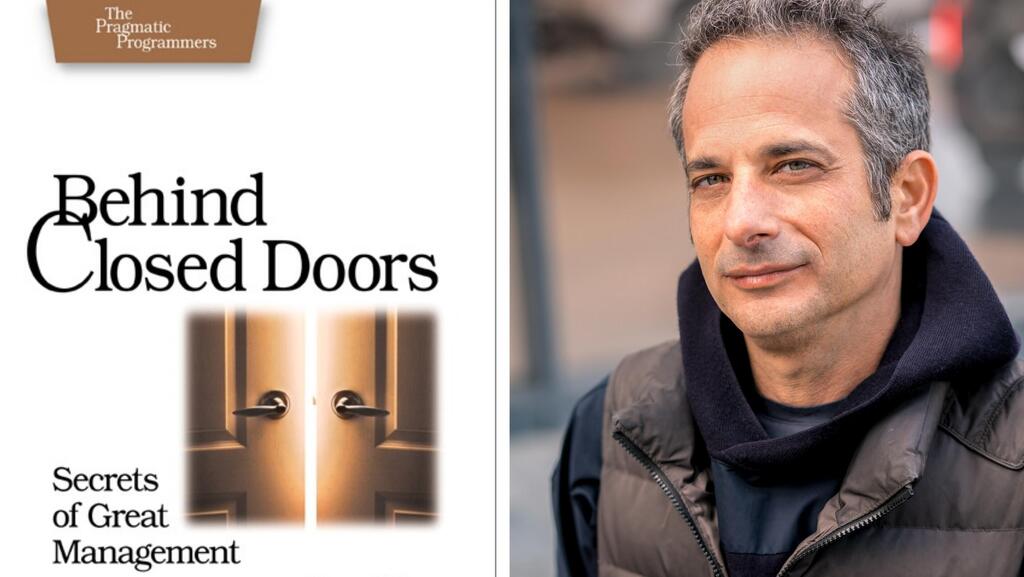 BiblioTech
CTech's Book Review: Achieving managerial success behind closed doors
Oren Raboy, co-founder and CTO of Noogata, shares insights after reading "Behind Closed Doors: Secrets of Great Management" by Johanna Rothman & Esther Derby.
Oren Raboy
|
14:49 25.04.2022
Oren Raboy is the co-founder and CTO of Noogata, a platform offering no-code artificial intelligence (AI) for enterprises. He has joined CTech to share a review of "Behind Closed Doors: Secrets of Great Management" by Johanna Rothman & Esther Derby.
Title: "Behind Closed Doors: Secrets of Great Management"
Author: Johanna Rothman & Esther Derby
Format: Tablet
Where: Home


Summary:
"Behind Closed Doors" is one of the best books I've read about management recently, specifically relating to R&D at a growing high-tech startup, though the learnings can be applied to any business function.
While many of us experience the results of great management in the form of company success, it's not always easy to see how managers achieve those results. Great management often happens behind closed doors - in one-on-one meetings and private discussions - making it difficult to truly understand how to emulate a great management style.
"Behind Closed Doors" takes us behind the curtain to reveal what happens in those 1:1 and private management meetings to deliver really interesting insights and practical advice.


The book takes us on a journey with Sam, a new R&D manager who recently joined a high-tech startup. The story unfolds as Sam learns the ropes and deals with his new team over the course of his first eight weeks on the job. From scheduling and managing resources to helping team members grow and prosper, we follow as Sam makes it happen and establishes himself in the organization.
Throughout Sam's journey, we learn practical tips on:
Delegating effectively
Using feedback and goal-setting
Developing influence
Handling one-on-one meetings
Coaching and mentoring
Deciding what work to do - and what not to do
And many other important strategies an effective manager needs to master.
The book is a fun read and has the pace of a Netflix series, divided into multiple sections which each cover one week in Sam's journey, following him through meetings and conversations during his days at work.
Each episode concludes almost like a "Behind the scenes" view, with a salient summary and points of advice and lessons learned from Sam's interactions.
Important Themes:
Because managers amplify the work of others, the cost of bad management to an organization is exponential and infectious. Bad managers create bad practices, demoralize and disenfranchise employees, and create friction instead of fostering innovation. Learning to be a good manager on your own isn't easy, as good management relies on interactions with the team and your surroundings. It's about influencing as much as about managing.
Some people think management is all about people, others think it's about managing tasks.
But great management is about both: developing and leading people and managing tasks towards deliverables. It's the art of combining them both that creates great management and great teams.
What I've Learned:
The importance of structured, consistent 1:1s to create a process of improvement within your organization
As a manager, you need to always know:
Your people-- their strengths, weaknesses, interests, and aspirations
The stated mission of the organization and the specific goals it is driving toward achieving it
How your team fits into the larger organization and the expectations that come from that
To be a great manager, you must customize your approach to each team member. At the same time, have consistent measures and principles across the team. The former is mandatory to create a nurturing environment, the later to ensure objectivity and transparency.
Trust is the team killer. Shared goals are the best growth engine for the team.
Who Should Read This Book:
This book is the perfect fit for any technical manager in a startup. Especially for a new manager coming into an R&D organization.
Any manager at a high-growth company would find it filled with tips and practical concepts to apply in their day-to-day with their team.